THE FINAL COUNTDOWN: LUSAIL INTERNATIONAL CIRCUIT REVEALS FIRST LOOK AT EXTENSIVELY REMODELLED VENUE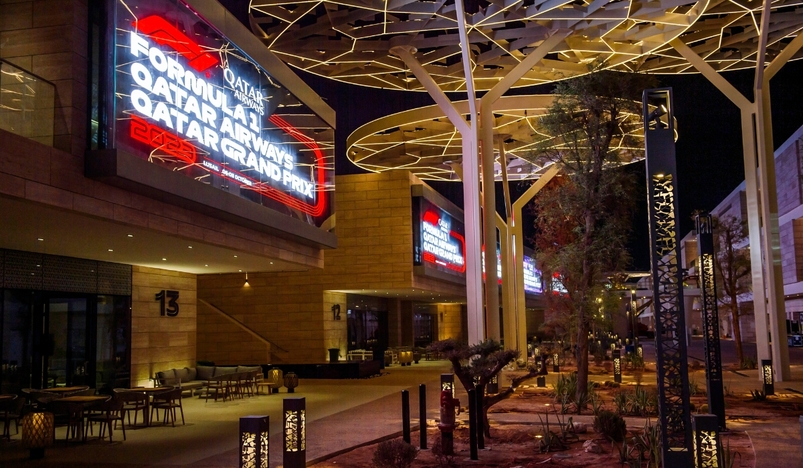 Lusail International Circuit Unveils Comprehensive Venue Transformation Preview
Qatar, 28 September 2023 – With less than ten days to go until the opening of the FORMULA 1 QATAR AIRWAYS QATAR GRAND PRIX, Lusail International Circuit (LIC), the home of motorsports in Qatar, reveals an exclusive first look at the extensively remodelled venue.
Led by Qatar's Public Works Authority 'Ashghal', a suite of new, state-of-the-art facilities have been built as part of the renovation of the 5.38km Circuit, designed to enhance the experience for drivers and racegoers. While the popular track layout remains, expanded seating capacity, five-star VIP zones and new viewing areas are just some of the new features introduced as part of the upgrade, which sees LIC primed and ready to host the biggest event in motorsports from October 6-8.
Abdulrahman bin Abdullatif Al Mannai, President of Qatar Motor and Motorcycle Federation and Lusail International Circuit, said: "This stunning and extensive remodelling is the product of months of hard work, ambition, and imagination, and is a fitting introduction to what promises to be a thrilling weekend of motorsports. Our long-term agreement with F1 marks a significant advancement for Qatar, which is rapidly gaining a reputation as a renowned host for some of the world's most prestigious sporting events, that are sure to serve fans on all fronts."
Lusail International Circuit: What's New?
The new features include:
Larger Fan Zone & New VIP Areas: The venue now offers a larger public fan zone, in addition to several sparkling new five-star VIP areas. This includes the FORMULA 1 PADDOCK CLUB™ which offers unbeatable racing views from above the team garages on the main straight and world-class hospitality. 
In selected VIP areas, fans can enjoy exclusive opportunities to enjoy pit lane walks and hear from F1 drivers throughout the race weekend.
Larger Pit Boxes: Fifty pit boxes have been introduced as part of the remodelling project, which makes LIC home to the largest number of pit boxes among all international circuits participating in F1.
Lusail Hill: Lusail Hill has been launched at Turn 1, a grand public elevated viewing area that provides spectacular views for fans at an affordable price. Set amongst lush green space, Lusail Hill is accessible for General Admission ticket holders, and allows for a unique, up-close-and-personal perspective of the weekend's high-octane events. 
Increased Capacity: Following the upgrade, LIC's grandstands can now accommodate 40,000 people, and parking capacity has been expanded to 15,000, making the circuit even more accessible for motorsports fans.
New Buildings: A host of new buildings have been constructed as part of the project including an ultramodern media centre, a new medical centre, a paddock area, a pit building and various new VVIP buildings and hospitality areas. 
Major renovations to the LIC Academy (Qatar Motorsports Academy) – a haven for aspiring racing drivers - are also currently underway, with work scheduled to complete later this year. 
Extensive Landscaping – 180,000 square meters of green space have been created as part of the refurbishment, including 2,577 trees and nearly 27,000 other varieties of shrubs, succulents, and foliage. 
85 spectacular screens have been installed across the venue for fans to keep abreast of the latest action, including a giant screen on the underside of the paddock area. Three tunnels have also been built for smoother access across the venue, including a pedestrian tunnel. 
Ashgal has also facilitated major works to 21km of surrounding roads and intersections to improve public access and ease of entry to main roads around the Circuit.  
FORMULA 1 QATAR AIRWAYS QATAR GRAND PRIX 2023: The Details
2023 will mark the second edition of the FORMULA 1 QATAR AIRWAYS QATAR GRAND PRIX, which first took place at the original LIC in 2021.
With Qatar hosting the fourth F1 Sprint weekend of the season, on-track action will kick off on Friday 6 October with a free practice session, followed by a Qualifying session which will set the grid for Sunday's Grand Prix. On Saturday 7 October fans will be treated to two highly competitive sessions with the "Sprint Shootout" which will set the order for the F1Sprint later in the day. Finally, the weekend will culminate under the floodlights on Sunday 8 October.
And recently, LIC announced an exciting and varied line up of entertainment throughout the weekend, with exclusive performances from Amr Diab (6th October), Alesso (7th October) and Bruno Mars (8th October). For more information, visit the official LIC website.
Tickets for the weekend are selling out fast, but fans can still get their hands on tickets for a few select categories by visiting the official website: https://tickets.lcsc.qa/