Valuable gift item during Ramadan, gold sales spike by 50%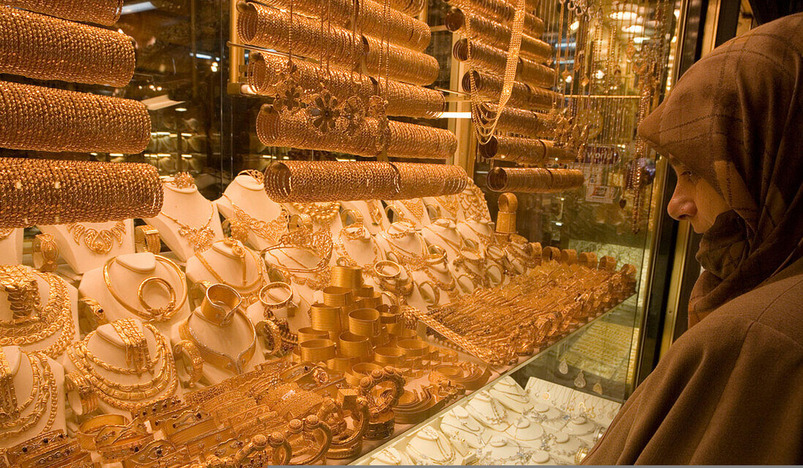 Gold sales
The movement of gold sales in the holy month of Ramadan every year is very active, as the many people buy it in celebration of the holy month, considering it a valuable gift and also because it maintains its price in most cases with the fluctuations that global markets may be exposed to.
Ramadan is considered one of the seasons gold traders in Qatar await, as sales increase in varying proportions that may reach more than 50 percent at their best compared to other seasons, in addition, gold is a safe currency in times of crisis, and the best vessel for investment and savings.
It is also linked to the popular heritage, especially Qatari designs passed down through generations.
Gold dealers in Qatar are waiting for the Ramadan season to display their new designs, which is confirmed by the Executive Director of Al-Salahi Holding Group Mohammed Al Salahi, who said that the sales of the gold market is currently witnessing a great recovery, as the rates of sales increase since the first day of Ramadan range from 40 to 50 percent.
In a statement to QNA, Al Salahi said that "gold is still the best gift that is dealt with so far, and Qatari families are keen to acquire gold and also exchange gifts of gold, because of its high value, as it retains its value in most cases even if markets have been volatile."
Al Salahi indicated that most of the buyers in the market are currently Qataris, who prefer traditional gold jewelry. 
"With the approaching night of Garangao in the middle of the holy month, sales rise above these percentages, due to the high demand for gold, handicrafts, and designs related to heritage and traditions, as families and relatives exchange gifts, and gold is the best gift on such occasions," he added.
On the other hand, Al Salahi commented on gold prices and linked them to economic and political factors, saying, "It is known that gold prices rise with political crises and economic fluctuations to levels of USD 1,634 an ounce, due to economic data indicating a recovery in the US economy, and thus a rise in the dollar strength index, as well as a rise in the yield on US Treasury bonds on the one hand, and interest rate hikes on the other hand.
He added, "In the current year, gold prices range between levels of 1800-2000 dollars per ounce, and the inflation factor plays the most prominent role in the fluctuation of its prices between those levels, but what happened in recent weeks, when some US banks declared bankruptcy, jumped gold prices above the ceiling of 2000 dollars per ounce."
It was indeed a safe-haven currency during global financial market turmoil.
With regard to gold price expectations for the coming period, Al Salahi confirmed that the gold price will not exceed USD 2080 per ounce unless there are other developments or new bankruptcies, indicating that expectations of a significant rise in gold prices are nothing but misleading propaganda in most of them to raise prices.