Top 5 Rated Tourist Attractions & Things to Do in Dubai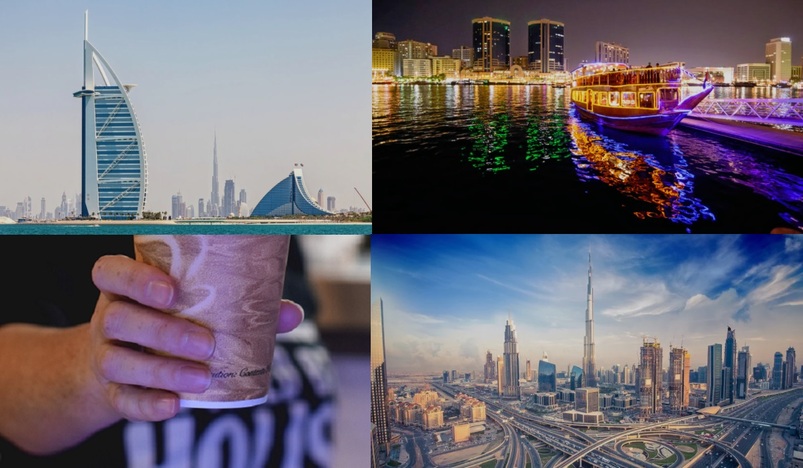 Tourist Spots and Activities in Dubai
No less than a dreamland for every kind of tourist, the glamorous city of Dubai draws a huge amount of tourism in the United Arab Emirates. Famous for the Arabian desert, Dubai is dotted with high-end shopping malls, World-class restaurants, architectural marvels, grand mosques, theme parks, excellent museums, and adventurous activities. 
Home to many iconic landmarks such as Burj Khalifa and Burj Al Arab, Dubai has an abundance of tourist attractions to visit and things to do. Here we are with a list of five top-rated attractions and must-try things. 
Visit Burj Khalifa
The tallest skyscraper in the world – Burj Khalifa is a must-visit tourist attraction on Dubai tour packages. It is a 160 Storey structure consisting of luxurious hotels, flats, business offices, multi-cuisine restaurants, shopping malls, and tourist attractions. 
Burj Khalifa is famous for offering magnificent views of Dubai city, Arabian desert, and crystal clear ocean from its top observation decks. You will get spectacular visuals of Dubai from its top observation decks 124th, 125th, and 148th floor. From 4 PM to 6 PM is the best time to visit Burj Khalifa to get the best views of Dubai city and Dubai fountain. 
Rising to a height over 2,717 Ft, The Burj Khalifa is the tallest tower since its topping out in 2009. Tourists should book tickets online at a discounted prices and avoid last-minute hassles. Located at a distance of about 13 Km from Dubai Airport, it is located at 1 Sheikh Mohammed bin Rashid blvd road near the Dubai Mall.
Dubai Desert Safari
The best desert safari in the whole world – Dubai desert safari is the most exclusive and adrenaline-rushing activity to try in the city. The desert safari is a 5 to 6 hours long activity in the vast desolate desert. There are plenty of adventurous activities to pump adrenaline such as dune bashing, quad biking, horse riding, sandboarding, camel rides, and buggy rides. 
Dubai desert safari offers various safari options such as Morning Safari from 8:30 AM to 10 AM, evening safari from 3 PM to 9 PM, overnight safari, and desert safari with delicious BBQ. You can have in camping experience under a starry night with a delicious Arabian dinner and live shows of belly dancing, tanoura dancing, and fire shows. 
Visit Dubai Global Village
Global Village is among the most unique tourist spots, famous as the first-ever cultural, entertainment, dining, and shopping destinations of the city of Dubai. Sprawling across 1.6 million sq meters, this massive theme park is a multicultural theme park combining cultures of 90 countries across the world. 
The global village has plenty of things to do to keep engaged visitors. From shopping outlets to museums, dining, shows & events, concerts, carnivals, and family-friendly activities, this theme park has something to offer every kind of tourist. 
Divided into four sections events & concerts, shopping, food, and carnivals, this theme park has huge parking availability of over 18,000 vehicles.  This year 26 sessions of Global village will open its gate to tourists from October 26, 2021, to April 10, 2022. Undoubtedly a tourist hotspot, Global village welcomes more than 5 million visitors from all corners of the globe every year. 
Also Read: Best Tourist Places to Visit in Qatar
Have a thrilling experience at Ski Dubai
Sprawling across an area of 22,500 sq meters, Ski Dubai is an indoor ski park attracting thousands of skiers and snowboarders from all corners of the globe. Ski Dubai is an outstanding theme park featuring an 85 meters high indoor mountain. The park has a snow park, ice museums, and ski slopes varying in height and gradient. 
All the ski equipment and life jackets will be provided with your tickets to ensure your safety. Apart from Skiing and snowboarding, tourists can indulge in numerous adrenaline-pumping activities like climbing towers, giant snowballs, icy body slides, sleds, toboggan runs, and more. Timings to visit the park are 10 AM to 12 AM from Sunday to Thursday and 9 AM to 12 AM on Fridays and Saturdays.
 
Dubai Frame
One of the best places in Dubai, the Dubai frame is a famous iconic architectural landmark. It is the Largest picture frame on the planet standing at a height of 492 Ft. From the Dubai frame, You will get to witness landmarks of both old and modern Dubai. 
The Frame offers stunning visuals of the bustling city of Dubai. Opened in 2018, The Frame is constructed of glass, steel, aluminum, and reinforced concrete. It has various galleries and tourist attractions on different levels. 
Dubai Frame is located in Zabeel Park at 7.5 Km from Dubai. The Dubai Frame is open for visitors from 9 AM to 9 PM on all weekdays.