Things to do this weekend: June 9-11, 2022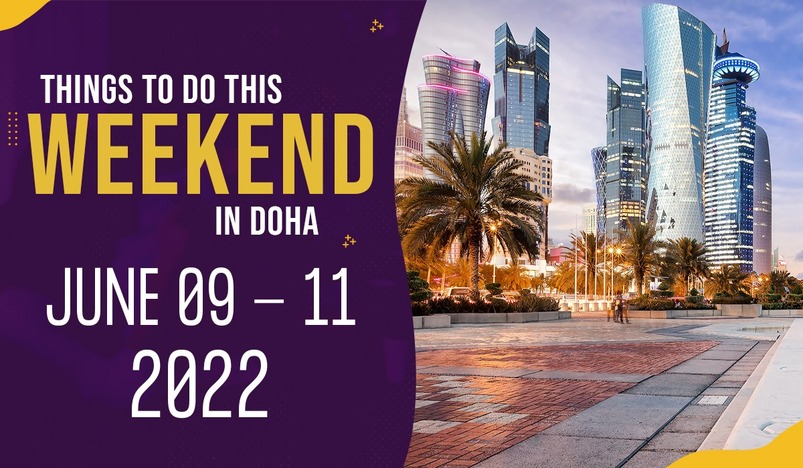 Where to go and what to do this weekend in Qatar
Check out our top picks for Things to Do in Qatar from June 9-11, 2022 below.
Note: Events are subject to change as per the organizers. Follow the COVID-19 measures in place to ensure yours and others' safety.
June 9 2022 - Thursday
1.Hospitality Qatar 2022
If you are curious about the hospitality sector and want to learn about what goes on in areas of tourism, retail, food, and beverages, luxury hotels, and more then make sure to stop by DECC and check out this event that is happening alongside Project Qatar. 
Don't miss out on this event that aims to move Qatar's hospitality sector forward.
Dates: Thursday, June 6-9, 2022
Timings: 2:00 pm - 9:00 pm
Location: Doha Exhibition and Convention Center (DECC)
Ticket Purchase: Free Entry
2.Qatar Beach Water Polo Championship
Katara is set to host the beach water polo open championship, that will take place this weekend for three days. 
The tournament will witness intense competition between participating teams from Qatar and Kuwait. 
Registration can be done by visiting Qatar Swimming website. 
Dates: June 9 - 11
Location: Gate 12, Katara Cultural Village
Contact: +974 3301 6818
Ticket Purchase: Free Entry
 

3. Classics of the Golden Age
In this concert you will hear classics from the golden age of Arabic cinema, and music from Qatar, with the distinguished participation of Faraj Abdul Karim and Ali Abdul Sattar and many young singing talents who will perform in an orchestral setting.
This concert is not to be missed as it will include beloved music from legends such as Umm Kulthum, Fairuz, and Mohamed Abdel Wahab.
The two hour concert is organized by the Qatar Philharmonic Orchestra with Q-Tickets as the ticketing partner. 
Dates: June 9, 2022
Timings: 7:30 PM
Location: Katara Cultural Village, Opera House
Prices: 75 QAR - 200 QAR
Ticket Purchase: 
Tickets are sold online and can be purchased on Q-Tickets.com 
4. Arabic Calligraphy Group Exhibition 
If you are fascinated by Arabic Calligraphy and you consider yourself passionate when it comes to Arabic Language, then check out this exciting exhibition happening at the St Regis Hotel.
This event is free of charge.
Dates: May 10 - June 20
Timings: Open daily from 04:00 pm - 10:00 pm
Location: The St. Regis Doha - Al Gassr Resort
June 10 2022 - Friday
1.African Comedy Festival 2022
Get ready to meet the greatest comedy acts at the African Comedy Festival 2022.
Meet comedy giants such as Emmanuella & Mark Angel Comedy Team From Nigeria, Eric Omondi From Kenya, Tumi Morake from South Africa, and Salvador From Uganda.
Date: 10 June 2022
Location: Al Jewan Hall, Dana Club - West Bay
Timings: 4 pm - 6:30 pm
Ticket Purchase: 
Tickets are sold online and can be purchased on Q-Tickets.com 
Prices:
VVIP (Table - 6 pax) - QR 2500
VIP - QR 200
Regular - QR 120
2.Day Pass at Steigenberger Hotel Doha
Steigenberger Hotel Doha is offering a Day pass!
Make a splash during this hot summer!
Spend some cool time by the swimming pool, accessing the gym facilities, and enjoy some refreshing mocktails and yummy bites.
Prices:
Day Pass Adults: 300 QR
Day Pass Kids: 150 QR
Dates: May 11, 2022 - 10 June, 2022
Timings: 10:00 A.M. until 10:00 P.M.
Location: Steigenberger Hotel Doha
Contact: 40201666
3.QRS Summer Sizzler 2022 - Race 1
Beat the summer heat and join QRS for a 4-race Track Challenge at the Aspire Dome Indoor running track!
QRS Summer Sizzler is a series of timed races. The events time range from 15-minute & 30-minute races.
Athletes can run unlimited loops of the 200m track within the stipulated time limit. Each event will be restricted to a maximum of 100 participants.
Races Dates:
Race 1: Friday 10 June 2022
Race 2: Friday 24 June 2022
Race 3: Friday 01 July 2022
Race 4: Friday 22 July 2022
Prices:
Adults (16+): QR 120 for one race
Juniors (10-15): QR 60 for one race
4.Qatar Creates – Teen Council Expo
Join Qatar Creates - Teen Council Expo on 10 June at Khalifa International Stadium to learn more about the council, as well as the volunteering opportunities available to teenagers at Qatar Museums during the World Cup.
Note: All students will be required to bring a signed guardian consent form to enter the event.
Date: June 10, 2022
Timings: 5-10
Age: 12 to 18 years
Contact: 44525200
Email: Teens@qm.org.qa
Registration:
This is a free event and registration can be done by visitng Qatar Musuems Website.
5.QatART Makers Market & Crafts Workshop
QatART Makers Market organized by the QatART Community at Katara Cultural Village. At this market you get to find handicrafts,  jewelry, accessories, paintings, pictures, furniture, graphic designs, craft sets, bags, clothes, products for home decoration, and more. 
The Arts & Crafts Workshop will take place at Katara Art Studios.
Dates: June 10, 2022
Timings: 3 pm - 8 Pm
Location: Building 19, Katara Art Studios in Katara Cultural Village
June 11, 2022 - Saturday
1. Top Gun: Maverick 
After more than thirty years of service as one of the Navy's top aviators, Pete "Maverick" Mitchell (Tom Cruise) is where he belongs, pushing the envelope as a courageous test pilot and dodging the advancement in rank that would ground him. When he finds himself training a detachment of Top Gun graduates for a specialized mission the likes of which no living pilot has ever seen, Maverick encounters Lt. Bradley Bradshaw (Miles Teller), call sign: "Rooster," the son of Maverick's late friend and Radar Intercept Officer Lt. Nick Bradshaw, aka "Goose." Facing an uncertain future and confronting the ghosts of his past, Maverick is drawn into a confrontation with his own deepest fears, culminating in a mission that demands the ultimate sacrifice from those who will be chosen to fly it.
Watch this action, drama and thriller film now showing at Qatar Cinemas near you!
Book your tickets now at www.q-tickets.com.
To know more about the movie's release in Qatar, check out our movie section to learn more about this film.
2.National Cruise
With National Cruise, pick your trip from three different packages, and enjoy the fantastic views of the blue waters as you cruise around the Pearl, the Corniche, and other major attractions in the City.
1.Hit the Beach
Escape the hustle and bustle of the city life and soak up the sights aboard a dhow. What a better way to spend your weekend. Leave your worries behind and create a moment to remember on-board National Cruise.
Price: QAR 199
2.Dinner Cruise
Step aboard the Cruise for an unforgettable evening. Departing from the Box Park, you'll enjoy a leisurely three-hour cruise along the Pearl and unobstructed views of west-bay Building, skyline, Islamic museum and more.
Price: QAR 299
3.City Tour By Sea
A touch of heritage meets modern architecture during this 2-hour mid-day cruise from M.I.A., pass by Katara the cultural Village and The Pearl-Qatar and vice versa through the waters of Arabian Gulf. Hop on and hop off and travel by cruise to discover the major tourist destinations in Qatar.
Price: QAR 149
Contact: 77999666 - 66000926
3.Once Upon A Bag: Hermès' Heritage Exhibition 
The National Museum of Qatar (NMoQ) is hosting the fourth chapter of the Hermès Heritage cycle of touring exhibitions, Once Upon a Bag, which tells the story of Hermès, and its different families of bags for both men and women, starting from its origins to the present moment. 
Dates: May 28 - to June 11, 2022
Timings: 
Saturday - Thursday: 9:00 AM - 7:00 PM
Friday: 1:30 PM - 7:00 PM 
Location: National Museum of Qatar