Things to do this weekend: June 2-4, 2022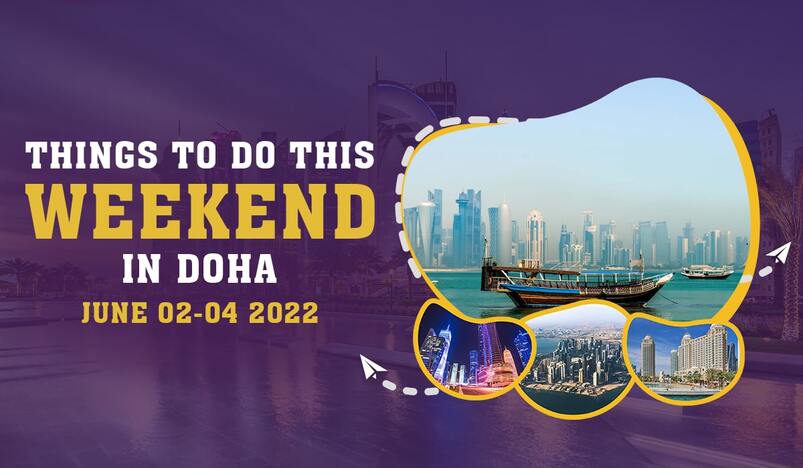 Where to go and what to do this weekend in Qatar
Check out our top picks for Things to Do in Qatar from June 2-4, 2022 below.
Note: Events are subject to change as per the organizers. Follow the COVID-19 measures in place to ensure yours and others' safety.
June 2, 2022 - Thursday
1. Master KG Live Concert In Qatar
Enjoy a night of music with Master KG who will be performing for the first time in Doha along with DJ Diamond, Legacy and Walex.
Master KG is a South African producer and musician. He is one of the best house musicians and producers in South Africa. 
Master KG IS best known for his single 'Jerusalem', which has made him a multi-platinum artist in Africa and abroad.
Book your tickets now at www.q-tickets.com.
Date: Thursday, June 2, 2022
Timings:08:00 pm - 12:00 am
Location: Holiday Inn, The Business Park
2.Once Upon A Bag: Hermès' Heritage Exhibition 
The National Museum of Qatar (NMoQ) is hosting the fourth chapter of the Hermès Heritage cycle of touring exhibitions, Once Upon a Bag, which tells the story of Hermès, and its different families of bags for both men and women, starting from its origins to the present moment. 
Dates: May 28 - to June 11, 2022
Timings: 
Saturday - Thursday: 9:00 AM - 7:00 PM
Friday: 1:30 PM - 7:00 PM 
Location: National Museum of Qatar
3. Katara Summer Trade Fair
At the Katara Summer Trade Fair, you can find a variety of household items, whether for decor, accessories, clothing, and more.
Buy traditional clothes, makeup, perfume, and home necessities such as honey, spices, dates, fruits, and everything else you can possibly imagine.
Dates: May 19 - June 17, 2022
Timings: 2:00 pm - 4:00 pm.
Location: Katara South Parking Area
June 3, 2022 - Friday
1.Hilton Salwa Beach Resort Beach Festival - 2nd Edition 
Hilton Salwa Beach Resort is hosting the second edition of Salwa Beach Festival on Friday, June 3rd.
Enjoy a wide selection of food, drinks, carnival games, bouncy castles, face painting, art and crafts, character shows, and African Dance.
Book your tickets now on www.q-tickets.com 
2.Day Pass at Steigenberger Hotel Doha
Steigenberger Hotel Doha is offering a Day pass!
Make a splash during this hot summer!
Spend some cool time by the swimming pool, accessing the gym facilities, and enjoy some refreshing mocktails and yummy bites.
Prices:
Day Pass Adults: 300 QR
Day Pass Kids: 150 QR
Dates: May 11, 2022 - 10 June, 2022
Timings: 10:00 A.M. until 10:00 P.M.
Location: Steigenberger Hotel Doha
Contact: 40201666
3.Doha Festival City Homeware Festival
Doha Festival City is hosting its annual homeware festival featuring an exclusive collection from various retailers.
The festival will feature famous exhibiting brands which give you the chance to learn about the latest trends in home design.
Dates: May 12 - June 8, 2022
Timings: Mall Trading Hours
Locations:
Centre Court, Ground Floor 
Axis Node near the South Food Court
Diamond Node near Luxury Area
4.Koi Brunch
Enjoy the best Pan-Asian brunch spot in town with the best authentic cuisine at Shanghai Club. 
Take in the scenery while savoring the deliciousness prepared by renowned chefs.
Prices:
QAR 320 for Soft beverages package 
QAR 420 for Enhanced beverages package 
Timings:
Every Friday from 12:00 pm to 3:00 pm 
Location:
Shanghai Club, 43rd floor, JW Marriott Marquis City Center Doha Hotel.
June 4, 2022 - Saturday
1. Top Gun: Maverick 
After more than thirty years of service as one of the Navy's top aviators, Pete "Maverick" Mitchell (Tom Cruise) is where he belongs, pushing the envelope as a courageous test pilot and dodging the advancement in rank that would ground him. When he finds himself training a detachment of Top Gun graduates for a specialized mission the likes of which no living pilot has ever seen, Maverick encounters Lt. Bradley Bradshaw (Miles Teller), call sign: "Rooster," the son of Maverick's late friend and Radar Intercept Officer Lt. Nick Bradshaw, aka "Goose." Facing an uncertain future and confronting the ghosts of his past, Maverick is drawn into a confrontation with his own deepest fears, culminating in a mission that demands the ultimate sacrifice from those who will be chosen to fly it.
Watch this action, drama and thriller film now showing at Qatar Cinemas near you!
Book your tickets now at www.q-tickets.com.
To know more about the movie's release in Qatar, check out our movie section to learn more about this film.
2. Crazy Dunkers at the Mall of Qatar
Enjoy thrilling moments with the wild acrobatic routines of The Crazy Dunkers.
Known worldwide for their mid-air acrobatic shows and breathtaking acts at the Olympic games and NBA, this mind-bending team is coming all the way from France to set fire to the Oasis stage with every slam dunk!
Make sure to catch up with the Crazy Dunkers daily between 26 May to 4 June.
Timings:
Location: Oasis Area, Mall of Qatar
3.Arabic Calligraphy Group Exhibition 
If you are facinated by Arabic Calligraphy and you consider yourself passionate when it comes to Arabic Language, then check out this exciting exhibition happening at the St Regis Hotel. This event is free of charge.
Timings:
Open daily from 04:00 pm - 10:00 pm
Location:
The St. Regis Doha - Al Gassr Resort
4.National Cruise
With National Cruise, pick your trip from three different packages, and enjoy the fantastic views of the blue waters as you cruise around the Pearl, the Corniche, and other major attractions in the City.
1.Hit the Beach
Escape the hustle and bustle of the city life and soak up the sights aboard a dhow. What a better way to spend your weekend. Leave your worries behind and create a moment to remember on-board National Cruise.
Price: QAR 199
2.Dinner Cruise
Step aboard the Cruise for an unforgettable evening. Departing from the Box Park, you'll enjoy a leisurely three-hour cruise along the Pearl and unobstructed views of west-bay Building, skyline, Islamic museum and more.
Price: QAR 299
3.City Tour By Sea
A touch of heritage meets modern architecture during this 2-hour mid-day cruise from M.I.A., pass by Katara the cultural Village and The Pearl-Qatar and vice versa through the waters of Arabian Gulf. Hop on and hop off and travel by cruise to discover the major tourist destinations in Qatar.
Price: QAR 149
Contact: 77999666 - 66000926