Talks in Qatar's Cabinet to Limit The Latest Development of COVID-19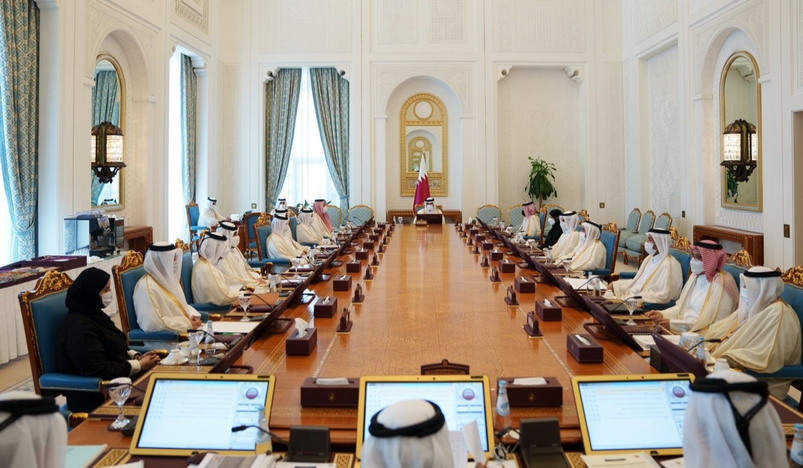 During its weekly meeting today, Qatar's Cabinet discussed several topics on its agenda
The Prime Minister and Minister of Interior HE Sheikh Khalid bin Khalifa bin Abdulaziz Al-Thani chaired the Cabinet's regular meeting held at its seat at the Amiri Diwan today.
Following the meeting, Minister of State for Cabinet Affairs HE Mohammed bin Abdullah Al Sulaiti issued the following statement:
At the beginning of the meeting, the Cabinet extended its highest congratulations and blessings to the Amir HH Sheikh Tamim bin Hamad Al-Thani on the occasion of the approaching Eid Al-Fitr, asking Allah Almighty on this occasion good health and happiness for His Highness, for Qatar and its people more splendor, goodness, development and prosperity under the wise leadership of HH the Amir, as well as security, peace and stability for Arab and Islamic nations.
Then, the Cabinet listened to the explanation given by Minister of Public Health HE Dr Hanan Mohamed Al Kuwari on the latest developments to limit the spread of the coronavirus (COVID-19).
The Cabinet affirmed the continuation of the precautionary measures that have been taken to combat the pandemic.
Following that, the Cabinet considered the topics on the agenda as follows:
First - Approval of a draft Cabinet decision amending some provisions of Decision No. 11 of 2020 on reorganizing the Qatar National Commission for Education, Culture and Science.
Second - Approval of a draft decision of HE Minister of Commerce and Industry to establish the Unified Economic Register Department in the Commercial Registration and Licensing Department.
Third - Approval of a draft agreement for cooperation in the legal field between the Ministry of Justice in the State of Qatar and the Ministry of Justice and Public Security in the Republic of El Salvador.
Fourth - The Cabinet reviewed the draft Amiri decisions in the organizational structures of the ministries and took the appropriate decision in that regard.
Source: QNA