QRCS and QC Support Lebanon's Health Sector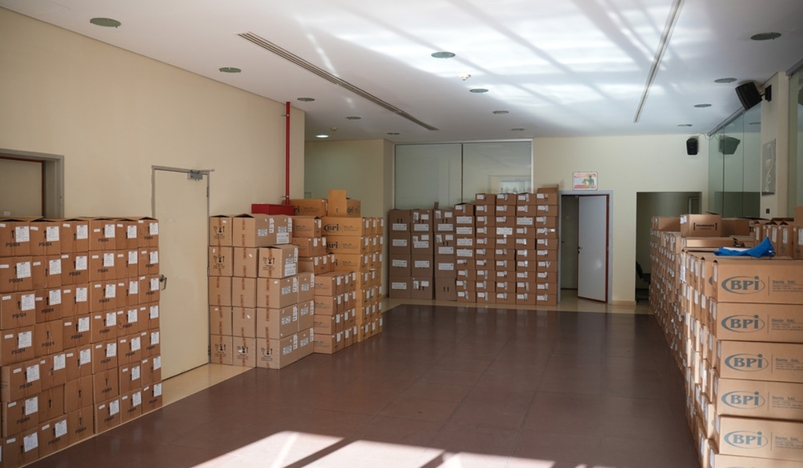 QRCS and QC Support Lebanon's Health Sector
As part of backing the Lebanese health sector in the teeth of economic challenges, two batches of vital medicines have recently been delivered to Lebanon's Ministry of Interior (MoI) and Ministry of Public Health (MoPH), at a cost of QR3,650,000, under a project funded by Qatar Charity (QC) and implemented by Qatar Red Crescent Society (QRCS).
At Sheikh Zayed bin Sultan Al Nahyan Medical Center, the Directorate-General of Internal Security Forces held a ceremony to receive chronic disease medications provided by QRCS and QC. 
It was attended by Major-General Imad Othman, Director-General of Internal Security Forces; Counselor Mashaal bin Mohamed Al Kuwari, representative of the Ambassador of Qatar to Lebanon; Dr. Mohamed Al Sousi, head of QRCS mission in Lebanon; Brigadier Hussein Khashfa, Head of the Central Administration Unit; Colonel Ahmed Abla, Commander of Beirut Police; and senior officers.
Maj Gen Othman thanked the Embassy of Qatar in Lebanon, QC, and QRCS for supporting the Internal Security Forces. 
He stressed the importance of this support to secure medical services for more than 150,000 policemen, family members, and pensioners.
Dr. Al Sousi said, "It is a small contribution made to MoI, municipalities, and Internal Security Forces, despite the pressing needs of this sector. The support from Qatari charities shows our eagerness to back the health sector in Lebanon. I would like to thank QC for funding this project. We at QRCS will continue to give every form of support to Lebanon, especially in the health sector, where we have an evident influence at MoPH's hospitals and clinics."
In his comment, Khaled Al Yafei, Director of Relief and Emergency Department at QC, said, "This support is part of QC's contributions to the health sector. I hope that this assistance will help enhance health care services for patients. QC will continue to support the people of Lebanon, especially during difficult circumstances. I would like to thank QRCS for undertaking this project."