Qatar endeavors to combat climate change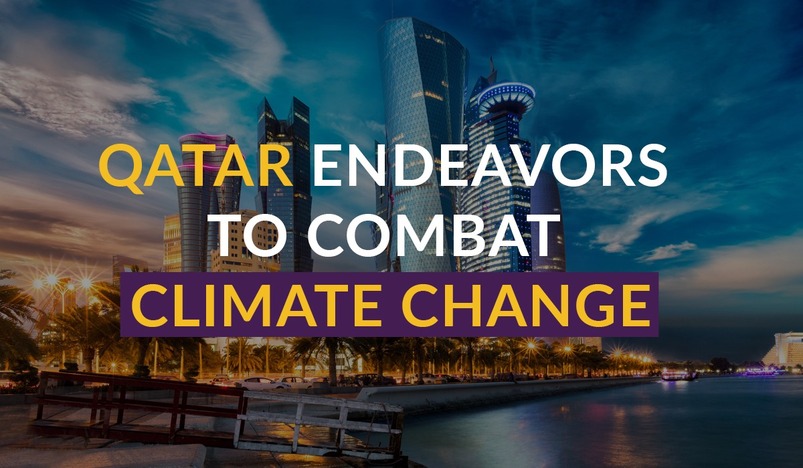 Qatar endeavors to combat climate change
Climate change has been designated the most severe global environmental concern, with potentially catastrophic effects on humanity, biodiversity, and marine ecosystems. Qatar is dedicated to reducing inefficiencies that increase CO2 emissions and collaborating with other countries and international organizations to address global climate concerns. However, Qatar, like its Gulf neighbors, is highly susceptible to the adverse effects of climate change. The State of Qatar asserted that it would spare no effort in playing its role in combating climate change per its national requirements and international obligations.
Qatar ratified the United Nations Framework Convention on Climate Change (UNFCCC) on 18 April 1996 and the Kyoto protocol on 11 January 2005. Although Qatar is not required by the UN Framework Convention on Climate Change to set emission control targets, it is undertaking voluntary efforts and setting ambitious targets to limit greenhouse gas emissions.The National Development Strategy is being used to implement the Qatar National Vision 2030 (QNV). QNV and NDS both incorporate sustainable development ideas, and the people of the country are at the heart of efforts to enhance sustainable development.
Moisture losses from Qatar's water-stressed land would occur if average temperatures rose without an increase in rainfall. As a result, there would be two significant consequences: greater desertification and higher water demands. In addition, because the country is reliant on desalination, which requires much energy, energy consumption would climb.
CO2 emissions. Increased temperatures would further exacerbate air quality issues and have a negative impact on human health. Along with Kuwait and Bahrain, Qatar is one of three countries in the Arabian Gulf that are most vulnerable to increasing sea levels and flooding. Due to the shallow depths of Qatar's marine waters, even small temperature rises will have a profound influence. The Ministry of Environment's marine sensitivity atlas classifies mangroves, coral reefs, and seagrass beds as sensitive ecosystems which will be adversely impacted by climate change. Migratory patterns for some sea birds and other marine species could also change.Because of the considerable influence that climate change and its harmful repercussions can have on all parts of society, the State of Qatar has been eager to embrace a nationwide integrated approach to preservation and climate change mitigation.
The state of Qatar has implemented numerous projects and programs aimed at lowering carbon dioxide emissions and increasing reliance on renewable energy sources, which the State of Qatar sees as a strategic opportunity to break hydrocarbon dependence, diversify the economy, and generate more jobs prospects. In addition, Qatar will be hosting the first carbon-neutral world cup in 2022, which took into account the use of sustainable and environmentally green technology.
Apart from the government's effort, recently, we have seen a climate change and environment-based NGO in Qatar forging a strategic partnership with an advertising firm to increase the country's internet and social media campaigns for climate change engagement. The Arab Youth Climate Movement QATAR (AYCMQA) and Futad advertising sealed the agreement, calling for the use of social media interaction and campaigns for people in Qatar to learn, engage and take action for a more sustainable future.  
In addition to the above efforts, it's worth mentioning that there are quite many local initiatives, like some individuals taking action by recycling milk bottles and turning them into art. Also, Jars, Containers, and Reusables: A Facebook group with over 30,000 members is a platform where people in Qatar can post and share if they have any pre-loved jars, bottles, and containers that are reusable with anyone that needs it instead of it ending up in the bin then in a landfill- they get a new lease on life and get repurposed. So it doesn't matter how little; we can all do our part in ensuring we contribute to conserving our environment.
Way Forward 
The Qatar National Vision articulates the country's long-term development outcomes, which emphasize the importance of striking a careful balance between the interests of the current generation and the interests of future generations. The country's strong economic advances provide a solid platform for this, and revenues from the existing nonrenewable resources will be channeled further towards physical and human capital building through the National Development Strategy.
Through many types of international cooperation, Qatar contributes significantly to the global partnership for sustainable development. This spirit of collaboration and the national commitment to address climate change provide the rationale for proactively engaging with numerous regional and international agencies.