Putrajaya: The capital city you've never heard of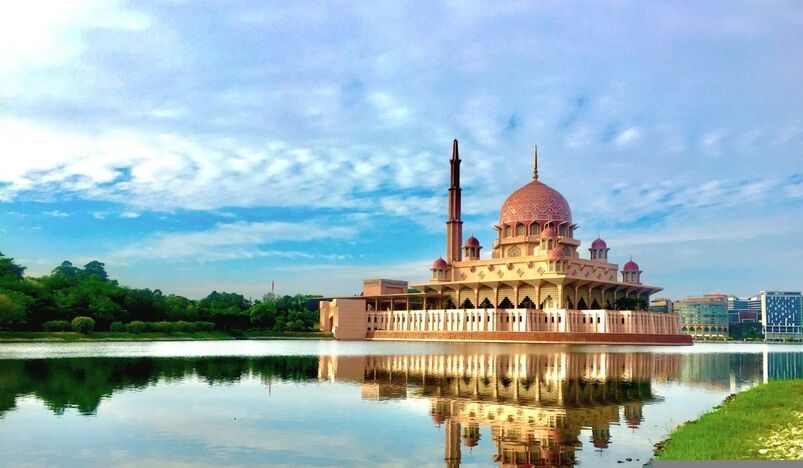 The towering Masjid Putra is one of the only pink mosques in the world
By Ronan O'Connell -  BBC 
Located in the shadow of Kuala Lumpur, Malaysia's "other" capital is one of the world's greenest cities.
flock of birds glided below me as I peered down from the wicker basket of a drifting hot air balloon above the Malaysian city of Putrajaya. The creatures gracefully flapped their grey wings as they passed the city's nest of skyscrapers en route to their nearby habitat at the Putrajaya Wetlands Park, the largest man-made freshwater wetlands in Malaysia.
Nearly 100 bird species reside in this 200-hectare oasis of marshes, ponds and forest, and it's a valuable habitat for 1,800 species of insects, 16 types of amphibians, 22 species of reptiles and 16 types of mammals. It's hard to believe that this serene sanctuary home to macaques, flamingos, otters, boars and civets is just 2km north of the mint-green Islamic dome that decorates Perdana Putra, the colossal office of the prime minister of Malaysia. This sprawling eco-haven was part of the bold vision of the man who long occupied Perdana Putra: Mahathir Mohamad.
No politician has left as large an imprint on Malaysia as Mahathir. Malaysia has been an independent nation for 64 years, and Mahathir was prime minister for 24 of those, with his second leadership stint ending in 2020. While his tenures were tinged with controversy, Mahathir's aggressive development strategies helped Malaysia build one of Asia's fastest-growing economies in the 1990s. Several of Kuala Lumpur's largest monuments testify to his ambition – chief among them the massive Kuala Lumpur International Airport and the iconic 452m-tall Petronas Twin Towers. But his boldest project of all was Putrajaya, Malaysia's "other" capital city.
The airport took flight in 1998; the twin towers rose that same year; and in 1999 Putrajaya became the new seat of the Malaysian Federal Government to help address overcrowding in Kuala Lumpur. The modern, planned city bloomed out of a messy patch of rubber and oil palm plantations. Lying just 25km south of Kuala Lumpur, which remains the national capital, Putrajaya now serves as Malaysia's administrative and judicial capital, home to many of its government offices.
Malaysia's "other" capital seems to hide in plain sight
Yet, despite being wedged between one of the world's most visited cities, Kuala Lumpur, and Malaysia's historical city of Malacca, Malaysia's "other" capital seems to hide in plain sight. Like countless other travellers, during my first dozen trips to Kuala Lumpur, the most I saw of Putrajaya was a series of quick glances from the expressways that connects Kuala Lumpur's airport with the city centre. My curiosity eventually lured me to explore this overlooked city twice: first in a hot air balloon; and later on foot.

The few tourists who do visit Putrajaya are richly rewarded. Putrajaya's downtown is marked by contemporary architecture infused with traditional Islamic designs. Gleaming skyscrapers are adorned by Arabesque patterns with geometric or floral motifs. The city's Iron Mosque, meanwhile, boasts the kind of cutting-edge steel-and-glass architecture you'd expect to find in Tokyo or Beijing. Similarly modern is the Putrajaya Convention Centre, an avant-garde creation inspired by the Pending Perak, a silver belt buckle from the royal regalia of Malay sultans.
The city is also home to one of the world's only pink mosques, the massive Masjid Putra –  as well as impressive museums, a large shopping precinct and one of Asia's cleanest and greenest cityscapes, with 37% of its land dedicated to parks and open public spaces. Building Putrajaya from scratch also afforded generous opportunities for innovation. Mahathir's goal was to make Putrajaya Malaysia's most eco-friendly urban centre and its most modern.

Inside a large command centre, Putrajaya city staff monitor a tsunami of digital data from sensors and CCTV cameras placed all over the metropolis, according to Tengku Aina Ismail, director of communications for Putrajaya Corporation, the government entity that runs the federal city. The cameras quickly identify and then alert staff about problems with traffic, crime, pollution or infrastructure; and the command centre also monitors the city's weather data, its e-government services, its cashless commercial system (which lets residents pay for goods and services using a phone app) and even the health of Putrajaya Lake and the surrounding wetlands.

Initially, Putrajaya was intended to evolve into a 350,000-person city with an additional 500,000 commuters, and serve as an eco-friendly showpiece of Malaysian heritage and identity. Yet, the enduring lure of nearby Kuala Lumpur has meant Putrajaya's population growth has been slower than expected, and today – much to the pleasure of locals and visitors seeking a break from the hectic bustle of Kuala Lumpur – Putrajaya remains a spacious and sleepy metropolis of just 120,000 residents.
In dozens of trips across Asia, Singapore was the only place where I'd found an abundance of public, uncrowded parks – that is, until I visited Putrajaya. The city centre is in the middle of Putrajaya Lake on a 4km-long by 2km-wide island. This lake has 38km of waterfront, a significant portion of which is embellished by gardens, jogging tracks and cycle paths. The Putrajaya Botanical Garden also features more than 700 species of tropical plants, and can be explored via tram rides, hired bicycles and guided tours.

Excellent hiking trails and camping facilities are the highlight of the nearby Rimba Alam Park, which is home to a sustainable urban tropical forest ecosystem populated with plants from nearby rainforests. Striking 360-degree views of Putrajaya are offered by the European-style pavilion in Saujana Hijau Park; while Putrajaya's Agriculture Heritage Park is dedicated to the preservation of traditional Malay agriculture and teaches visitors the basics of planting, maintaining and harvesting crops such as rubber, cocoa and oil palms.