OIC calls for global action to combat Islamophobia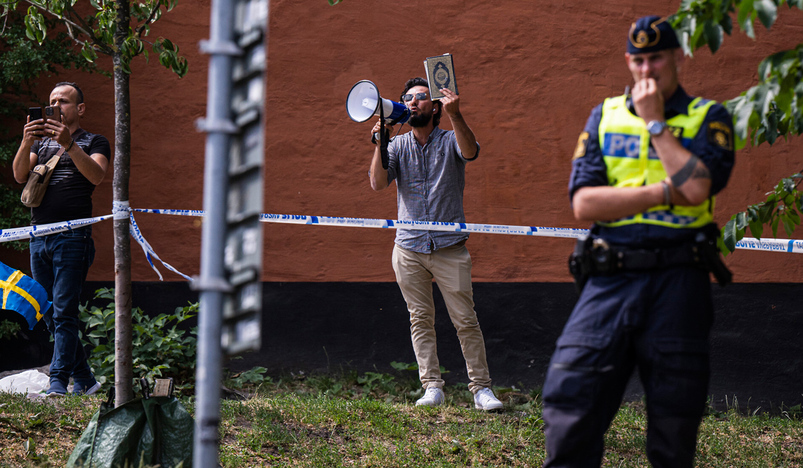 Quran burning
The executive committee of the Organization of Islamic Cooperation held a meeting in Jeddah on Sunday to discuss the consequences arising from the Qur'an burning incident in front of the Central Mosque in Stockholm, Sweden, on the first day of Eid Al-Adha.
On June 28, Salwan Momika, 37, a refugee from Iraq, desecrated the Qur'an and set fire to its pages, prompting widespread outrage and condemnation of the act across the Muslim and Arab world.
OIC Secretary-General Hissein Brahim Taha called upon member states to unite and take collective measures to prevent similar incidents in the future.
The OIC firmly denounced the act, which it said undermines mutual respect among people and global efforts to foster tolerance and moderation.
Taha emphasized the importance of delivering a clear message that desecrating the Qur'an and insulting the Prophet Muhammad are not ordinary incidents of Islamophobia. He stressed the need for the international community to implement laws that explicitly prohibit the promotion of religious hatred.
Saleh Hamad Al-Suhaibani, Saudi representative to the OIC, said: "We hope that this emergency meeting will produce valuable outputs and fruitful results in order to stop these despicable behaviors."
This is the fourth time that a similar incident has occurred in Sweden, Al-Suhaibani said, "under the false pretext of freedom of opinion and expression."
He added: "The Kingdom strongly condemns and censures these repeated actions. Such acts are unacceptable regardless of any rationale, and they overtly encourage hatred, exclusion, and racism. Moreover, they contravene religious principles and all global agreements advocating for peace and unity."
OIC member states united to denounce the incident, with strong condemnation expressed by countries including Turkiye, Pakistan, Cameroon, and Gambia. Ambassadors and other representatives voiced their disapproval and concerns during the meeting.
Mehmet Metin Eker, permanent representative of Turkiye to the OIC, said that it is unacceptable for Sweden to not take action "in the face of these provocative attacks on our sacred values, under the guise of freedom of speech and expression.
"We fought the Swedish authorities to take the necessary legal measures against the perpetrators of this crime. We also invite the international community to take concrete steps to prevent the recurrence of such provocative acts," he added.
Eker said that the UN's adoption of a resolution proclaiming March 15 as the International Day to Combat Islamophobia constituted a "step in the right direction."
He suggested that the OIC organize events at its headquarters and, more importantly, in countries where Islamophobic attacks are prevalent, with the aim of raising awareness on this issue and mobilizing members and potential partners to effectively tackle Islamophobia.
Syed Mohammed Fawad Sher, permanent representative of Pakistan to the OIC, said that the government of Pakistan strongly condemns "this cruel act … on the blessed occasion of Eid Al-Adha."