Japan gifts 3M coronavirus vaccine doses to Bangladesh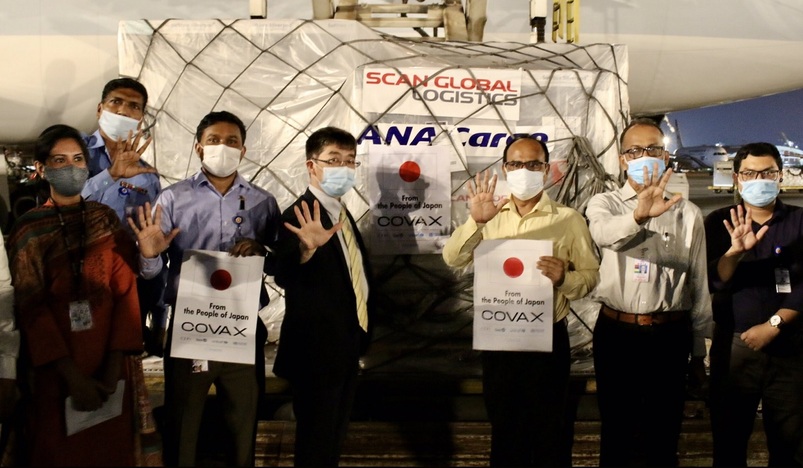 Last shipment of AstraZeneca vaccine manufactured in Japan arrive in Dhaka
The last shipment of 634,920 doses of the AstraZeneca coronavirus vaccine manufactured in Japan arrived at the Dhaka International Airport late Saturday, according to a statement by the Japanese Embassy in Bangladesh.
Japan provided 3 million doses as gifts under the UN COVAX Facility to meet the urgent needs of Bangladeshis, said official sources.
"I am pleased that Japan has completed the delivery of more than 3 million AstraZeneca vaccines today, which Japan had committed to Bangladesh," said Japanese Charge d' Affaires Yamaya Hiroyuki.
He said he hopes the vaccines would contribute to Bangladesh's efforts to prevent the spread of the pandemic.
"We would like to express our heartfelt appreciation for the generous support from Japan. Japan has been always supporting Bangladesh in the fight against COVID-19," said Jashim Uddin Khan, Deputy Secretary of the Bangladesh Ministry of Health and Family Welfare Ministry.
He urged Japan to continue its support and said Bangladesh would effectively utilize the vaccines.
Nearly 26,000 people have died from the virus in Bangladesh while the South Asian Delta nation of 165 million has registered 1.5 million cases.
But more than 1.4 million patients have recovered, according to the government's latest report.
To stem the spread of the virus, Bangladesh has been conducting vaccination campaigns since February and has administered more than 25.7 million shots, including first and second doses.
Academic activities at all educational institutes have been postponed for nearly a year and a half amid the spread of the virus.
Source: Anadolu Agency