Discover Qatar extends Whale Sharks of Qatar daily tour till Aug 2022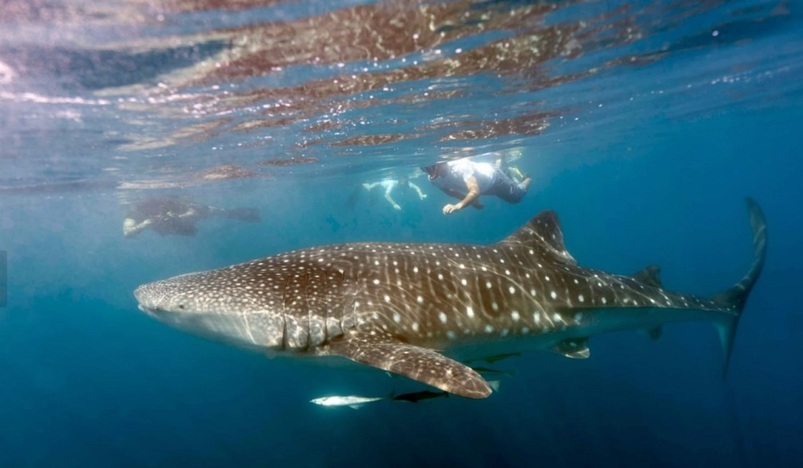 Whale Sharks of Qatar - Daily Explorer Rates and Packages
Have you tried swimming with Whale Sharks? Did you know you can get the chance to see the world's largest living fish up close deep down Qatar's aquamarine waters?
Good news to divers and whale watching junkies! Discover Qatar has announced the extension of its Whale Sharks of Qatar daily tour after its successful launching last month.
Since the first sailing on June 3, 2022, Discover Qatar has carried over 250 passengers on the 'Whale Sharks of Qatar - Daily Explorer.'
When Can You Experience the Tours?
Due to popular demand, Discover Qatar has added new dates for the Whale Sharks of Qatar - Daily Explorer tour and will be sailing every Friday and Saturday in August.
What to Expect?
Today, Discover Qatar continues to provide guests the chance to embark on a unique journey to observe one of the largest congregations of Whale Sharks.
The tour offers guests an exciting experience while travelling in luxury and comfort. 
"We are delighted to announce the extension of this tour after much success during the last two months. This tour offers a once-in-a-lifetime opportunity for our guests to connect with nature in Qatar through this unparalleled experience. We look forward to welcoming more guests before the end of the season," said Qatar Airways Group Chief Executive and Chairman of Qatar Tourism, H E Akbar Al Baker.
When Can You Go Whale Watching?
The true natural wonder only occurs between the summer months of April through September. During their annual migration to the region, Whale Sharks are found feeding in groups of hundreds off the northern coast of Qatar in the Arabian Gulf. 
What Are the Rates?
Guests will now have the opportunity to experience this phenomenon on the Daily Explorer with tours being extended to every Friday and Saturday until the end of August starting from QR1,800 per adult and QR1,350 per child.
What Are the Packages Offered?
Discover Qatar offers guests the option of sightings from a luxurious 'Private Charter' yacht or a 'Daily Explorer' tour on a high-speed catamaran. Both options include:
• Breakfast and lunch
• A Whale Sharks expert guide
• Wi-Fi on the vessels.
Tour includes:
• A presentation on the Whale Shark's habits, their feeding and an overview of the research being carried out in Qatar, by an expert guide
• Breakfast, sandwich buffet lunch, and snacks
• Coffee, tea, cold soft drinks, and water
• A complimentary professional photographer will be on-board throughout the day
• Optional return transfer may be added at an extra cost
How to Book?
Both tours are available to book on the Discover Qatar website until August 27, 2022. Book now at whalesharksofqatar.com
Fun Facts
Whale Sharks, often referred to as 'gentle giants', are estimated to have existed for 60 million years. They can live up to 100 years and grow up to 12 metres in length. 
Testimonials
"We have had a phenomenal response from our customers so far, we hope you enjoy reading some of their comments below and we look forward to hosting you soon!," said Discover Qatar on its Facebook page.
"Overall the service and experience were truly great! The staff was very accommodating and the tour guide was very informative. The tour started promptly! And the Shark sightings were great!
"Exceptionally nice and friendly crew. Excellent food and drinks, unlimited! The experience was just very special."
"Great experience. Thank you for protecting these amazing animals. The entire crew was perfect."
"Service and presentation excellent. Patricia, our tour guide is amazing and very knowledgeable."