Best Restaurants to Enjoy the Nightlife in Qatar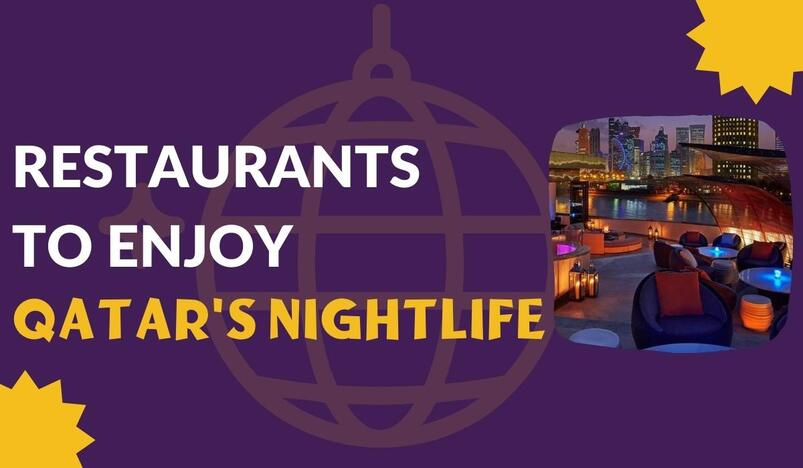 Here are a few restaurants to enjoy the nightlife in Qatar!
For much of the year in Doha, life begins after the sun sets. As the city lights shimmer, its beautiful people head out to enjoy bites, music, and dance. Enjoy a city break experience and experience tradition and modernity together, rooted in luxury.
Al Shurfa Arabic Lounge
Al Shurfa (the balcony) is just a ticket for those who love a room with a view. More than a restaurant, it's a happening place to hang out and look out over the heart of old Doha and the famous Souq Waqif. The cuisine is Lebanese/Mediterranean and there are various flavours of shisha available too. 
Location: Al Jomrok Boutique Hotel Souq Waqif, Doha
Contact: +974 7047 3687
Jazz Club
Jazz Club is a central gathering place for the city's music lovers, featuring everything from jazz and golden oldies, to pop. In addition to beverages, they serve choices of small bites, burgers, and steaks.
Location: Airport Road Oryx Rotana Hotel
Contact: +974 4402 3333
B-Lounge
With breathtaking marina views, an assortment of culinary and mixology events, celebrity guest DJs, and nightly entertainment, B-lounge provides an unforgettable experience to please any and all tastes.
Location: The Ritz Carlton, Doha
Contact: +974 5080 4421
Infinity Rooftop Lounge
The Infinity Rooftop Lounge offers stellar views and an elaborate menu from all over the world. As the sun sets and Doha sparkle into life, admire the breathtaking panoramic views of Doha's magnificent skyline while sipping on speciality beverages from around the world.
Location: Corner of Wadi Msheireb and Jassim bin Mohammed Street, Doha
Contact: +974 4009 9999
Join your friends as you enjoy Doha's nightlife. It offers generous helpings of live music venues and clubs for you to experience the dazzle of Qatar.
Source: Visit Qatar