Amazing Must-Try Arabic Eateries in Qatar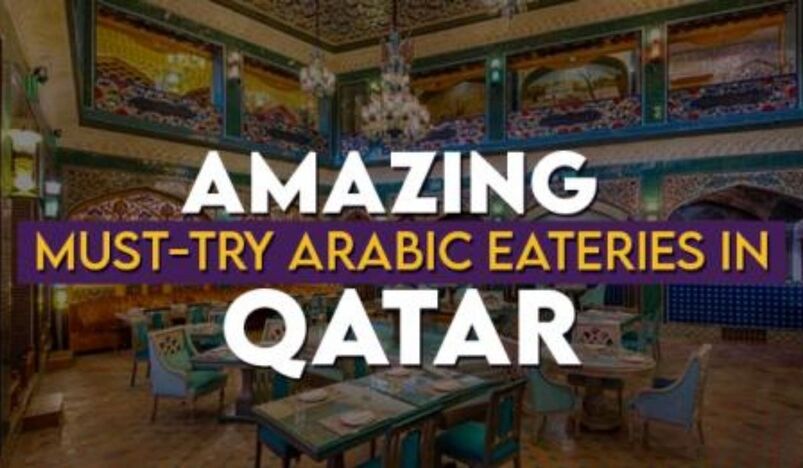 Must-Try Arabic Eateries, Arabic Restaurants in Qatar, Qatar Day, Qatar
Arab dishes are considered to be one of the world's delicious foods for their traditional, heritage, and enriching ingredients contained.
The cuisines are mainly influenced and inspired by climate, cultivation, and mutual commerce, which makes them soothing for tastes.
The dishes that have been derived from the middle eastern region, especially in gulf states reflect back to their culture of trading in spices, herbs, and foods.
Qatar being one of the Arab states has a lot to offer for its customers – both expats and locals in providing them with some quality time and relishing moments.
Let us discover some of the amazing must-try eateries in Qatar.
1. Arabesque Restaurant
Known to be a great eatery in town, this Lebanese restaurant serves its customers with some palatable traditional food.
With their world class service, Arabesque offers some of the top-notch and savoring chicken dishes along with the best hummus. 
To enjoy this great eatery, come down to 18 La Croisette, Porto Arabia Drive, Doha or call them on 4409 5271 for more information.
2. Al Sufra
Al Sufra features amazing interior and exterior designs giving it a classy look and welcomes its customers for some authentic Arab dishes.
At a reasonable price, Al Sufra gives the best services for all its visitors enabling them to enrich their taste buds.
Call on 4035 5011 to get more details about its services and offers as Al Sufra is a highly recommended outlet to try.
3. Yasmine Palace Restaurant
The Lebanese eatery is one of the scrumptious Arab restaurants that guarantees to provide its visitors with nothing but the best and authentic dishes.
In addition to being highly recommended, Yasmine Palace is also a widely visited country for those who would live the original tastes of Arab.
To receive more insights and information regarding the restaurant, feel free to contact them on 7711 1504.
4. Al Majlis
Assuring the best quality and experience, Al Majlis has become one of the favorite Middle Eastern restaurants for the people in Qatar.
One of the best and top-most ordered cuisine is the Kabab, which serves the succulent flavors of traditional Arabian cuisine.
You can contact them on 4478 5551 for more detailed information regarding services, prices, and timings of Al Majlis.
5. Shatter Abbas Restaurant
This Persian outlet, which is located in Doha Festival City is one of the outlets commonly seen as very busy during the rush hours.
Shatter Abbas Restaurant serves some authentic dishes including Shawarmas, Arab rice, Kebab, and many more.
Place a call on 4401 5656 to know more about what they can offer and if dine-in is available due to the ongoing restrictions.