Pontypool: The town looking for a fresh start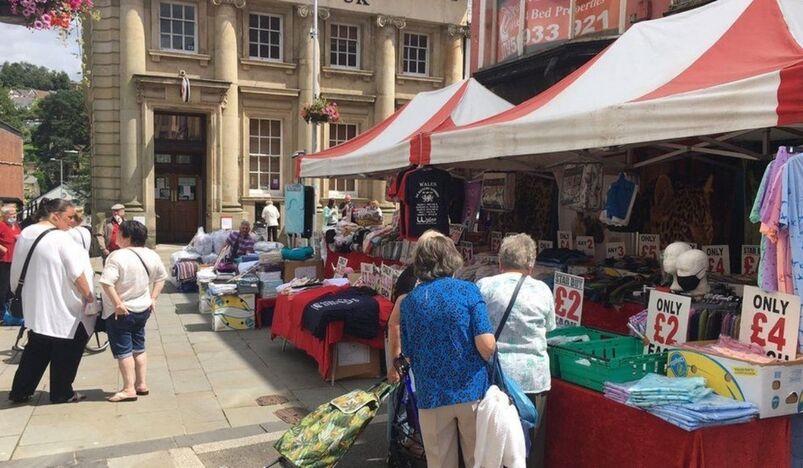 Pontypool
Friends in masks catch up, traders call out and ladies in tunics hand out samples of their cooking with a smile. It's market day in Pontypool.
This once prosperous town, like so many across Wales, is looking to make a fresh start after the pandemic.
The local authority has pledged to prioritise breathing new life into the town centre and any feeling of optimism is certainly helped by the sunshine.
But how people living and working in the town view the future remains mixed.
The queue at the cash-point suggested people were feeling confident enough to spend and while, for some, the glass is half-empty, for others it is certainly half-full.
Do you focus on the empty shops and 'premises to let' signs hanging from some of the town's 56 listed buildings within the conservation area? Or do you cast an eye at the small independent traders chatting warmly with customers?
Inside the market some traders have never had it so good, such as Penrhiwgyngi Farm Bakery who began deliveries during lockdown. Others though have pulled down the shutters for good.
Pontypool's heyday - first through iron and coal, then the much-sought after Japanware and then it's rugby team's fearsome front-row - may have long gone but it is looking to reinvent itself.
The question, of course, is how.
Pontypool's empty shops are no different to high streets all over the UK following the collapse of so many well-known chains.
However the focus here is to help local businesses, start-ups and entrepreneurs to move in, aided by grants, cheap rents compared to other towns and free parking for customers.
One passer-by may have quipped, "they should be paying you to park in there", but traders are settling.
When New Look left the town centre, an independent gym took its place and brought with it regular footfall. The market, boosted by reduced rents, has seen occupancy rise during the pandemic to 77%.
The hope is that such start-ups can test the water before potentially moving into larger premises in the town.
Among those to take advantage is 21-year-old Lewis Woolfall, who has opened a 3D printing service.
He said business was booming, keeping his 15 printers running around the clock, and it was all through his modest market stall, which he opened two days before the firebreak lockdown in October.
"I wanted to be able to speak face-to-face to my customers rather than having endless email conversations," he said.
"Many of customers are not online and it really helps them to understand what I can do when they come here and chat. But people are generally quite surprised to find a 3D printing shop in the market."
However not everyone is prospering. Just around the corner one trader, who had seen the potential in Pontypool, said she took just £5 on a Saturday while another blames the by-pass and Cwmbran's retail park for the damage inflicted.
"The town is coping with the pandemic but it's the big boys that are closing down and the independent traders who are keeping the town centre going," said community council leader Gaynor James, who also owns baby clothes shop Individuality.
"There's often negativity when something closes, but the council can only do so much."
'Rebuilding'
Allun and Nichola Davies are among those independent traders trying to make Pontypool a "destination" for shoppers looking for something different.
They own Ragamuffins Emporium which works with 30 traders selling antiques, curiosities and collectables.
"We're seeing people coming to us from other parts of Wales and that's great for the town," said Mr Davies, 53.
"Hopefully that can encourage other traders to come and help the town find that niche.
"Some people say these towns are struggling but they're an opportunity. Pontypool is beautiful, its a typical welcoming valleys town and has such potential because it's so affordable.
"Slowly but surely it is rebuilding."
It is helped by the local authority putting its money where its mouth is.
Through private and public sector funds, Torfaen council has overseen more than £1m in regeneration investment into Pontypool this last year alone.
It has also confirmed it is to pump all the money it gets through the levelling-up fund into its three town centres of Pontypool, Cwmbran and Blaenavon.
"We have an opportunity to make a difference with the funding that's now available," said Kelly Collins-Thomas, economic and regeneration manager.
"Town centres are a lifeline. They're at the heart of economic activity and providing services for residents so we want to make them attractive places to live, work and visit.
"Covid has provided a refocus in terms of people looking locally for services and we're seeing a real mix of businesses looking to locate in Pontypool.
"It takes some work to bring some of these lovely old building back to life but we are seeing people are willing to invest."