Your Guide to Ramadan Staycations and Dining Offers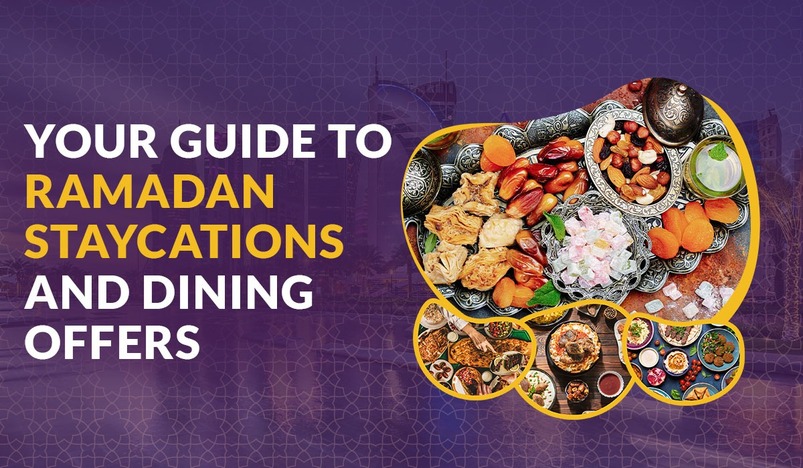 Check out below our list of Ramadan Staycation and Dining Offers
Experience the best that Ramadan has to offer this year by taking advantage of the generous offerings by a number of prominent hotels in Doha.
1.W Doha
Enjoy a world-class luxury experience at W Doha, with Iftar or Sohour delivered right to your suite.
Book your staycation and take advantage of a 20% discount on the in-room dining menu.
Prices start at QR 800 per night, which includes Iftar or Suhoor.
The W Doha also offers a variety of restaurants, including all-day dining at Marketdoha and W Cafe Doha, lunch and dinner at Laspigadoha, dinner at Coyadoha, and Papermoondoha.
Now is the time to reserve your table and enjoy the finest cuisine selection.
Contact: 4453 5343.
WhatsApp: 3025 5243 \ 7794 3975 (Dining) 
2. Al Wadi Hotel Doha - MGalley 
During Ramadan, Al Wadi Doha Hotel offers a wide range of staycation packages that include rooms designed and inspired by Qatari heritage, as well as panoramic views of the Doha Skyline and Souq Waqif.
Contact: +974 4009 9999 
Whatsapp: +974 3075 8211.
Ramadan Tent
From Iftar till 8:00 pm, indulge in the best tastes as you share a wonderful evening with your loved ones at the Ramadan tent held in the ballroom.
Prices: 
QAR 220 for Iftar.
QAR 190 for Suhoor "Under the Stars" 
3. Hilton Salwa Beach Resort
Enjoy the Ramadan atmosphere at Hilton Salwa Beach Resort with villa rooms and packages. 
Rooms and villa specials include Suhoor and Iftar, which you can enjoy at Ramadan Bazaar's Arabian Village, with a wide range of dining options for Iftar and Suhoor from the Levantine restaurant. Enjoy the finest culinary tastes from 3-29 April.
Ramadan Bazzar is open on Thursdays and Saturdays between sunset and 11 p.m. and will last until April 28.
Contact: 4423 6666 
Email: salwa.reservations@hilton.com
4. Park Hyatt Hotel 
Enjoy your stay at the Park Hyatt Hotel and celebrate the spirit of the holy month at the prestigious Downtown Hotel in Msheireb, till the first of May 2022.
Prices:
Park View Room: 999 QAR per couple 
Park Suite: 1,499 per couple 
By booking your stay, you get QAR 400 in Food credit which you can use for Iftar, Suhoor, in-room dining, or spa treatments, in which you save 20%. 
5. Westin Hotel & Spa
Staycation at Westin is a unique experience, you can book a staycation with your loved ones in three different categories, including:
Delux and Suite Packages, Ramadan Villa Package, and Day use villa package where you can enjoy a pool villa of your choice from 10:00 am - 6:00 pm.
By booking a staycation at the Westin Hotel and Spa, you get to avail QAR 300 of food credit, that you can use for Iftar & Suhoor at the Arabian Souk Tent, that features the best of international and Arabic cuisine.
Prices: 
Iftar: 230 QAR
Suhoor: 250 QAR
Iftar Room Service: QAR 140
Contact: 4492 1600 \ 33598514
Email: reservations.doha@westin.com 
6.Ramadan Villa Packages at Simaisma, A Murwab Resort 
Staycation experiences in lavish villas are the perfect way to enjoy the Holy Month of Ramadan.
Prices start at 1,100 QAR per night.
Contact: 44799530 or 44799531.
Layali Semisma 
With kids' activities and fascinating entertainment, you'll enjoy a traditional Iftar and Suhoor with your family and loved ones.
Prices: 
Iftar: QAR 220
Suhoor: QAR 120
Iftar & Suhoor: QAR 300
Contact: 44799555
7.Sealine Beach Resort 
Make Sealine Beach Resort your new gateway destination with your family and loved ones this Ramadan.
Prices:
Standard room: QAR 455 (including Iftar for two). Adults pay QAR 200 for Iftar, while children pay QAR 100.
Bedroom Chalet: QAR 810 (Special Ramadan Rate): enjoy private BBQ facilities and full resort access.Early check-in at 11:00 AM, late check-out at 8:00 PM, room only basis.
Contact: 4021 4000, 4021 4000, or 5586 4809 (for Iftar)
E-mail: info@sealinebeachqatar.com
8.Banana Island Resort
Spend a fun-filled family vacation on the shores of blue waters with a dream staycation.
Contact: +974 4040 5050
Al Azraq Resturant
Iftar is served daily from sunset till 9:30 PM at Azraq Restaurant with festive outdoor entertainment. 
Contact: 40405075
Whatsapp: 60030776 
9.Banyan Tree Doha
Banyan Tree Doha offers a lush garden oasis to immerse yourself in tranquility. Discover Iftar tastes at Qalamkarri Restaurant during your stay with Banyan and enjoy a Suhour set menu in your suite or indulge in Banyan Tree Spa.
Qalamkarri Restaurant
Discover the Iftar or Suhoor Family Sharing Style menu with prices starting at QAR 250 (Iftar) and QAR 220 (Suhoor).
Contact: 4410 3310
Whatsapp: 3992 0808