World Cup Will Shed Light on Cultural Diversity in Qatar: HE Sheikha Al-Mayassa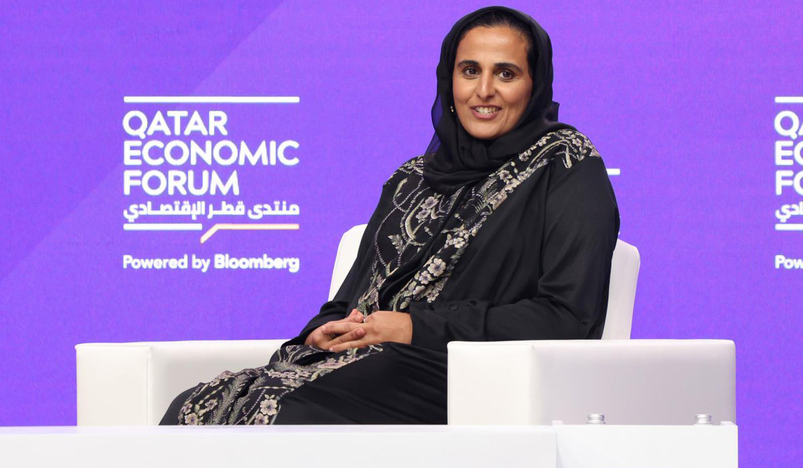 HE Sheikha Al-Mayassa bint Hamad bin Khalifa Al-Thani
HE Chairperson of Qatar Museums Sheikha Al-Mayassa bint Hamad bin Khalifa Al-Thani stressed that FIFA World Cup Qatar 2022 represents an important moment for Qatar and all Arab countries. Her Excellency pointed out that Qatar has bet on this tournament since winning the bid to host the tournament in 2010 through a cultural program at the Arab level focusing on cultural aspects and sports events, enabling visitors of Qatar to watch the tournament and attend the matches as well as cultural events, which Her Excellency described as "important" and "will reflect global cultural diversity."
During a panel discussion in the Qatar Economic Forum, Powered by Bloomberg, Her Excellency reviewed the various cultural events and activities during the tournament. She explained that there are 18 important artworks, including a joint exhibition with the Baghdad Gallery, and other exhibitions in the US that talk about the Abbasid State for more than 500 years. This is in addition to the Lusail exhibition, contemporary exhibitions about the region, a Palestinian gallery, an athletic gallery related to the FIFA World Cup Qatar 2022 which will include dialogues with famous Arab players, as well as many cultural, artistic, and sports programs, and other events in the desert that will be the first of its kind.
Her Excellency added that during the FIFA World Cup Qatar 2022, Qatar Museums will try to explain the cultural diversity of the Qatari society, and it wants to show Qatar as it is to face the stereotypes made about it. She stressed that the FIFA World Cup Qatar 2022 is a global festive occasion that brings people together to discuss many topics, thus, it is very important to make the most of culture as a convergence factor between societies.
Her Excellency stressed that everyone coming to Qatar to attend and watch the tournament will enjoy the various cultural events and programs throughout the tournament stages. In this context, she said that Qatar Museums has many proposals in this regard, and they are open to receiving more and working on them. She added that Qatar has accomplished a lot, and it welcomes people of the world and wants them to embrace Qatari culture and understand the roots of Qatari traditions. She stressed, in this context, that HH the Amir Sheikh Tamim bin Hamad Al-Thani delivered a historic speech in this regard at the last Davos Economic Forum.
The Chairperson of Qatar Museums pointed out that all exhibitions will remain present and continuous for the next ten years, especially since people need new things and exhibits. She indicated that there will be a conference on topics related to Qatari originality, stressing that this topic is very important, especially for those who visit Qatar and interact with craftsmen and others. She added, in the same context, that Qatar Museums depend on the vital growth of the Qatari community, and this year Qatar Museums will activate the Qatari heritage sites.
Her Excellency explained that the National Museum of Qatar is one of the cultural exhibitions in the country, and will be the most prominent of them in the future, especially as it has brought many benefits since its construction, in addition to being a good example in terms of adopting modern technology and linking it with heritage works in a developed and complex world, pointing out that another museum will be opened during FIFA World Cup Qatar 2022.
Her Excellency said that Qatar has a Children's Museum, and Qatar Museums has strategic partners like Ooredoo, Snapchat, and others as Qatar Museums look forward to building other partnerships. She added that Qatari people are proud of their Qatari, Middle Eastern, and Arab history, and of adhering to the Qatari identity and culture, citing what these finished programs and cultural projects, as well as organized galleries, included. She added that there is a platform that supports all of these matters, especially since the State of Qatar has become an attractive center in this context.
HE Chairperson of Qatar Museums Sheikha Al-Mayassa bint Hamad bin Khalifa Al-Thani said that Qatar museums, in everything it does in its projects, is keen to build many initiatives and incubators between Qatar Development Bank, the private sector, and entrepreneurs, noting that Qatar National Vision 2030 is fully compatible with building national and regional human capacities.
Regarding the challenges of all these projects and businesses, Her Excellency pointed out that the biggest of them is helping people realize that culture is very important, and therefore there is a need to support people working in the cultural field to become successful to provide themselves with permanent jobs. She pointed out that culture and museums are viewed as aspects of entertainment, while it is a knowledge-based economy as it provides essential skills to families.
As for the African culture as part of the global cultural dialogue, Her Excellency said that Qatar Museums worked with Qatari designers and organized various events with them in Africa. In 2021, Qatar Museums had an artist from Ghana and it has supporters from various places as well as an inclusive event around African craftworks, she added. Her Excellency added that Qatar Museum is currently cooperating with Africa and, like others, it learns from every cultural industry and this includes photographic works that are always made through cooperation.
(QNA)