Wizard of Oz: A Circus Musical Adventure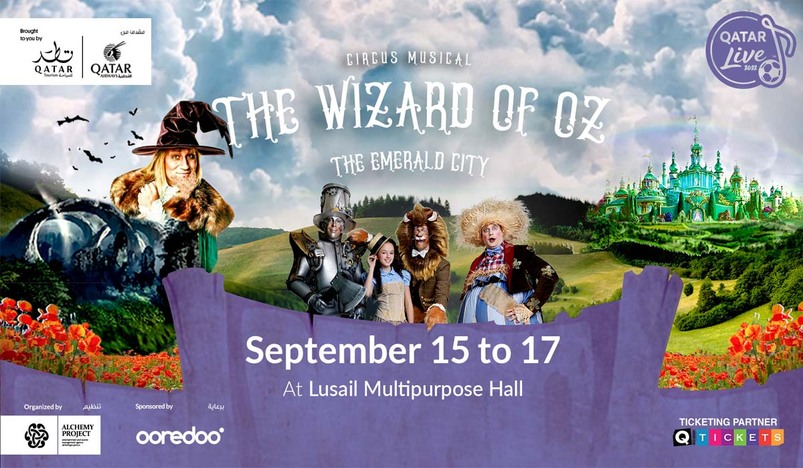 Alchemy Project Qatar presents Wizard of Oz : Circus Musical from September 15 to 17, 2022.
Doha will get a dose of magic when audiences in Qatar get to join Dorothy and her little dog Toto as they journey down the yellow brick road for the spectacular circus musical production of the legendary movie The Wizard of Oz. The Wizard of Oz became popular soon after winning an Oscar in 1939, for the MGM movie version starring Judy Garland as Dorothy Gale, the young farm girl from Kansas who is transported via tornado to the magical Land of Oz. 
A unique rendition of this famous tale of The Wizard of Oz by L. Frank Baum will be seen in the Circus Show during Qatar Live 2022. Organized by Alchemy Project Entertainment and Qatar Airways in association with Qatar Tourism, the show is set to be held at the Lusail Multipurpose Hall this week. Audiences in Qatar were able to enjoy 3 brilliant musical performances in the month of July i.e., Alice in Wonderland, Aladdin and the Magic Lamp, and The Smurfs at this venue. Having attracted thousands of visitors from across Qatar, the incredible combination of Modern Ballet, Theatre, Acrobatics and Gymnastics along with specially tailored animation and visual effects was without a doubt a huge success.
The heartfelt story of the young girl Dorothy and her incredible journey towards self-discovery, along with the friends she makes on the way, is truly a must-watch for those looking for a spectacular family experience. The show plays around the importance of friendship, kindness, courage, and wit, making it especially perfect for the young audience.
The brilliant colors along with the top-notch performances are designed to visually enthrall audiences. The show is set to feature acrobats, aerialists, gymnasts and vivid animation along with enchanting vocal performances.
Date: September 15 to 17, 2022 
Timings:
•    September 15, 2022: 6 pm
•    September 16, 2022: 3:30 pm and 7:30 pm
•    September 17, 2022: 1 pm and 5 pm
Duration: 1 hour 20 mins
Venue: Lusail Multipurpose Hall
Ticket rates: 
•    Silver 1 (QAR 145)
•    Silver 2 (QAR 195)
•    Silver 3 (QAR 145)
•    Gold 1 (QAR 245)
•    Gold 2 (QAR 295)
•    Gold 3 (QAR 245)
•    Platinum (QAR 345)
•    Royal (QAR 545)
Ticket Bookings: Book now on Q-Tickets.com
Written and Edited by: Josephine Justin