With capacity for over 450 buses, one of largest electric bus depot inaugurated in Lusail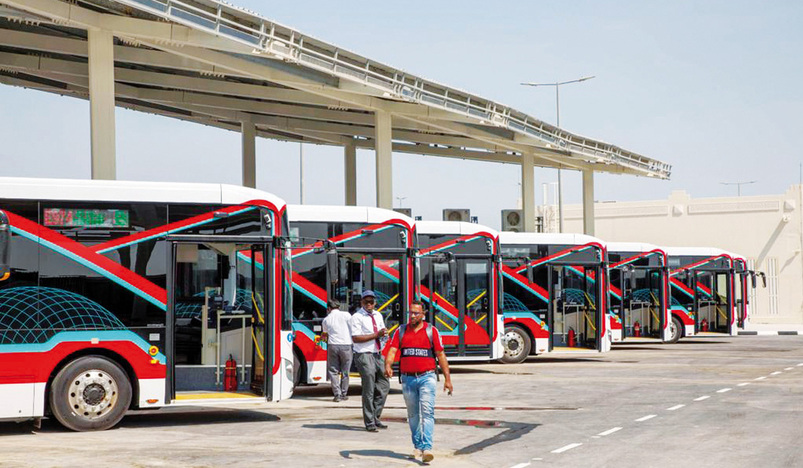 Lusail electric bus depot
Minister of Transport HE Jassim Saif Ahmed Al-Sulaiti today inaugurated the Lusail Bus Depot, considered as the world's largest electric bus depot with a capacity of 478 buses. 
The Depot, which is part of MOT's Public Bus Infrastructure Program, was inaugurated in an event organized at the site of the project, west of Lusail City.
Minister of Environment and Climate Change HE Sheikh Dr. Faleh bin Nasser bin Ahmed bin Ali Al Thani, President of the Public Works Authority (Ashghal) Dr. Eng. Saad bin Ahmad Al Muhannadi, and numerous senior officials representing Qatari transportation industry and the Supreme Committee for Delivery & Legacy, attended the event.
"Lusail Bus Depot, which is considered the world's largest electric bus depot, is inaugurated in the context of Ministry's effort of providing an integrated and sustainable public transit network that covers all areas of the country," said Minister Al-Sulaiti.
This bus depot, he added, is the first in the Middle East relying on solar energy as it includes some 11,000 PV solar panels to generate 4 megawatts of power daily to feed its buildings, and this is in line with Qatar's National Environment and Climate Change Strategy (QNE) goals, and helps achieve the leadership's vision and QNV2030 goals.
He also said that the Depot has a special zone for Bus Rapid Transit (BRT) e-buses, which is one of the newest mobility modes in Qatar that will contribute to supporting fan transportation during FIFA tournament from Lusail Stadium to Al Bayt Stadium in Al Khor.
Today's event, he noted, and the previous inaugurations within the Public Bus Infrastructure Program are particularly important as they coincide with the FIFA World Cup Qatar 2022 and will contribute to supporting tournament's mobility plans through providing multimodal, ecofriendly transportation modes that offer visitors and the public an exceptional experience.
The minister thanked all those in charge of developing the program, which backs the rollout of the strategy of transitioning to EVs that MOT developed in conjunction with the bodies concerned, aiming to position Qatar among top advanced countries in terms of public transit systems and environmentally conscious transportation services offered to citizens, residents, and visitors.
About Lusail Bus Depot:
Located in Lusail City, north of Doha, near Wadi Al Banat Road to the north and Wadi Smaira St. to the west, the depot was developed in an area of more than 400,000m².
The Depot consists of 24 multipurpose buildings, in addition to bus bays, service facilities, recreational facilities, green spaces, and substations. It also features approximately 11,000 PV solar panels covering a total area of more than 25,000m² to generate 4 megawatts of power to feed the depot's buildings with needed power.
The depot is divided into three zones. The first zone includes 478 parking bays for e-buses equipped with 248 electric charging equipment, in addition to dedicated buildings for repairing, inspection, washing, and vacuuming.
The second zone includes accommodations for all the depot staff with a capacity of 1400 people, constructed in accordance with world specifications and the requirements of both the Ministry of Labor and the SC. This zone also includes service facilities such as for dining with convenience services, indoor recreational facility, mosque, administration building, services building, guardhouses and other service facilities. 
The third zone is a depot for BRT e-buses. It includes 24 bays equipped with 24 electric chargers to support the operations of that type of buses. It also includes buildings for repairing, cleaning, vacuuming and quick inspection.
An Operation Control Center (OCC) building is also located at the depot in an area of more than 39,000m². It is considered as the central command center where all bus operations are monitored and controlled. OCC begins operation next year.
The Public Bus Infrastructure Program consists of 8 bus stations and 4 depots supported with more than 650 electric charging units for e-bus operations. It also includes 4 Park & Ride parking lots that serve public transit and mobility, in addition to developing over 2300 bus stops within and outside of Doha City, designed in accordance with highest world standards and state-of-the-art sustainable technologies in a way that suits the identity of Qatar's public transit.