With a Key Role, Unsung Henderson Gains Respect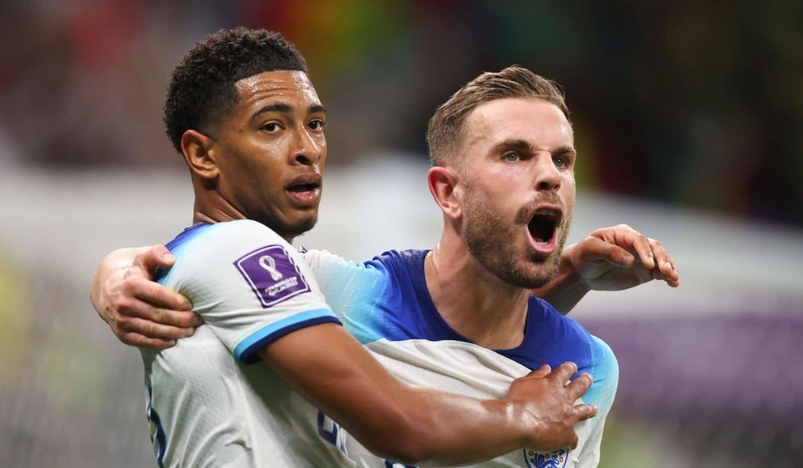 Jude Bellingham and Unsung Henderson
Prior to Saturday's heavyweight quarterfinal matchup with France, Jordan Henderson emerged as England's unsung hero after beginning the World Cup in the background. 
Henderson will lay the groundwork for his more well-known team members to succeed at the Al Bayt Stadium, while England captain Harry Kane and teenage wonder Jude Bellingham are anticipated to provide the headline moments against France. 
Henderson has caused controversy among England supporters, who frequently liked to see more glitzy choices in the midfield powerhouse. 
However, during the past two weeks, detractors of the Liverpool captain's performance abroad have been compelled to retract their statements. Although Henderson was a substitute for England's first two games in Qatar, manager Gareth Southgate has continued to use the midfielder, and it has been successful. 
In the second Group B match against the United States, Declan Rice and Jude Bellingham were finding it difficult to make an impact, so Southgate believed Henderson's vociferous presence and abundance of experience would calm the team down. 
The 32-year-old entered the game in the 69th minute and instantly made an impact by encouraging his teammates to work harder and press higher. 
Henderson's leadership and hard ethic were enough to win him a spot in the starting lineup for the final group encounter against Wales, despite the United States match ending in a goalless draw. Bellingham was given the space to express himself as Henderson and Rice served as twin pivots in front of the England defense as Southgate's team cantered to a 3-0 victory over Wales. 
"He helped us with some tactical issues we were having while we were playing against the USA. He has had a remarkable impact on the group, according to Southgate. Similar events occurred in Sunday's 3-0 victory over Senegal in the round of 16, where Bellingham stole the show with a brilliant performance made possible by Henderson's selfless assist. 
Bellingham appropriately paid it forward by assisting Henderson to give England the lead. 
Additionally, the 19-year-old made an impassioned plea for Henderson's long-overdue detractors to change their minds. 
"Jordan gave an outstanding performance. Some of the nonsense mentioned about his playing is visible to me. It's absurd," Bellingham declared. 
He is so underappreciated technically, and he once again delivered in a big game with a huge goal, therefore I believe it is high time he received some appreciation. 
After England defeated Senegal, Southgate made care to recognize Henderson for his confident performance."Jude and Hendo, when we were out of possession, they really got us back into the game. Hendo's influence is allowing Jude more freedom positionally and he responded to that remarkably well," Southgate said.
The challenger test for Henderson will come against France. 
Antoine Griezmann positioned directly in front of Aurelien Tchouameni and Adrien Rabiot in the world champions' fearsome midfield. 
If England wants to advance to the semifinals, stopping the supply line to the explosive Kylian Mbappe of France is crucial, and Henderson will bear a large portion of that task. 
After witnessing Henderson grow under Liverpool manager Jurgen Klopp into a Premier League and Champions League victor, Southgate has no doubt he can handle the challenge."With Jordan, this is probably the best version of him we have seen with us," Southgate said.
"He's not renowned for his goals so it's brilliant he scored. He's a forward-thinking midfielder. Sometimes we aren't the quickest to get the ball forward and he's had influence in passing forwards.