WISE to host first hybrid summit in Doha starting Dec 7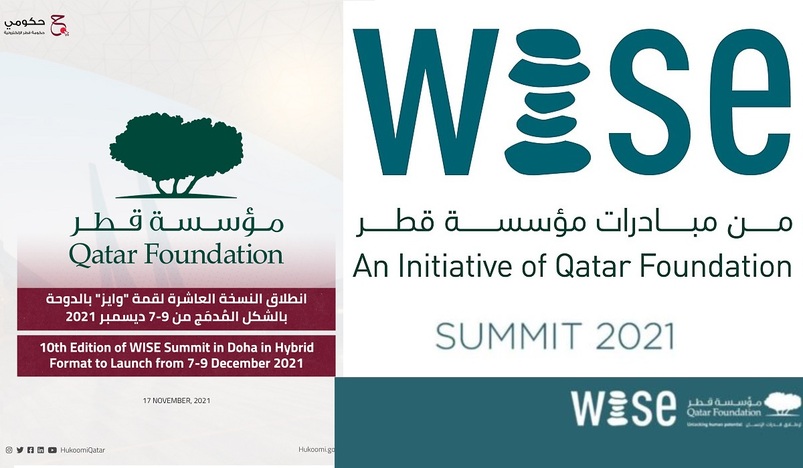 10th Edition of WISE Summit in Doha in Hybrid Format to Launch from 7-9 December 2021
World Innovation Summit for Education (WISE), a global initiative of Qatar Foundation for Education, Science and Community Development, has announced details of the 10th edition of its summit, which will launch from 7-9 December 2021 under the theme "Generation Unmute: Reclaiming our Future through Education." It is noteworthy that the summit will be held in a hybrid format (in-person by attending Qatar National Convention Centre and videoconferencing). 
The announcement was made in a press conference held with participation from the Undersecretary of the Ministry of Education and Higher Education Dr. Ibrahim Bin Saleh Al Naimi and officials from WISE, which included Director of Programs and Chief Curator of the Summit Dr. Ameena Abdul-Majeed, Director of Research and Content Development Dr. Asmaa Al Fadala, and Director of Policy Development and Partnerships Elyas Felfoul.
The press conference focused on introducing this year Summit approach and gave an overview of the program, as well as highlighting WISEs long-term partnership with the Ministry of Education and their joint research. They also touched on local partnerships central to the Summits success, and the 2022 WISE Award cycle.
Moreover, they highlighted long-term partnerships between WISE and MOEHE in the State and their joint research. They also touched on key local partnerships that have been forged to bolster the success of the summit.
The Summit will bring together over 300 thought leaders in education, world-class experts, and influential young voices from around the globe to address current education challenges across more than 190 sessions, ranging from in-person to fully virtual and hybrid platforms. Global audiences will have the opportunity to participate in live sessions at the Qatar National Convention Centre (QNCC) as well as in online discussions via the WISE virtual platform.
Aiming to create a platform for youth, the Summit will introduce a new Youth Studio as a key stage for dialogue and discussion, curated by young changemakers to facilitate intergenerational dialogue. By addressing issues including climate education, fake news, students wellbeing and transitioning to the job market, WISE 2021 aims to provide the next generation with agency to find innovative solutions to todays key global challenges.
Al Naimi praised the WISE Summit as one of the creative and inspiring initiatives and noted its continuity despite the far-reaching impact of the pandemic.
"The Summit represents an opportunity for our students, teachers, school administrators, academics, practitioners and academic leaders in Qatar to interact with their young peers from different countries around the world to discuss global education challenges, thus enhancing their benefit from the Summit," he said.
Source: Hukoomi