Winter Wonderland on Al Maha Island is set to open in November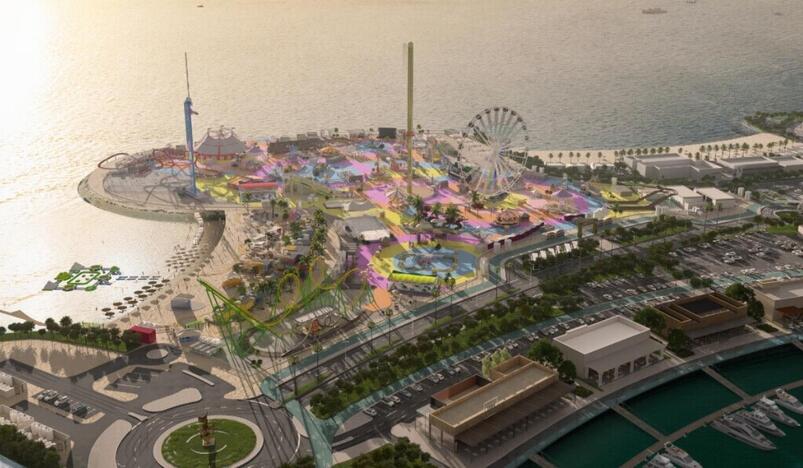 Image Source: Winter Wonderland
Al Maha Island, which will be located in Lusail near Place Vendome Mall, will open in early November, according to Marwan Dimas, Group Chief Marketing and Communications Officer at Estithmar Holding, in an interview with Al Kass TV on Friday.
The 230,000 sqm entertainment and leisure destination, which will include the Lusail Winter Wonderland, Nammos Beach Club, and Al Maha Arena, will open to the public roughly two weeks before the FIFA World Cup Qatar 2022, Dimas stated on the Al Majlis portion of the TV channel.
"Al Maha will be one of the ultimate entertainment destinations for visitors to the Qatar 2022 World Cup, and the winter getaway will remain open each year from November to April for the best in fun and entertainment," Dimas said. 
Dimas also stated that Al Maha Island will host Gandeys Circus, Europe's largest travelling performance, which will have an international cast of 30 performers and live musicians.
Al Maha Island, which is connected to the mainland by a causeway, is projected to draw more than 1.5 million people each year.
Lusail Winter Wonderland
The main attraction of Al Maha is Lusail Winter Wonderland, a 93,000-square-meter amusement park that will be open from November to March each year.
The park will have 50 amusement rides, including 10 thrill attractions, including a 395-roller coaster, 25 family rides, including a large 150-foot Ferris Wheel, and 15 children's rides.
The Space Gun, Drop n' Twist Tower, and Vertical Swing will take thrill seekers to new heights. Bumper Cars, Mini Disco, and The Galleon will also provide an adrenaline boost for families.
Pony Adventure, Air Balloon, and Circus Swing will be among the rides for small children. The park will also have carnival activities, an ice rink, and booths selling a variety of food and beverages.
Nammos Beach Club
Nammos, one of the world's most exclusive beach clubs and restaurants with delicious food and an electrifying environment, will also be located on Al Maha Island. The spectacular Mediterranean venue, set on Al Maha's own beach, will boast opulent modern décor inspired by the Greek party island. Nammos will be the new go-to spot for upscale beach eating once it opens.
High End District
Another attraction for travelers to Al Maha Island is its high-end sector, which houses six of the most internationally known restaurants.
ZUMA, London's award-winning Japanese restaurant, brings the flavors of the Far East to Qatar with its globally acclaimed style of Japanese cuisine. ZUMA, the brainchild of German chef Rainer Becker, provides a refined food concept influenced by Izakaya, or informal Japanese eating.
Becker opened the first ZUMA restaurant in London's Knightsbridge in 2002, and its popularity led to the opening of ZUMA in some of the world's most magnificent locations, including Ibiza, Phuket, Mykonos, the Maldives, and Madrid.
LPM restaurant, a famous French restaurant influenced by Mediterranean cuisine, will be sending its customers on a culinary journey to the south of France and the coasts of the Mediterranean sea.
Em Sherif is a luxury Levant restaurant intended to seem like an Oriental mansion and serves fine dining Lebanese authentic food. The Lebanese-awarded restaurant has locations in Lebanon, Egypt, Saudi Arabia, the United Arab Emirates, Kuwait, and London.
Billionaire is a well-known club that combines luxury dining with nightlife, including a special show with amazing entertainment that flawlessly blends extraordinary performances, exceptional cuisine, and service. Billionaire is also a popular resort for many celebrities and superstars.
Dokya is a Turkish taverna that serves a wide range of Turkish dishes and mezze. The restaurant is also distinguished by its premium design, which combines traditional oriental with contemporary western elements.
Finally, Jwala promises a delightful journey through the realm of Indian flavors.
International Music Festival
Another major attraction on Al Maha Island is the concert arena, a 7,000-seat venue that will hold the Global Music Festival and 34 live events each year, attracting significant names ranging from worldwide and regional superstars to world-renowned DJs, singers, and comedians. The music festival's schedule will be released in August 2022.