Wide Variety of Plays and Performing Arts are Presented by Darb Al Saai To Promote Qatari Identity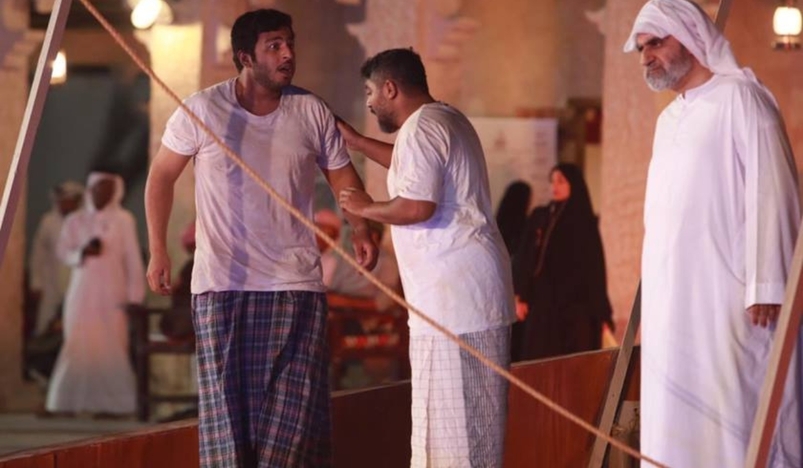 Wide Variety of Plays and Performing Arts are Presented by Darb Al Saai
The Organizing Committee for the National Day celebrations that correspond at December 18 every year has been committed to offering a package of performing arts and music that promote the Qatari legacy through the events in Darb Al Saai running until December 18 under the slogan 'Our Unity Is the Source of Our Strength'.
The theatre and Music Affairs Centers of the Ministry of Culture are participating in these events and are showcasing a package of music and stage arts that attract the masses of Darb Al Saai.
Speaking to Qatar News Agency on this occasion, the writer Abdul Rahim Al-Siddiqi said that Darb Al Saai this year is different as it coincides with the world cup, indicating that the Ministry of Culture has been committed to offering a range of events specially the events that candidly express the culture and identity in Qatar, including "Ghuba play" which is performed in a heritage nature on the deck of one of the ships searching for pearls in the Arabian Gulf region during the period before the emergence of oil, where the life of the sea and diving, and it narrates a story about an uncles relationship with his nephew Jaber during a diving trip, and during that trip in which the uncle occupies the task of the captain, a member of the ships crew tries to drive a wedge between the uncle and his nephew, who is considered one of the skilled divers, he even tries to push him to kill Al Nukhatha after deluding him that he has seized his inheritance, then the events ensue, but the forces of good triumph in the end.
In addition, there is a play for children "World of 2030" which addresses Qatar's national vision in an artistic manner that best suits the child and bears a combination of messages that advocate for adherence to patience and perseverance.
Al Siddiqi added that the Theatre Affairs Center presents two operetta performances,in the Al Housh area in Darb Al-Saai, the first play is about "Flag story" which addresses the story of the adoption of the Qatari flag, stressing that the center is interest in offering events that are related to children that promote the Qatari identity that will run until Dec. 15, along with workshops to introduce the methods of making the dolls and mechanisms of moving them.
(QNA)