Why You Must Visit the 'Museum of Illusions' in Doha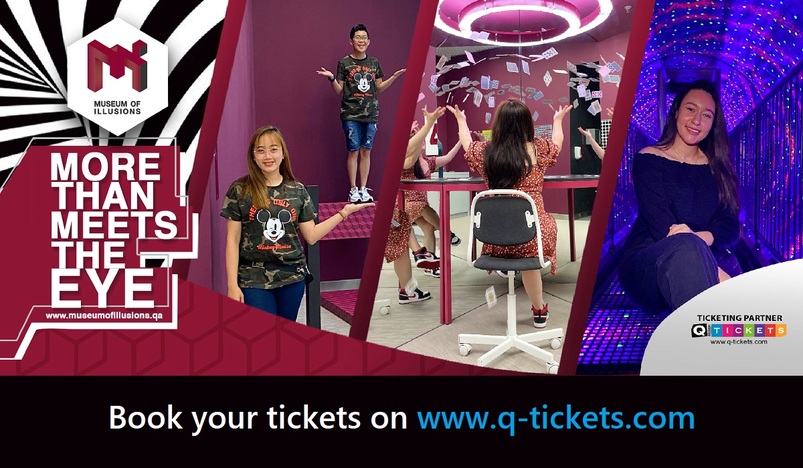 Museum of Illusions
Have you been to a museum in Qatar where you can defy gravity and do the impossible? You won't believe your eyes! 
Qatar has a treasure trove of museums worth visiting. It is where museums exceed the usual exhibition experience, and the Museum of Illusions is no exception.
This museum is changing the game of the typical museum experience. From the moment you step inside, you know you're in for more surprises.
Enter the fascinating world of illusions which will trick you, but amaze you at the same time. It's like you got catapulted deep down the rabbit hole. Next thing you know, you're in a different dimension of the world!
This museum has gained immense popularity as it is where learning meets fun, where you can experience the impossible and discover why your eyes see things which your brain cannot understand.
Caution: This unique place will confuse you completely, but also educate you. Most of all, it will turn your world upside down!
What to expect?
• Smart Playroom and Fitness Center for the Brain
• Intriguing visual, sensory and educational experience with new, unexplored illusions
• Amusing and awesome tricks that will teach you about vision, perception, the human brain and science
• 70 dilemma games designed for all age groups
• Playroom with intriguing and educational games and puzzles. 
• Whether you're a child, teenager, millennial, retiree, or part of a larger group, the Museum of Illusions is sure to entertain you. 
• Packages are available for corporate or group events.
What can you do?
• Jump in an illusion created by the Vortex Tunnel! It will drive you crazy! 
• See yourself on the ceiling of the room
• Let yourself free in an infinity room
• Resist the laws of gravity and size ratio
• Enjoy the holograms, look closer at every optical illusion and observe thoroughly each installation.
• Take pictures of yourself in EVERY POSSIBLE POSE!
Reminder: Be sure your camera is fully charged with memory space before you visit. By all means, take your camera with you!
Contact Details:
Location: 1st Floor, The Gate Mall, Omar Al Mukhtar St. Doha, Qatar
Telephone Number: +974 40206273
Email: info@museumofillusions.qa
Opening Hours:
Sunday to Wednesday (9 am – 10 pm)
Thursday And Saturday (9 am – 10 pm)
Friday (1 pm – 10 pm)
Ticket Rates:
Adult (16+ years): 80 QAR
Child (3-15 years): 60 QAR
Child (3-below): Free
Family (2 adults & 2 kids under 15 years): 220 QAR
Special Needs: 40 QAR
Ticket Bookings: www.q-tickets.com
It is sure to be an amazing and unimaginable experience because whatever you see in the Museum of Illusions, is not what it appears to be!