Why Visit Qatar Balloon Festival 2021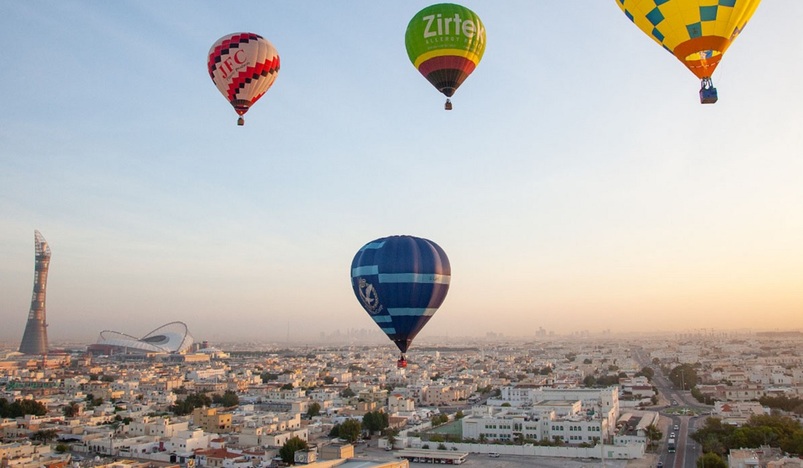 Qatar Balloon Festival 2021
Two days to go before the 2nd edition of Qatar Balloon Festival takes off with 35 hot air balloons from around the world.
The 10-day festival, happening from 9th to 18th December at Aspire Park, has been scheduled to coincide with four major events in the country including:
1. Qatar International Food Festival: 26 Nov – 15 Dec 2021
2. FIFA Arab Cup 2021: 30 Nov – 18 Dec 2021
3. Qatar Live 2021: 01 – 18 Dec 2021
4. Qatar National Day: 18 Dec 2021
Gather your friends, family, and loved ones to join you in the unforgettable spectacle of Hot Air Balloons of a variety of shapes and sizes. Enjoy the music and entertainment, food, novelties and so much more!
Below are some reasons that make Qatar Balloon Festival a must-visit event:
Sunrise Balloon Launches
The sunrise launches are going to be just as the name says, at sunrise, and if you do not want to miss them you will have to wake up a bit early and either watch the skies or come join and witness the launching of over 35 balloons!
Tethered Flights
While you are enjoying the performances and munching on snacks from the food & beverage area and your kids are having fun, you will have a chance to witness a Hot Air Balloon professionally tied and secured to the ground while it will be floating just above you.
Just to make sure you do not forget you are in a Hot Air Balloon festival after all!
Nightglow
As the night will set over Doha and the festival, enjoy a unique sighting of Balloons stacked next to each other while the pilots assure they are glowing in the dark in perfect rhythm accompanied by the festival's musical events from the main stage, creating a lovely atmosphere and an experience like no other.
Entertainment
There is always something to watch for at the festival and this year a variety of performers, music bands, DJ, singers, are set to wow audiences at the 10-day event.
An extensive lineup of singers, music bands/groups, dancers, magic show, DJ, Violinist, mascots, jugglers and others has been set up to provide entertainment and enhance the overall festival experience for visitors.
Playground
In addition to being fascinated by the striking display of Hot Air Balloons, the young ones will have more to look forward to. A special arena has been designated for all kinds of different games that young ones and adults can enjoy during their visit to the festival.
A host of games will be held at the venue including carnival games, team games, human football, football darts, VR games, electronic games, themed jumping houses, and slides.
No matter the age, there will be something for everyone to try out. Make sure to get the little ones along!
Food Kiosks and Trucks
It will be double the pleasure for foodies out there as the festival will have plenty of choices for food, which will be available at various kiosks and trucks spread across the venue.