Where to learn music in Qatar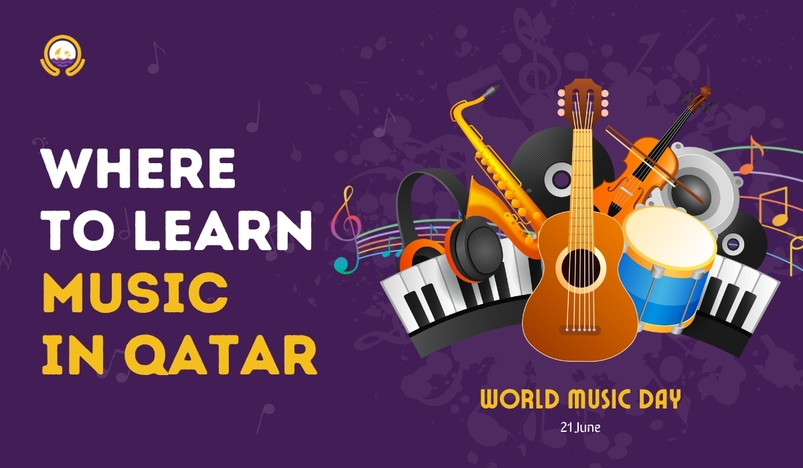 Where to learn music in Qatar
World Music Day is celebrated every year on 21st June. It was first celebrated in France in 1982 and is known as Fête de la Musique. It is a global celebration of the power of music and aims to promote music and encourage everybody to experience the joy of playing or listening to music. 
For those looking to explore their passion for music, there are numerous music classes available in Qatar, offering a range of courses for students of all ages and skill levels. These classes provide an opportunity to learn from experienced musicians and educators, develop new skills, and connect with fellow music enthusiasts.
Whether it's singing or learning how to play any instruments, here are some of the places that offer music lessons in Qatar.
IAID
IAID is a performing arts school that offers a range of music courses for students of all ages and skill levels. The instructors are highly experienced and work closely with students to help them achieve their goals.
IAID Music Courses are affiliated with The London College of Music (LCM), University of West London UK. They have a variety of courses including,Ukulele, Acoustic guitar, Western vocal, Classical piano, Electronic keyboard 
Contact: 4432 0974 / 4441 1234
https://www.iaidonline.org/music
Kalakshetra
Kalakshetra school specialises in Indian classical music and offers courses in various instruments such as veena, mridangam, and tabla, as well as vocal training and music theory.
They have courses for carnatic, hindustani, light Music and instruments like violin, keyboard, piano, guitar, and flute.
Contact: 4466 0084
https://www.kalakshetraqatar.org/index.php 
Qatar Music Academy
The Qatar Music Academy is a world-class institution and a member of Qatar Foundation that offers a wide range of music classes. Students can choose from a variety of classes, including voice, piano, guitar, western percussion, clarinet, flute, and more. The academy also offers a range of ensembles and performance opportunities, allowing students to showcase their skills and collaborate with other musicians.
Contact: 4454 8191
https://www.qatarmusicacademy.com.qa/about-us
International Centre for music
ICM offers students of all ages the opportunity to learn in a dynamic learning atmosphere that combines traditional and personalised approaches to high-quality education. They are the first music centre in Qatar, established in 2000, they take one-to-one classes.
With experienced musicians and educators, the International Centre for Music is dedicated to helping students reach their goals.
Contact - +974 59907878
Jamm Studios
Jamm Studios has an innovative teaching approach. Their in-house syllabus is designed to rapidly develop students' instrument skills and is customised to fit each student's individual needs and goals. Additionally, their experienced tutors, who have trained at prestigious institutions worldwide. Jamm Studios offers a free introductory lesson to all new students.
Contact: 55339806
Music lounge
Music lounge is a cultural centre, with a team of global educators that strive to stimulate your creative drive. In addition, music lounge provides an internationally recognized certification from the Trinity College of London to equip you with the necessary skills. 
They offer courses in keyboard & piano, guitar, violin, drums, and vocal lessons.
Contact: 44219897