Where to go this Eid Al Fitr 2022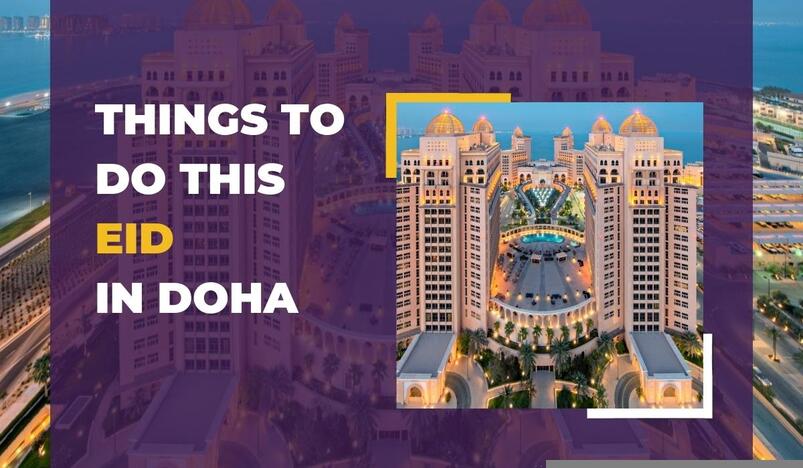 Are you wondering where to go this Eid? Here is a list of the top Eid events you can enjoy in the company of your family, children, and friends.
We are excited to celebrate Eid Al Fitr in a unique festive atmosphere after missing it for two years because of the pandemic.
Eid Festival
 
On Tuesday, May 3rd through Thursday, May 5, Qatar Tourism will host activities for the Eid Festival at the Doha Cornich.
 
What are the most uniuqe Eid Activities at the Cornich?
Giant Ballon Parade
The festival will showcase fun, exciting, and entertaining giant balloons parades for all families.
Live musical concerts
The biggest stars from the Arab world will enliven the Qatar concert scene so that you can enjoy great music and listen to your favorite songs. 
A lineup of artists includes Iraqi singer Mohammad Al Turkey on May 3rd, Qatari singer Nasser Al Kubaisi on May 4th, and Saudi singer Sultan Khalifa on May 5. The concerts begin at 7:30 PM, free of charge. 
Food Stalls
The festival will offer food stalls serving local and international dishes that satisfy all tastes.
Fireworks Shows and Carnival Games
Events include a firework show that starts at 9:00 pm.
Here is the schedule of the event:
Entrance and line up: 3:00-4:00 PM.
Parade: 4:30-5:30 PM
Live Musical Performances: 7:30 PM
Fireworks show: 9:00 PM
Carnival games, food stalls, drinks, and roaming shows 4:30-11:00 PM.
Katara
The Cultural Village Foundation (Katara) has announced its readiness to launch the events of the blessed Eid Al Fitr which will continue for four days and will include versatile activities.
Events will start from 4:00 PM - 9:00 PM.
Here is a list of Katara Eid Events:
Katara's streets and outdoor areas will reflect the spirit of Eid Al Fitr festivities.
Firework shows will be on the first day of Eid Only.
Eid Gifts will be distributed to kids during Eid
Five Arabic Folklore Bands will be performing live on Katara Cornich and the performances will be inspired by the folklore of different countries, so that the audience learns more about the culture and art of each country.
Al Thuraya Planetarium
Al Thuraya will be showcasing several educational entertaining films beginning from the second day of Eid Al Fitr at Building (41) where three films will be shown daily.
The second day of Eid will feature the following shows:
Stars Show at 5:00 PM
3D Polaris show at 6:00 PM
Zula Patrol Show at 7:00 PM 
As for the third day, it will feature: 
The Astronaut 3D Show at 5:00 PM 
Perfect little Planet at 6:00 PM
The Universe Show at 7:00 PM 
The fourth day will feature the following shows:
3D Polaris show at 5:00 PM
8 Scoops of Milky Way at 6:00 pm
The Stars Show at 7:00 PM 
Exciting and fun events in Malls
Malls and retail shops will host different events during Eid curated for children, such as 'Eidiya' at Gulf Mall from May 2nd to May 4th at 6:00 PM. 
Kids Majlis' with a free henna session and face painting at Doha Festival City starting at 1:00 pm till 10:00 pm on the first floor near 'Cup of Joe'.
Beaches
Hit the beach, spend a fun family time on many of Qatar beaches and enjoy the breeze. 
To mark the occasion of Eid al Fitr, the Ministry of Municipality (MME) prepared a list of beaches for families, workers, and bachelors.
The ministry stressed that corporate workers and laborers are strictly prohibited from acessing or using family beaches in other areas.
Here are some of the beaches you can use during the Eid Al Fitr Holiday:
Al Wakra Beach (Families)
Al Farkiah Beach at Al Khor (Families)
Al Kharaij beach (for bachelors and laborers)
Sealine Beach (Families)
Al Ghariya Beach (Families)
Simaisma Beach (for Women)
Al Mamlaha Beach (for Women)
General instructions were provided by MME on how to safely use the beaches during Eid Al Fitr, such as avoiding starting bonfires on the sand, not burying coal in the sand, ensuring public hygiene, throwing away waste in designated areas, and wearing life jackets when swimming.
MME shared on its social media all the above as well as QR Codes and locations for the beaches.