Where To Find the Best Ice Creams in Qatar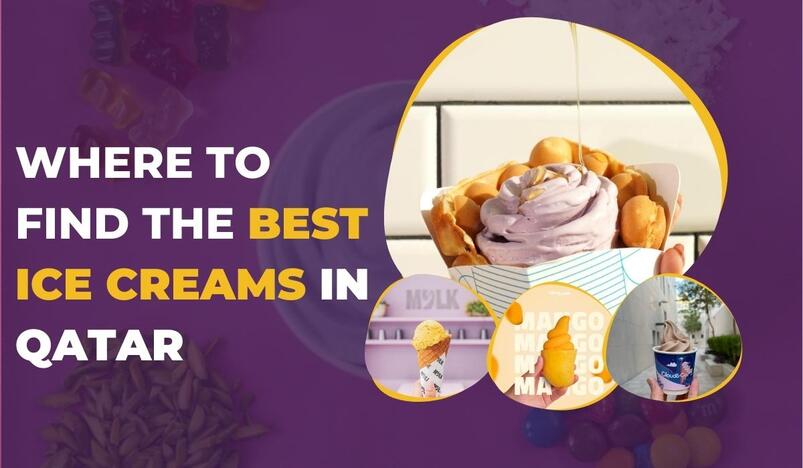 Here's a list of Ice Cream Shops to beat the heat this summer in Qatar!
I scream, you scream, we all scream for Ice Cream! Especially when the temperatures are peaking at 50 degrees Celsius. We have a few Ice Cream Shops for you to try and beat the heat this summer in Qatar. 
Cloud & Co.
Looking to travel to Italy in Qatar? Look no further than Cloud & Co., a taste of their artisanal gelato will transport you to the streets of Milan. It's a delicious treat to enjoy this summer.
Location- Msheireb Downtown
Contact- +974 3003 0433
Cauldron Ice Cream
Experience the excitement of seeing ice cream being made in front of you at Cauldron. Home of the "Puffle", an ice cream joint all the way from California in Qatar. Enjoy and be thrilled by a scrumptious scoop of ice cream!
Location- Al Waab, Doha, Qatar
Contact- +974 4142 5351
Origami, Bakehouse & Cafe
If you are a mango lover, then Origami Bakehouse and Cafe is the place to visit. Their mango ice cream that is served in a mango is a must-try. Enjoy a mango-licious treat to tingle your taste buds.
Location- Katara, Doha
Contact- +974 3323 0539
MYLK
Looking for vegan ice-cream spots in Qatar? Look no further than MYLK, An Alternative Destination. Their ice-creams are plant-based and 100% natural—the most mouth-watering way to enjoy summers in Qatar.
Location- Gate Mall, Doha
Contact- +974 4001 2748
Menchies
Enjoy Fro-Yo at Menchies, from a variety of 14 flavours and more than 50 toppings. Make your own Fro-Yo sundae and indulge while you beat the Qatari summer heat.
Location- Medina Centrale, Pearl, Qatar
Contact- +974 4444 5560
Haagen Dazs
Häagen-Dazs have been making ice cream like no other since 1960. In Qatar, you can indulge in 24 flavours in a setting as extraordinary as the ice cream itself (almost). But what makes their shops extra tempting is the unique selection of seasonal specials and over 20 enticing ice cream creations and drinks. You won't find them anywhere else.
Location- City Centre Mall, Doha
Contact- +974 4436 6001
Cold Stone Creamery 
At Cold Stone, we're serving up the Ultimate Ice Cream Experience in-store, online, and even delivering ice cream right to your door! Our ice cream is made fresh in-store. Each flavour is churned with the finest ingredients and mixed with your choice of candy, cakes, fruits, or nuts on a frozen granite stone. 
Location- Mall of Qatar
Contact- +974 7478 5192