Where to Find the Best Cheesecakes in Qatar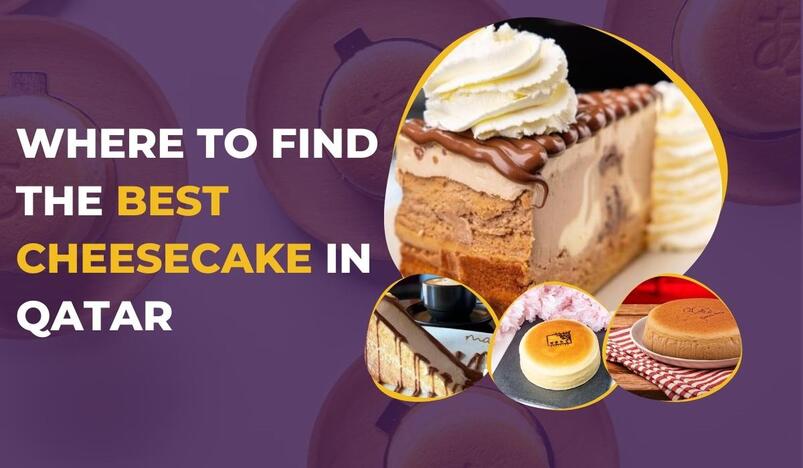 Find the Best Cheesecakes in Qatar
When it comes to desserts you can never go wrong with a cheesecake. Whether it's baked, frozen, fruit-topped, candy-filled or drizzled with chocolate, it's creamy, silky and decadent. Here are some of the best cheesecake shops to try in Qatar! 
Dekitate Sweets & Pastries
Indulge in hand-crafted sweets and pastries from Dekitate. Their Japanese cheesecake is made from locally sourced fresh ingredients like cage-free eggs, and grass-fed dairy, with zero preservatives. The soft and cloudy cheesecake will dissolve in your mouth and leave you craving for more!
Location: 03 Mall, New Salata, City Centre Mall
Contact: 5513 0436
Uncle Tetsu
Uncle Tetsu is a Japanese restaurant that sells Japanese Cheesecake and Cheese Tarts. They have cakes available in multiple flavors. These cheesecakes are not your regular creamy cheesecakes instead they are soft and fluffy, that are eaten warm instead of cold.
Location: In front of Mirqab Mall (Al Nasr)/Ezdan Mall Al Wakra
Contact: 44149696(Wakra)/ 44149797(Al Nasr)
So Souffle
So Souffle is a Japanese sweets bakery that sells Bubble Milk, Icecream, Souffle Pancakes and Japanese Cheesecakes. And if you're visiting, don't forget to try their mouth watering pancakes.
Location: Lusail Marina
Contact: 60006915
Cheesecake Factory
The name says it all, Cheesecake Factory is renowned worldwide for their cheesecakes. With nearly 38 flavors for you to try out from.
Location: Villagio Mall, Mall of Qatar, Doha Festival City
Contact: 44529989, 44529019, 44529941
Maia
Maia Coffee & Chocolate is a cafe and known for thier Coffees, Chocolates and Pastries. Their San Sebastian Cheesecake is a must-try.
Location: The Pearl Qatar, Doha Festival City, Mall of Qatar
Contact:44800982, 50002943, 5002547
Magnolia Bakery
A beloved traditional American bakery known for its broad selection of freshly baked pastries from past and its cozy, welcoming ambiance.  They offer a variety of delicious desserts and home-baked delicacies, such as banana pudding, cupcakes, pies, cakes, cheesecakes, cookies, and muffins. All of the desserts at Magnolia Bakery are made from scratch on the spot in small batches using only the best ingredients.
Contact: 4450 9407
Location: Dar Al Salaam