Where to Celebrate International Yoga Day 2022 in Qatar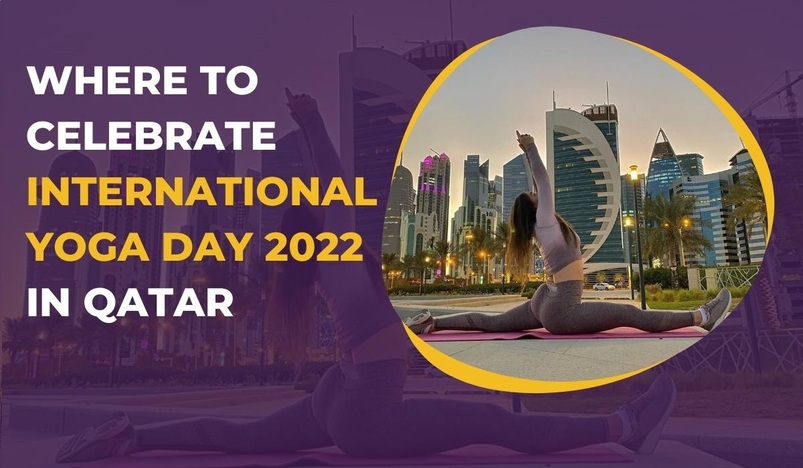 Best Places in Qatar to Celebrate International Yoga Day 2022
What is special on June 21 apart from the summer solstice? It's International Yoga Day!
The longest day of the year is also marked with global awareness on Yoga exercise.
Join the world in celebrating International Yoga Day 2022. Scroll down and check out our top picks for best places to celebrate this global event this June.
DUSIT DOHA HOTEL
Celebrate International Yoga Day with Yoga classes at Dusit Doha Hotel with Yoga classes by the rooftop pool, brought to you by Evolve Mind Body Soul.
If you love sunsets or city lights, Dusit Doha's roofdeck is the perfect spot for you.
Date: June 21, 2022, Tuesday
Timings: Sunset Yoga 5:30 - 6:30 pm
Yoga By The Pool: 7 pm - 8 pm
Cost: QAR 50
Location: Dusit Doha Hotel
For registration: Call 4004 4193/94 or WhatsApp 3060 4170
SHERATON FITNESS
Celebrate this day with Yoga instructor Vishnu as he guides you through yoga postures, breathing techniques and meditation.
Get motivated to stay fit in the newly upgraded 24-hour fitness center. Sheraton Fitness offers state-of-the-art gym facilities with the latest exercise cardio and strength training equipment.
Date: June 21, 2022, Tuesday
Time: 7pm – 8:20pm
Admission: Complimentary entrance. Limited seats available.
Contact: +974 4485 4600 or email HRCsheratondoha@sheraton.com 
Location: Sheraton Grand Doha Resort & Convention Hotel, Al Corniche Street, Doha
Below are the rates for regular Group Fitness Class Schedule:
• Hatha Yoga the Transformation - 80QR
• Detox Yoga the Purification - 80QR
• Slimming Power Yoga the Weight Loss - 65QR
• Hatha Yoga for Ladies Only - 65QR
THE RITZ-CARLTON SHARQ VILLAGE, DOHA
Unwind, recharge, and experience Yoga in the Zen Garden on the International Yoga Day by Evolve Wellness Qatar.
Date: June 21, 2022
Time: 7-8 pm
Contact: Evolve Wellness Qatar at 50403234 or DM @evolvemindbodysoul on Instagram (Spots are limited).
ASPIRE ACTIVE
Aspire Ladies Club is inviting you for a unique two-day experience with the Master of Yoga Nisha Agrawal. Sign-up for an uplifting Yoga, relaxation, and breathing meditation session today!
Date: June 21, 2022 - June 22, 2022 Tuesday-Wednesday
Two "90 Minutes Sessions"
June 21 - From 09:00 am - 06:30 pm
June 22 - From 05:00 am - 06:30 pm
Ticket Purchase: No tickets needed
Price: Online Registration - It's free!
Call: 44136430 or WhatsApp: 50682126
Email: aspire.active@mtmqatar.com
Fill out the form to book your spot here: http://aspireactiveqa.com/yogaday22/
Location: Aspire Ladies Gym, Doha, Qatar
HILTON SALWA BEACH RESORT
This International Yoga Day, escape the city and reconnect with your inner self with our yoga daycation package at Hilton Salwa Beach Resort.
Date: June 21, 2022
Price: 150 QAR (Package includes one yoga class, gym, pool and beach access, and F&B voucher)
Contact: Evolve Wellness Qatar at 50403234 or DM @evolvemindbodysoul on Instagram
About Yoga
According to Yogapedia, the word yoga is derived from the Sanskrit root yuj, meaning "to yoke," or "to unite".
Yoga is a physical, mental and spiritual practice that originated in ancient India. The practice aims to create union between body, mind and spirit, as well as between the individual self and universal consciousness. 
Benefits of Yoga
Yoga is a spiritual, mental and physical practice that has been around since ages. With time, people have discovered a number of health benefits associated with yoga. Yoga does more than burning calories and strengthening muscles, it is a workout which involves both body and mind.
This International Yoga Day, start a good habit and promise yourself the following health benefits:
• Improves posture
• Increases flexibility
• Builds muscle strength
• Boosts metabolism
• Helps in lowering blood sugar
• Increases blood flow
• Keep diseases at bay
• Increases self-esteem
• Improves lung function
• Helps you sleep better
Love this article? Share it with those you would like to hear about these International Yoga Day 2022 events in Doha and check out our videos about Yoga below: