Where and How to Get COVID-19 PCR Tests in Qatar? (For Travels and Other Purposes)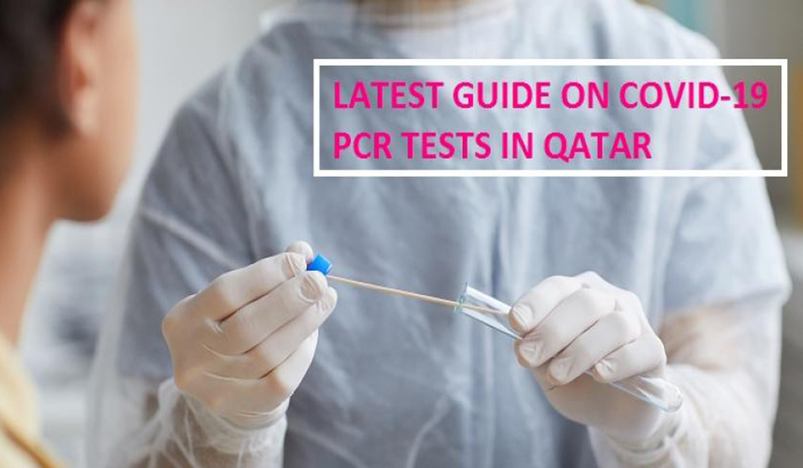 Where and How to Get COVID-19 PCR Tests in Qatar? (For Travels and Other Purposes)
Do you need to take a COVID-19 PCR test now in Qatar? Today, taking this test is fast and easy if you're updated on the steps to follow and documents required before going to the testing centers.
This article explains the procedure for getting an RT-PCR test in Qatar. It also provides a list of testing centers to get a pre-travel COVID-19 test certificate or take the test for other purposes. Read the below guidelines for your quick reference.
What to prepare?
1. QR300 COVID-19 Test Fee - Qatar recently announced a flat rate of QR300 for all COVID-19 tests offered by private hospitals. Swabs will now cost QR300 per person effective April 8, 2021.
2. Passport
3. Qatar ID
4. Flight Ticket (When you are traveling)
How to Do PCR Test in Qatar?
1. Call and make an appointment with any of the authorized private testing centres  for an RT-PCR test (see the list below). Note: Walk-ins are also accepted in some clinics but not guaranteed. If you're taking the test for your travel, the clinic staff will set your appointment depending on your travel date.
2. Visit the clinic with the required documents (see the above list of requirements).
3. Go to the reception, take a token number, and pay the QR300 fee.
4. The medical staff will ask you with a few verification questions before collecting the swab. 
5. They will then collect the swab from your nose and/or throat by inserting a long stick that looks like cotton buds.
6. Private centers are usually sending the swab to Hamad Medical Corporation (HMC) laboratories for testing.
7. You will receive an SMS after the swab is received and testing is done. The test result is usually available within 24-48 hours. Note: While you are waiting for your test results, your Ehteraz app may be showing gray color.
What if your result is positive?
If you tested positive, the color of your Ehteraz app would turn red and depending on the advice from the medical staff, you will need to comply with any of these two conditions:
 You will be moved to an isolation facility or a designated treatment center.
 You will be instructed to do home quarantine depending on your symptoms.
Collect the test certificate as advised by the clinic.
Note: Please make sure that the details on the test report (including your name, date of birth, date of test, etc.) are accurate to avoid any issue during travel.
What happens when you are at the airport?
Your airline will verify your COVID-19 test certificate at the check-in counter and get a copy of your test result. Note: Prepare additional copies of the test result as you may need them for submission at departure and arrival airports.
If you are planning international travel by air, you may be required to present a COVID-19 PCR test for entry to your destination.
Countries like the US, UK, India, and Pakistan currently require passengers to present a negative COVID-19 test result as part of the entry requirements. So, follow the above process to obtain this required document.
Where to go?
Did you know? There are 57 COVID-19 PCR test centers in Qatar today, and as of now, only private centers are able to offer COVID-19 PCR tests in Qatar. 
The Ministry of Public Health (MoPH) announced that Primary Health Care Corporation (PHCC) health centers would temporarily stop providing the tests for those planning to travel abroad.
This is to ensure that they can focus on treating COVID-19 patients and vaccinating those at most risk.
Private Testing Centers
Here is the full list of medical centers authorised to provide COVID-19 PCR tests according to the announcement of MoPH last April 27, 2021:
The news comes after the MOPH announced that PHCC health centers would temporarily stop providing the tests for those looking to travel abroad earlier this week.
Abeer Medical Center
Al Ahli Hospital
Al Ahmadani Medical Center
Al Emadi Hospital
Al Esraa Medical Center
Al Esraa Polyclinic
Al Fardan Medical With Northwestern Medicine
Al Jameel Medical Center
Al Jufairi Diagnosis and Treatment
Al Kayyali Medical Center
Al Mansoor Polyclinic
Al Salam Medical Polyclinic - Ain Khalid
Al Salam Medical Polyclinic - Alkhaisa
Al Salam Medical Polyclinic Center - Muaither
Al Shefa Polyclinic - Al Kharaitiyat
Al Shefa Polyclinic D-Ring Road
Al Sultan Medical Center
Al Tahrir Medical Center
Allevia Medical Center
Alwehda Medical Center
Apollo Polyclinic - Qatar
Asian Medical Center W.L.L
Aster Medical Center - Al Khor
Aster Medical Center (Industrial Area)
Aster Medical Center Plus
Aster Medical Center Plus - Al Muntazah
Atlas Medical Center
Doha Clinic Hospital
Dr. Hessa Al-Buainain Medical Center - Al Jelaiah
Dr. Khaled Al Sheikh Ali's Medical Center
Dr. Maher Abbas Polyclinic
Dr. Moopen's Aster Hospital
Elite Medical Center
Focus Medical Centre
Future Medical Center
Imara Health Care
KIMS Qatar Medical Center
Magrabi Center for Eye, ENT & Dental
Marble Medical Center
Millennium Medical Center
Naseem AL Rabeeh Medical Center
Naseem AL Rabeeh Medical Center Doha
New Naseem AL Rabeeh Medical Center
Nova Health Care
Planet Medical Center
Premium Naseem Al-Rabeeh Medical Center - Doha
Qatar Petroleum - Al Salata
Queen Hospital
Raha Medical Center W.L.L
Sidra Medicine
Syrian American Medical Center
Tadawi Medical Center
The Medical Centre - Qatar Airways
Turkish Hospital
Value Medical Complex
Wellcare Polyclinic
West Bay Medicare
Note: According to MoPH, the decision to stop taking COVID-19 tests in PHCC health centers is temporary. It said in a statement, "When the second wave is suppressed and pressure is eased on PHCC healthcare teams, this important service will resume at primary health centers."
Government Testing Centers
In the meantime, PHCC health centers will only complete coronavirus testing for those with symptoms. They will focus on providing services for those infected with COVID-19 and for those being vaccinated.
Those who are now accepted in PHCC health centers for testing may undergo the following process:
1. Proceed to the dedicated testing center.
2. Provide the information required by the PHCC staff. They will ask you for your health card so prepare it beforehand.
3. Wait for your swab appointment. It will normally be given a few minutes or an hour depending on the advice of the medical staff.
4. Enter the testing room for the swab collection.
5. Wait for further advice from the staff and for your sick leave certificate if needed.
6. You may be advised to isolate or stay alone in a closed area at your home while waiting for your test result. Otherwise, please wait for further instructions from the PHCC staff.
If you are feeling any of the COVID-19 symptoms like fever, cough, shortness of breath or difficulty breathing, call the COVID-19 hotline of MoPH at 16000. The Ministry urges individuals who display these symptoms to quickly contact the helpline.
The toll-free hotline is accessible 24 hours a day and is available in Arabic and English. You may also visit www.moph.gov.qa for COVID-19 updates.