WhatsApp introduces screen-sharing on video calls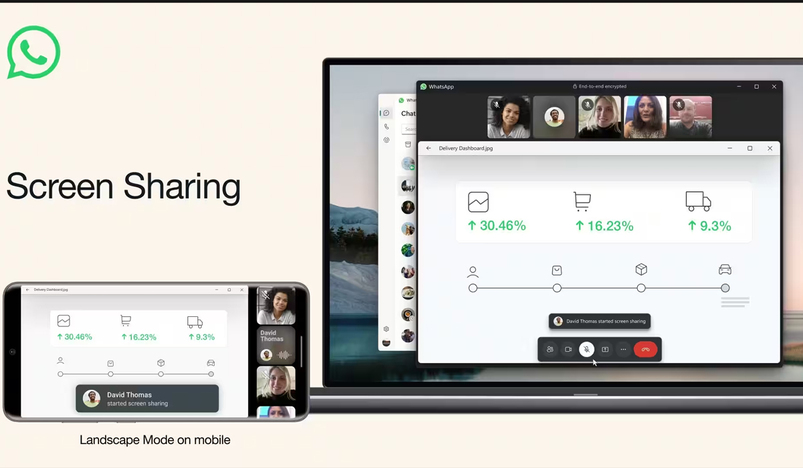 WhatsApp screen-sharing
Meta CEO Mark Zuckerberg on Tuesday announced that WhatsApp has introduced a cutting-edge feature enabling users to share their screens during video calls, a functionality already familiar from platforms like Zoom, Google Meet, and Microsoft Teams. 
In an official press release, the service emphasised that this feature is easily accessible through the "Share" icon, allowing users to opt for screen sharing of either their entire display or a specific application. Furthermore, an upcoming landscape mode for mobile video calls has been unveiled.
In a comprehensive move to enhance user interactions, Meta's press release underscored the diverse applications of this feature, including collaborative document sharing for work, reminiscing over family photos, jointly planning vacations, group online shopping, and providing tech support to grandparents. 
This feature is part of a series of updates rolled out this year by WhatsApp, including the integration of video notes and polls. These advancements are designed to maintain WhatsApp's competitive edge in the face of growing competition from messaging platforms such as Telegram, Signal, and potentially Discord.
The deployment of the screen-sharing feature has been a gradual process, initially emerging in beta versions of WhatsApp's app across various platforms, as reported by WABetaInfo, a source known for spotting impending WhatsApp features ahead of official announcements. While the feature's beta rollout has extended to Android, iOS, and Windows versions, Meta is yet to provide a comprehensive list of platforms where the screen-sharing functionality is officially available.
Additionally, WhatsApp is introducing a landscape interface for video calls on mobile, aiming to provide users with a more expansive and immersive viewing and sharing experience. This move aligns with WhatsApp's ongoing efforts to offer enhanced and versatile communication options to its global user base.