What You Need to Know Before and After You Reach Hamad International Airport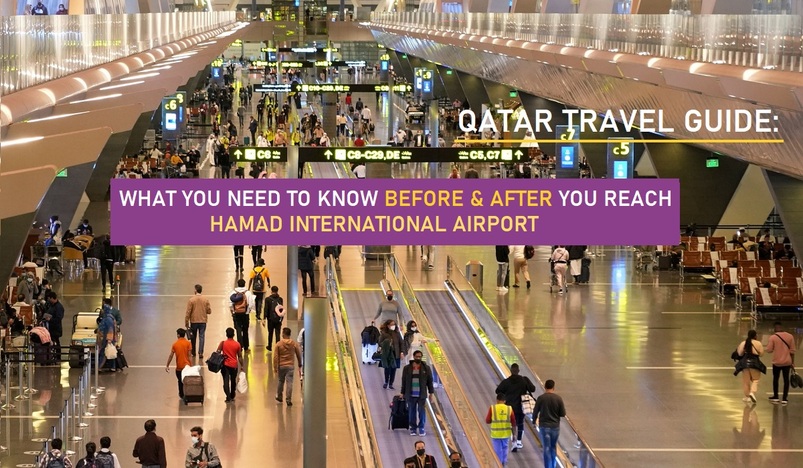 Travel Guide Before and Upon Arrival to Hamad International Airport
Are you travelling to or from Qatar? If yes, then it is important to adhere to Hamad International Airport's policies before or upon your arrival.
This article provides a quick guide for you to remember before you reach the airport for a smooth trip and to avoid delays in your travel.
The following are the important guidelines shared by the Airport Passports and Security Departments of the Ministry of Interior (MoI) during its webinar on "Safe Travel" held today, July 3, 2022.
Before You Reach the Airport
1. Confirm the validity of your travel documents and ensure they are valid for more than 6 months.
2. Confirm the flight reservation.
3. Items not permitted in hand baggage: (Nail scissors and nail clippers, razor blades of all kinds except those manufactored inside the plastic sheath, knives of all kinds, tableware, screwdrivers and clippers of all kinds, lighters of all kinds, sharp tools, scissors, ropes, arrows, catapult (arrows), billiards - snooker - sports rackets of all kinds - climbing and skating sticks, games similar to weapons, whether metal or plastic, medical needles (except for those used for medical need with proof), body sprays, measuring tapes, meat and fish, paint). If found any of the listed items in hand luggage, it will be confiscated without being returned to their owners.
4. It is not allowed to carry more than one liter of liquid materials, spray, pastes and gels provided that the capacity of one package does not exceed 100 ml, and that it is placed in one transparent plastic bag that is easy to open and close, and that the size of the bag does not exceed 20x20 cm.
5. Items not permitted in checked baggage include: Weapons, explosives, ammunition, fireworks and flashes of all kinds, oxidants and organiz peroxides such as dyes and fiberglass repair kits, flammable solid and liquid materials such as fuel for lighters and heaters - paints - matches, edible materials such as mercury, acides (acid), citrus, and batteries containing liquids, pressurized gases (frozen, non-flammable or toxic, such as: kitchen gas, butane, oxygen, lighter gas, and breathing oxygen bottles), radioactive materials, poisons such as: insecticides, weed killers, arsenic and cyanide, infectious substances such as bacteria and germs. 
When You Arrive at the Airport
1. Please pay attention to the signboards that facilitate the completion of your travel procedures.
2. Follow the instructions of the employees and follow the security procedures, because they aim to acgieve your security and safety.
3. Submit documents to the passport officer and do NOT talk on the phone while standing at the counters. Pay attention to the employee's questions.
4. Put the metallic materials that you have into the basket designated for this and place them in the inspection device.
5. When you board the plane, remember the travel prayer.
Important Notes
• The embassies of the countries abroad are established to serve its citizens. In the event of any problem for you, do NOT hesitate to contact it and inform the incident on time, so that the embassy or consulate can carry out its duty and quickly solve the problem at the earliest before it worsens and any other consequences occur.
• When going to the airport, you must make sure of all your reservations, including the flights you want to travel on or your place of residence, and make sure that you carry the travel documents, money, checks and other personal belongings.
• In order to ensure your safety and not to get into trouble, it is advised that you stay away from suspicious places with a bad reputation and inspect them from the security and social aspects. In addition to this, you must respect the laws and regulations of the countries you intend to visit.
• Remember that there are some countries that require the visitor to register his jewelry, cash, local currencies and checks with the customs officer, and the necessity of obtaining a receipt for the amounts that have been transferred to the currency of the country of destination to show them upon departure. So that your jewelry and money will not be confiscated.
Qatar Customs Policy
If you carry out cash or any valuable items which cost is above QAR 50,000 please declare it at the Customs Office under the General Customs Authority.
The security procedures and requirements at the airport are not set to tire out and delay you, but are set in order to ensure your security and safety. 
For inquiries and concerns, contact:
For Complaints: 235 1333
Duty Officer: 5514 4643
Airport Permits Section: 235 1350
Departure Terminal: 235 1433
E-mail: psa@moi.gov.qa
Source: Airport Passports and Security Departments of the Ministry of Interior (MoI)