Welsh and Qatari artists reveal murals showing cultural connections between the two smallest nations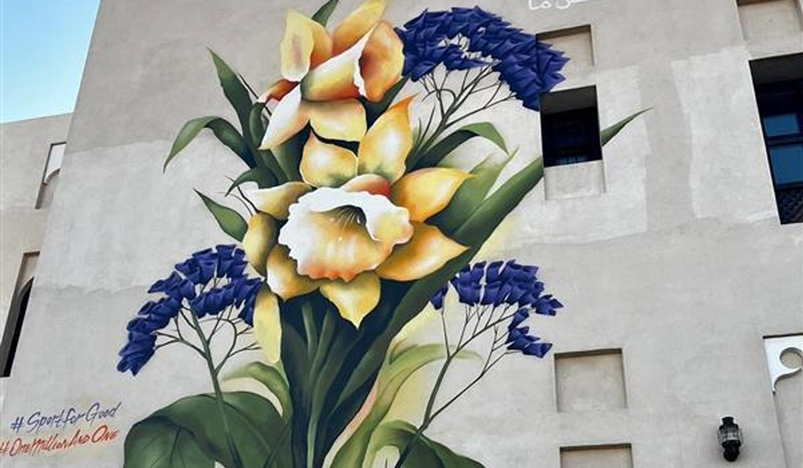 13 metre high mural
Two Welsh street artists have revealed a 13 metre high mural at the centre of Doha's cultural district, Katara, in collaboration with a Qatari artists with the aim to engage diverse communities and explore each other's values and cultures. Welsh Government Minister for Economy, Vaughan Gething, visited the two giant pieces of art as part of a visit to Qatar ahead of Wales v England on 29th November.
Welsh street artists Bryce Davies aka Peaceful Progress and Hannah McGree worked with Qatari artist Muna AlBader to create the impactful wall art which combines each nation's flowers: the vibrant yellow of the Welsh daffodil and the lilac hues of Qatar's Qataf flower.
Vaughan Gething, said: "The World Cup has provided a unique opportunity not just to show the world Wales is a distinct nation within the UK, but to project our values of community and inclusivity. The mural is an example of Wales' creativity and collaboration and part of our programme to engage and understand other cultures."
The daffodil is an icon of Wales because of its association with the country's patron saint, David, and remains a symbol of hope and healing in Wales. The Qataf is known as Lemonium or Sea Lavendar, and has pink or lilac flowers that grow in clusters from a bright redbud from March to May.
Bryce Davies, aka Peaceful Progress, grew up in Cardiff and has been painting aerosol murals for 20 years. He said: "I designed the mural to fit into the natural environment of Katara with two instantly recognisable symbols of the two nations combined a way that has never been seen before. The piece represents national identity, the opportunity for sport to do good – and of course, football."
A second participatory mural, which depicts the words for 'unity' in Welsh, Arabic and English, has also been created to involve local Qatari people and visitors by inviting them to pick up paint brushes and contribute to a section of the piece. 
The murals were created as part of the 7th annual UK Festival in Qatar which will explore the theme 'sport for good'. The two murals were launched as part of an event with British Council, Welsh Government, Street Child United and Education Above All.
The murals are being created as part of Gwyl Cymru Festival: a programme of more than 200 events across Cymru and the world as part of a 10-day celebration of creativity during the tournament.