We Give High Priority to Migrant Workers Says President of QRCS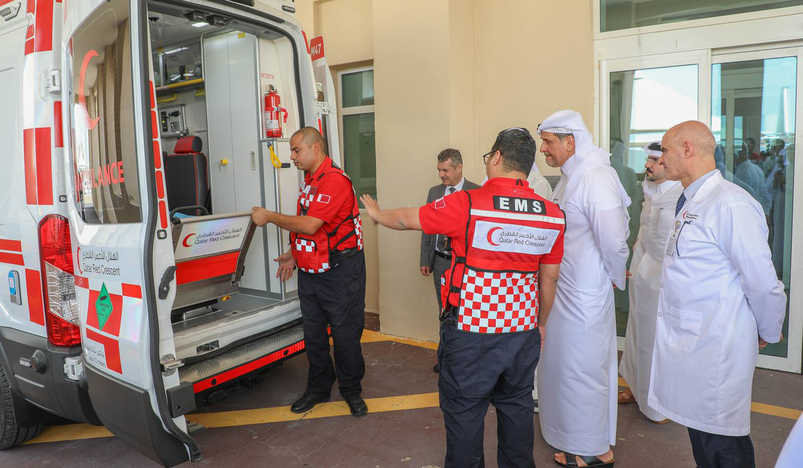 QRCS
HE President of Qatar Red Crescent Society (QRCS) Yousef bin Ali Al Khater asserted that QRCS gives a high priority to migrant workers, in pursuit of achieving human development goals within the pillars of Qatar National Vision 2030.
This came during His Excellency's visit to Al-Hemailah Workers Health Center in the Industrial Area to find out about the facilities, services, and the centers operation system, which is one of four Workers Health Centers operated by QRCS under a partnership agreement with the Ministry of Public Health (MOPH).
His Excellency affirmed that QRCS is committed to providing all support for the success of development and expansion plans towards QRCSs short-term and long-term community development mandates, pointing out that workers' health centers offer best level of primary health care services to patients in a variety of medical specializations.
He pointed out that the platinum-level accreditation QRCS had received from Accreditation Canada last March is the product of impressive work and harmony among the involved teams, thanking MOPH for its permanent cooperation with QRCS to meet the requirements and priorities of development, quality, and inclusiveness within the countrys general policy and national health strategy.
During the visit, His Excellency watched a presentation on MADs departments and specializations, including the operation of Workers Health Centers in the Industrial Area, Mesaimeer, Fereej Abdulaziz, and Zekreet. Together, these health facilities receive an average of 96,000 patients per month, with a total capacity of 546 physicians, pharmacists, nurses, and technicians.
(QNA)