Watan drill shows Qatar's readiness to secure FIFA Sporting Events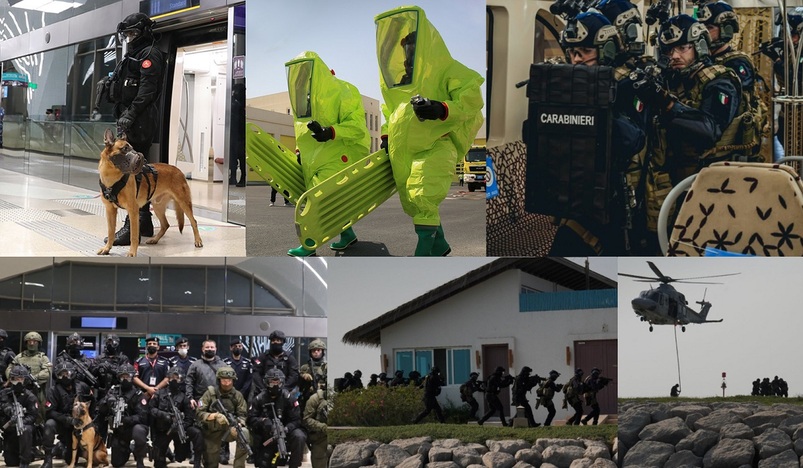 Watan Security Exercise for FIFA World Cup Qatar 2022
The three-day joint security exercise 'Watan' concluded yesterday with the participation of several domestic security and civil agencies as well as similar entities from 13 friendly countries.
The exercise was conducted at multiple sites in Qatar, including competitive and non-competitive facilities and several tourist facilities on land and at sea.
The Watan security drill demonstrated Qatar's full readiness to secure the 2021 Arab Cup and the 2022 World Cup, Prime Minister and Minister of Interior HE Sheikh Khalid bin Khalifa bin Abdulaziz Al Thani said in a tweet after witnessing its conclusion at the Ahmed Bin Ali Stadium at Al Rayyan Sports Club on Wednesday.
The exercise scenarios included the tasks and duties of the security operations of the FIFA World Cup Qatar 2022, the operational and organisational plans for the tournament, and others that simulate the tasks and duties of public security and scenarios that simulate joint work between all military, organizational and service bodies.
"After completing another set of complex scenarios, we have proven once again that we are ready more than ever," said the Security Committee for the FIFA World Cup Qatar 2022.
Qatar Rail received the delegations of the participating countries in the "Watan" security exercise. The delegation visited the Integrated Control Centre of the Doha Metro network and toured several stations. A number of trainings were held in the Metro under this exercise.
The Prime Minister witnessed a visual presentation of the most prominent scenarios that were dealt with during the exercise.
The scenarios were designed to assess the readiness of the participants in helping hosting of major sporting events as well as to gauge the inter-agency coordination.
The prime minister also visited the operations room, where he was briefed on the respective roles of the various participating agencies and their response to various scenarios.
The PM lauded the "spirit of joint work and the efficiency of coordination" among the security, organizational and service agencies in the tweet.
"On this occasion, I salute all the participants, especially the brotherly and friendly forces that participated with us in this event effectively and efficiently," he added in the tweet.
The exercise was held to enhance close ties with the friendly forces behind it, and to ensure integration of efforts and cooperation to achieve the best security experiences in major sporting events hosted by the State of Qatar.
Source: Watan Security Committee for the FIFA World Cup Qatar 2022