Wales, Australia and Costa Rica flags raised with teams qualified for FIFA World Cup Qatar 2022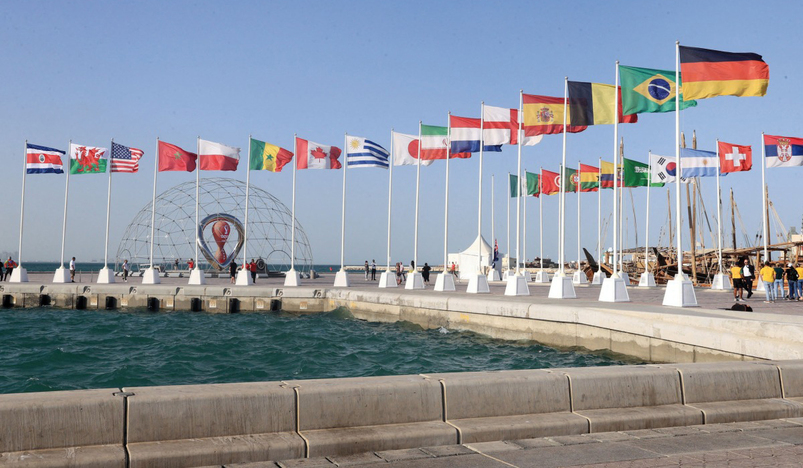 General view of the 2022 World Cup countdown clock and flags Reuters/Mohammed Dabbous
Doha has completed the flag-raising ceremony of the countries qualified for the FIFA World Cup Qatar 2022 today, by adding the flags of the three countries whose teams have qualified from the playoffs, namely Wales, Australia and Costa Rica.

The Supreme Committee for Delivery and Legacy organized a celebration on the Doha Corniche on the occasion of the completion of the number of teams qualified for the World Cup, which numbered (32) teams.
The celebration was held with the attendance of Secretary-General at Supreme Committee for Delivery & Legacy, HE Hassan Al Thawadi, CEO of FIFA World Cup Qatar 2022 LLC Nasser Al Khater, Secretary-General of Qatar Football Association Mansour Al Ansari, Chief of Tournament Experience Khalid Al Mawlawi, in the presence of HE Australian Ambassador to Qatar Jonathan Muir and HE Ambassador of the Republic of Costa Rica to Qatar Alvaro Mariano Segura Avila.
The flag-raising ceremony came as a welcome to the three teams that have qualified recently, and to their fans in Qatar, which will host the event at the end of this year.
The qualifying countries for the tournament, which will be held from November 21 to December 18 of this year 2022, are: Qatar (host), France (title holders), Germany, Denmark, Belgium, Croatia, Spain, Serbia, England, Switzerland, the Netherlands, Portugal, Poland, Wales (for Europe), Brazil (the record holder for the number of title wins), Argentina, Ecuador, Uruguay (for South America), Iran, South Korea, Japan, Saudi Arabia, and Australia ( For the Asian continent), Mexico, Canada, the United States of America, Costa Rica (for North and Central America and the Caribbean), Ghana, Senegal, Morocco, Tunisia, and Cameroon (for the African continent).
On this occasion, Australian Ambassador to Qatar HE Jonathan Muir who raised his country's flag with the flags of the qualifying countries for the World Cup, expressed his pleasure at his country's qualification for the World Cup in Qatar, and his pride in raising his country's flag with the countries qualified for the major sporting event in football.
In a press statement, he said that his country's qualification for the World Cup is a source of happiness and pride, after adding a new accomplishment to his achievements by being among the best 32 teams in the world that qualified for the finals, indicating that they were incredible moments and a special night for Australia in which the team made its fans happy as it achieved qualification from the annex.
The ambassador stressed that, through his presence in Doha for three years, he is fully aware that Qatar will impress the world by hosting the major event at the end of this year, due to its great capabilities in organizing tournaments and sporting events, as well as the Qatari hospitality. 
QNA