W Doha Hosts a Qatar-USA Year of Culture Exhibition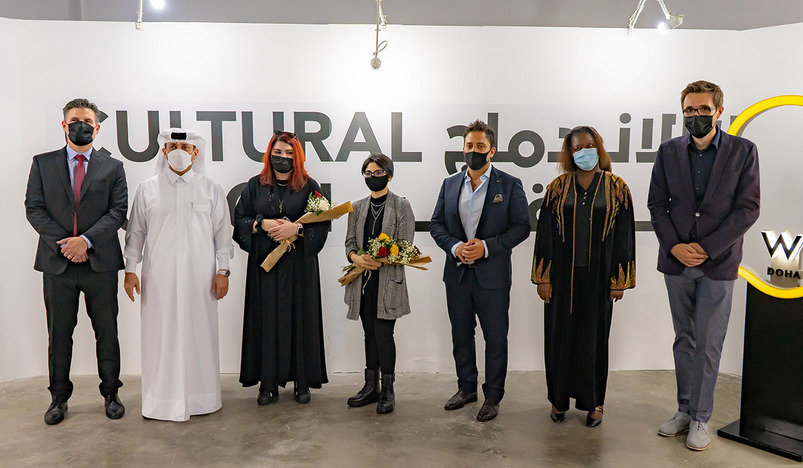 The exhibition explores the ongoing relations between Qatar and the United States through a creative lens
Doha – Qatar. W Doha Hotel & Residences is hosting an inspiring design exhibition entitled 'Cultural Fusion' by Virginia Commonwealth University School of the Arts Graphic Design students in Qatar (VCUarts Qatar) in collaboration with the U.S. Embassy in Doha and Qatar Museums at its vibrant art space, ART29 at W Doha. In celebration of the Qatar-USA 2021 Year of Culture, the collaborative display explores ongoing Qatar-U.S. relations, taking art enthusiasts on a journey through the beauty of two different cultures. The exhibition will be open to the public from August 29, 2021 until September 18, 2021, 10am-10pm daily. 
The 'Cultural Fusion' project commenced at VCUarts Qatar, allowing design students to explore new ways of embracing cultures through a range of creative freedom. This resulted in diverse outcomes, eight of which are on exhibit at ART29. The designs on display narrate the inspiring elements of each culture; embrace differences; and depict artistic interpretations of the strong ties of both nations through vibrant strokes and hues. Art lovers will be taken on a sensory voyage where the glorious desert of Qatar meets the lively New York streets, an immersive experience not to be missed.
General Manager of W Doha, Wassim Daageh said, "It is an exciting time for W Doha to be hosting the 'Cultural Fusion' art exhibition in collaboration with the U.S. Embassy, Qatar Museums, and VCUarts Qatar. We welcome the opportunity to take part in the Qatar – USA 2021 Year of Culture once again and are proud to support Qatar's dynamic art scene by showcasing the creativity of young talented artists. I encourage everyone to visit ART29 to enjoy a riveting and unique artistic experience." 
Commenting on the exhibition, Dean Amir Berbic at VCUarts Qatar said : "An understanding and appreciation of one another's culture goes a long way in cementing and celebrating friendships between countries – and this is especially true when such emotions are expressed through a creative lens. The Year of Culture afforded VCUarts Qatar's community of creatives a unique opportunity to do exactly that. Our graphic design students, with their characteristic ingenuity and adventurous streak, used design as a springboard to explore the ongoing and historical relations between the United States and Qatar. "
Cultural Affairs Officer Samantha Jackson of the U.S. Embassy in Doha applauded the growing relationship between Qatar and the United States through shared cultural experiences. She congratulated the VCUQatar Graphic Design students in successfully uniting our people and countries through art and thanked all partners for contributing to this exhibition as part of the Qatar-USA 2021 Year of Culture.
"I would like to thank Qatar Museums and Virginia Commonwealth University School of Arts in Qatar for organizing this outstanding project that reflects the strong partnership and true friendship Qatar and the U.S. share. It also highlights the work we do at ExxonMobil Qatar in support of educational development and women's empowerment," said Dominic Genetti, President and General Manager for ExxonMobil Qatar.
The 'Cultural Fusion' marks the 10th edition of Qatar Museums' Years of Culture program which aims to convey Qatar to an international audience through a variety of exhibitions, festivals, competitions, and events. Mr. Ahmad Musa Al Namla, CEO of Qatar Museums, said: "We are delighted this year to celebrate the 10th edition of Year of Cultures with the United States – a country with whom we share enduring ties. This exhibition provides a platform to showcase students' designs and to promote cross-cultural exchange." He concluded by extending his gratitude to the generous sponsors – ExxonMobil and Qatar Airways, and valued partners – the U.S. Embassy, W Doha Hotel, and VCUArts Qatar, for making this culturally immersive initiative possible.
ART29 is an exciting platform that presents the works of up and coming local, regional, and international artists. It provides them with a space to showcase their work and aspirations to the community. For more information, please visit the Art29 website at www.art29doha.com