Volvo Hosts Panel Discussion on Sustainability in Qatar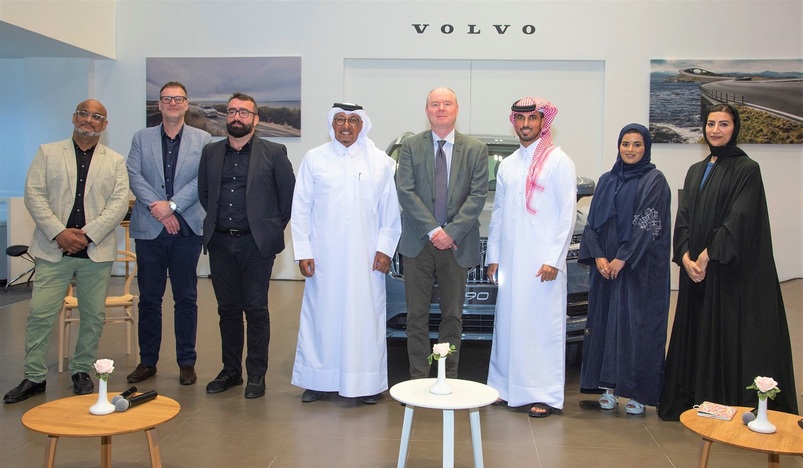 Volvo cars
Volvo cars recently hosted a panel discussion with a central theme of Sustainability at its showroom. The event was conducted in association with 'Big B Meet Up' that was started by 'Big B Fotografi' founder Mr. Bosco Menezes. For Volvo cars, sustainability is as important as safety. Volvo cars aims to be a climate neutral company by 2040. Hosting the #bigbmeetup on Sustainability helps drive this key message for Volvo cars.
Bigbmeetup is a community Initiative founded in Qatar in 2018 by Bosco Menezes, a photographer, artist & social activist. The mission statement of #bigbmeetup is To Inspire, To Inform, To Educate and to bring diverse communities together. The four themes that #bigbmeetup addresses are: Sports & Wellness, This Ability - Championing people who are differently abled, Celebrating Artists and Estedaama (Sustainability).
The event brought together noted & practicing sustainability champions and environmentalists that discussed the challenges confronting sustainable practices. They spoke about their personal experiences and accomplishments in leading a more sustainable life. The four panelists included  Mr. Ghanim AlSulaiti, Qatar's renowned vegan, CEO of Enbat Holdings & owner of the first vegan restaurant in Qatar, Evergreen Organics; Ms. Aisha Al Maadeed, a prominent environmentalist and the founder of Greener Future who promotes various environmental programs in Qatar; Ms. Reem Al Muftah, a Qatari Wellness Advocate and fitness instructor and Dr. Ferhan Sakal a renowned architect & an integral part of the Environment Action Protection Group in Qatar.
The event was also graced by Sweden's Ambassador to Qatar, H.E. Ambassador Anders Bengtcén and Dr. Saif Al Hajri a noted environmental advisor from the NGO A Flower Each Spring. They shared their thoughts on Sustainability, its importance in Qatar and how their organizations are driving sustainability in Qatar through their own initiatives and through collaboration with various other organizations. The event was attended by a number of sustainability enthusiasts and environmentalists. It was also live streamed on BigBMeetUp virtual channels for the general public to view. 
Speaking at the event, Domasco Volvo Managing Director, Mr. Jonathan Pollock said, "Volvo cars has always been known for safety, however for Volvo sustainability is as important as safety. As an automotive manufacturer, Volvo has recognized that indeed they need to be part of the solution to global warming, not part of the problem. Volvo is looking to make a meaningful contribution to global efforts to limit warming to 1.5 degrees to avoid significant harm to the planet and society.  With Volvo's long-term visions and short-term ambitions, they have made it clear that carbon reduction will be a top priority for them as a company, as well as those who work with them. They pledge to be fully transparent about the progress made in this regard. Volvo cars is currently working on reducing its CO2 footprint, its aiming to become a circular business, developing second life applications for electric vehicle batteries and producing sustainable batteries."
Volvo cars has been driving Sustainability across its value chain. Its timing as well as the scope of its strategy is very ambitious. In addition to their long-term ambition to be climate neutral by 2040 they have several short-term targets to immediately reduce their CO2 footprint per car by 40 per cent by 2025. These reductions also consider their entire operations addressing CO2 emission across the value chain. Long-term visions, as well as detailed short-term ambitions, include 50 per cent reduction in fleet tailpipe carbon emissions, 25 per cent reduction per car in supply chain carbon emissions, 25 per cent reduction per car in operational carbon emissions, including from manufacturing and logistics. 
Volvo Cars also aims for annual savings of SEK 1 billion (QR 400 M) and reductions of 2.5 million tonnes in carbon emissions from 2025 using circular business principles. Supporting the company's long-term goal of becoming a circular business by 2040, Volvo Cars will create closed material loops for emission-heavy materials such as steel and aluminum, as well as remanufacture, repair, reuse and refurbish parts.    
Already now, Volvo Cars remanufactures parts such as gearboxes and engines to make better use of material and reduce emissions. In 2020, around 40,000 parts were remanufactured, saving nearly 3,000 tonnes of CO2 emissions. By 2025, Volvo Cars aims to more than double its remanufacturing business. To ensure that valuable material can be kept in circulation, the company recycled 95 per cent of its production waste last year. This included 176,000 tonnes of steel, avoiding the generation of nearly 640,000 tonnes of CO2.    
Earlier this year, Volvo Car Group announced a planned collaboration with Northvolt to develop and produce sustainable batteries. These will be tailored to power the next generation of pure electric Volvo cars and secure a future supply of sustainable batteries needed to support growth.
 
The collaboration with Northvolt is key to Volvo Cars' ambition to become a leader in the premium electric car segment and sell only pure electric vehicles by 2030. As Volvo Cars is moving towards becoming an all-electric car company, the importance of sustainability increases in parallel. While the company will increase the battery energy in its cars over the coming decade, it will also work to continuously reduce their carbon impact. Battery cells from Volvo Cars' planned collaboration with Northvolt aim to be produced using 100 per cent renewable energy, while it is working with other battery suppliers to do the same by 2025.
 
Volvo Cars has a clear strategy to further reduce the carbon impact of batteries by making better use of the valuable material contained in them. Wherever possible, it intends to remanufacture or reuse batteries, and is also investigating potential second-life applications, such as energy storage. 
 
Volvo cars are distributed in Qatar by Doha Marketing Services Company (DOMASCO), a leading multi-brand company in Qatar and a member of the Al-Futtaim Group. It has a diversified portfolio of passenger cars, motor bikes, commercial vehicles, marine and power products, watches and electronics representing some of the world's most visible and award-winning brands.  Al-Futtaim Automotive is one of five divisions within the Al-Futtaim Group which provides quality products and services that enrich people's lives and aspirations each and every day.
Source: PR