Visa teams up with QIB to Offer FIFA World Cup™ Final tickets through "Spend & Win" Campaign at DFC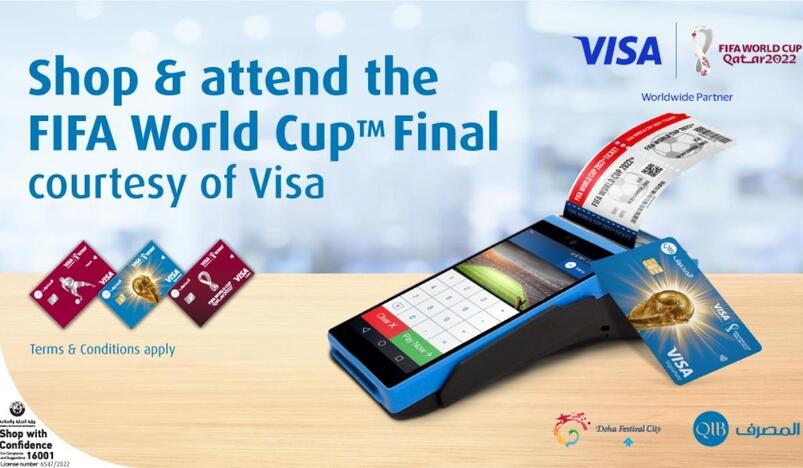 Visa teams up with QIB to Offer FIFA World Cup Final tickets through Spend & Win Campaign at Doha Festival City
Visa has partnered with Qatar Islamic Bank (QIB), Qatar's leading digital bank, to launch a "Spend & Win" campaign for QIB cardholders using their Visa cards at Doha Festival City, as part of QIB's ongoing efforts to further reward its customers with tickets for the FIFA World Cup Qatar 2022™ Final. 
This latest campaign offers QIB Visa cardholders the opportunity to win match tickets to attend the Final of the FIFA World Cup Qatar 2022™, courtesy of Visa, through the "Spend & Win" campaign at Doha Festival City. 
QIB has been running a FIFA World Cup™ campaign since February 2022 offering a wide range of FIFA World Cup™ match tickets to date for all categories including Group Stage, Round 16, Quarter Finals, Semi Finals and Final, which also includes hospitality packages in collaboration with Visa.
During this latest campaign, which will run from 1st November until 30th November 2022, all QIB customers with Visa Debit, Visa Credit and Visa Prepaid cards are eligible to enter the draw when they spend a minimum of QAR 250 at Doha Festival City and get a chance to win a ticket to attend the Final of the FIFA World Cup Qatar 2022™, courtesy of Visa. Each QAR 250 spent at Doha Festival City will give customers an entry in the draw. 
Throughout the campaign, QIB customers are invited to use their Visa Debit, Credit, and Prepaid cards while shopping at any of Doha Festival City's stores for a chance to be one of the lucky winners, courtesy of Visa. Winners will be announced in the raffle draw on 7th December in the presence of representatives from QIB, Visa and the Ministry of Commerce and Industry.
Speaking about the campaign, Mr. D. Anand, QIB's General Manager – Personal Banking Group said: "Our strategic partnership with Visa allows us to offer our customers the most valuable rewards to enjoy a once in a lifetime experience. We are pleased to be partnering with Visa and Doha Festival City to celebrate this huge event with our customers while shopping. We thank Visa for allowing us to launch this exciting campaign and share the celebrations of the mega sporting event. We hope that this campaign will bring joy and excitement to our customers' shopping experience, and we invite everyone to participate and have a chance to win a ticket for the Final, thanks to Visa.
Dr. Sudheer Nair, Visa's Country Manager for Qatar, said: "We're delighted to partner with QIB on this exciting campaign for the bank's Visa cardholders which could not have come at a better time with less than a month to FIFA World Cup Qatar 2022™.  This campaign is a great way to incentivize consumers to use their Visa card and deliver a personalized rewards experience when they shop at Doha Festival City. It also supports the government's efforts to extend the benefits of digital commerce to local businesses and the national economy, which Visa is committed to doing more than ever."  
Robert Hall, General Manager for Doha Festival City said: "We are honoured to partner with Qatar Islamic Bank and Visa for the Spend and Win campaign during this exciting period in Qatar, providing QIB Visa Card holders and shoppers an additional reason to shop at Qatar's one and only mall of choice offering a selection of more than 550 retail and dining options from more than 44 countries. We encourage all visitors to not miss this opportunity to win tickets to attend the FIFA World Cup Qatar 2022™ Final, thanks to Visa, and celebrate with the rest of the world as football fever takes over the nation."
For those who do not have QIB Visa cards, they are still able to be part of the campaign by applying for any Visa card using the QIB Mobile App. To download the App, all citizens and residents in Qatar can visit their respective App Stores and search for QIB Mobile. QIB customers can easily self-register to the App using their Debit card details.