VedaOils Launches Soap Making Kit - Now Make Designer Soaps at Home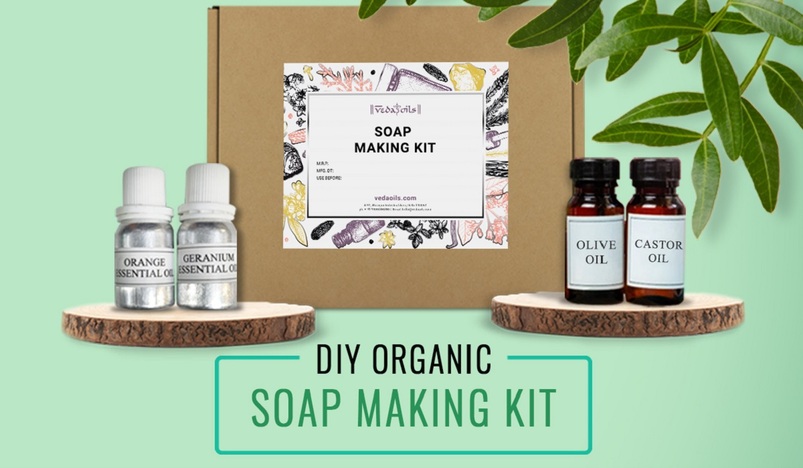 Soap Making Kit by VedaOils
With the Soap Making Kits offered by VedaOils, soap making has become easier than ever! With a wide range of soap bases to choose from, you can explore the art of making different types of soaps. The best part is that you get everything required for making premium-quality soaps. 
Gift these soaps to your friends and loved ones or start a business with homemade DIY natural homemade soaps! We are offering these soap-making kits at wholesale prices so that even commercial soap manufacturers can benefit from our soap kits. For beginners, there is a user manual and recipe card in the package. Learn the craft of soap-making today with our Soap Making Kit that comes with an extensive list of soap-making supplies!
DIY Soap Making Kit For Beginners – Try Now
You don't have to research the soap-making process and ingredients much as we have everything in our soap kits. Just read the instruction manual and start making exquisite soaps that look and smell good. Also, we have included only organic ingredients in our soap kits as we want your skin to feel rejuvenated without any side effects. Get our soap-making kit and become an ace soap maker today! The things that you get with these soap kits are mentioned below:
1. Soap Mold - Soap Molds are used for setting the soaps in various sizes and shapes. With our soap-making kit, you get high-quality soap molds that will enable you to make eye-pleasing soaps with ease. As these are heat-resistant and durable soap molds, use them for making hundreds of soaps without any issues! 
2. Soap Base - We give you the luxury of choosing a soap kit that comes with a particular soap base. At present, we offer soap kits with Goat Milk, Aloe Vera, Charcoal, Glycerin, and Shea Butter Soap Base. Each of these soap bases has its special properties and benefits. Choose a variant that appeals to you the most! 
3. Essential Oils - Essential Oils enrich the therapeutic benefits offered by soaps. They make them emollient, nourishing, and skin-friendly. Make high-quality and effective soaps with the help of their anti-inflammatory and bactericidal properties. Also, these essential oils add a unique and mesmerizing scent to your soaps that will make them even more tempting! 
4. Carrier Oils - Carrier oils tow down the concentration of essential oils and they also add some skin-friendly qualities to your soaps. For example, they rejuvenate your skin deeply and balance the aroma of essential oils and fragrance oils. They also enhance the moisturizing properties of your handmade DIY soaps. 
5. Dried Flowers - Dried Flowers enhance the appeal and appearance of your soaps. Along with that, they also increase their exfoliating properties. We offer dried flower pets with our soap kits that are healthy for your skin. These floral petals make your complexion spotless and also add a soothing scent to them. 
6. Pigment Color - Along with the other valuable additions to your soaps, our soap kits also provide pigment color. With the help of these pigments, you can achieve the desired color in your soaps. We offer organic pigment colors that do not contain any harmful colors or preservatives. Therefore, they are safe for adding to your DIY soaps. 
7. Equipment - Our soap-making supplies include equipment like a spatula, gloves, etc. These soap-making tools and equipment allow you to carry out the various procedures with precision and safety. They are especially useful for beginners as they are not fully aware of the different ingredients and soap-making process. 
8. Fragrance Oils - Fragrance oils are also included in our soap kits. These fragrance oils improve the aroma of the soaps and also make them more tempting and effective. The blissful aroma of these oils will also prove to be stress-busting when added to soaps. Moreover, as they are natural and chemical-free, you don't have to worry at all! 
Natural Soap Making Kit for Professional for Soap Making
VedaOils specializes in supplying soap-making supplies and also indulges in manufacturing and distributing high-quality soap-making ingredients. Getting soap kits from our website is a lot easier as we provide a functional and user-friendly website at your service. Moreover, as we are offering them at affordable rates, you may use them for commercial purposes as well. 
Our soap-making kits are designed especially for beginners but they contain everything that a professional soap maker needs. Therefore, you don't have to wander anywhere else for make premium-quality luxury soaps. Buy these soap kits today, be a star soap maker, and impress your friends and close ones! 
Conclusion
Soap making is not difficult if you have the right ingredients and equipment. However, the most important thing is the source of the ingredients and soap-making supplies. Safe, high-quality, and effective soap-making supplies are bundled together in our soap kits. These ingredients do not contain any harsh chemicals or components that may harm the skin. 
We provide carefully formulated and tested ingredients along with the equipment that is tested for safety and quality. Therefore, using our soap kits will prove to be safe and beneficial for your skin.