Unvaccinated woman died with Covid shortly after giving birth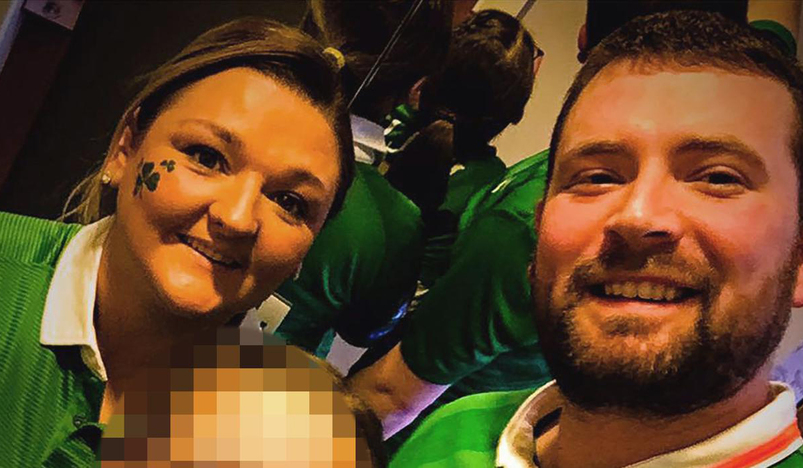 Josh Willis says he and his wife Samantha "always thought we had another 40 or more years together"
The husband of a woman who died with Covid-19 shortly after giving birth has spoken about the pain of losing her.
Samantha Willis, 35, who had not been vaccinated for Covid-19, died on Friday after spending 16 days in hospital.
The mother-of-four from Londonderry was buried on Monday after a service in which her new-born daughter child was baptised.
"We always thought we had 40 or more years together," her husband Josh Willis told BBC News NI.
He said he thought they would have that time "to share experiences and watch the wee ones grow up".
"Birthdays, communions, whatever it is - it was all taken away," he said.
"I just hope that she knows how I felt about her and I hope the way that we coped getting through the wake and the funeral and doing this sort of thing, that she's looking down and we are doing her proud basically."
At the funeral service for Mrs Willis, her two-weeks old daughter Eviegrace was carried behind the coffin.
'Fight through it'
Mr Willis said he and his wife had been taking precautions about coronavirus by using personal protective equipment and avoiding bars and restaurants.
Both of them tested positive for the virus on the same day and in the subsequent days Mrs Willis' condition worsened before Mr Willis had to take her to Altnagelvin Area Hospital in Derry.
He said that in the days before his wife's death he held her hand and told her: "We're all here, we're all waiting - fight through it. You have everything to fight for."
Mr Willis said he and some other family members were called into the hospital after her condition worsened on Thursday evening.
"I was at the bottom of the bed and I was looking at the screens," he said.
"I had an idea about what some of the things on it meant - I seen one that I was pretty sure was the oxygen level and it said 20.
"I said to the nurse beside me: 'Is that her oxygen level?' And she just said: 'She has just literally passed away.''"
Before she died, Mrs Willis had not been able to hold her new-born daughter Eviegrace.
Mr Willis said he had tried to arrange for her to hold her child before her condition had worsened.
"She carried her for eight months but she never held her in her arms... the one thing I wanted was for her to see her baby and to hold her," he said.
Mrs Willis had not been vaccinated for Covid-19 when she died - her husband said he wants to raise vaccination awareness after his wife's death.
"I just want to put her story out there... I think if she could help one person, one family, she would be happy," he said.
Mr Willis said when he was standing at his wife's graveside on Monday, he could hear her in his head saying: "I'm gone, batter on, raise the wains, do what youse have to do."
"We have no choice, and if it was the other way around she would do the same. I would be probably telling her the same," he said.