Umrah pilgrims killed in horrific traffic accident in Medina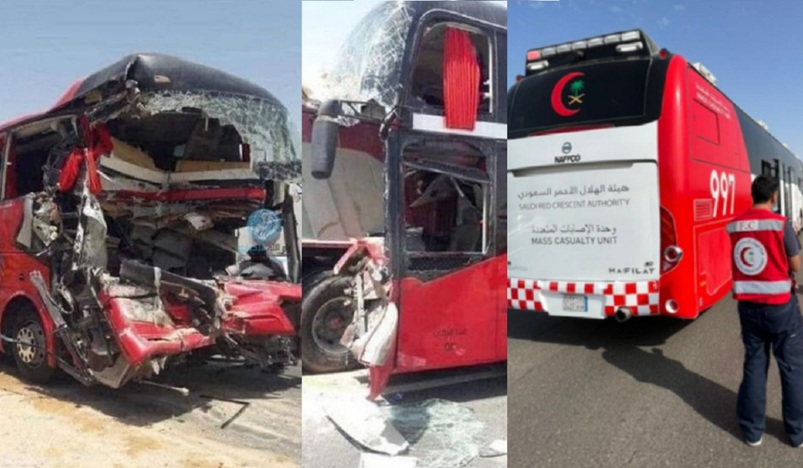 Eight Umrah pilgrims killed, 43 others injured in horrific bus crash in Medina
• An eyewitness confirmed to Arab News that most of those killed were Egyptians and Sudanese
• Eight pilgrims were killed and 43 were injured on their way to Madinah when the bus they were traveling in overturned on Friday morning.
• The bus collided with a truck on the Al-Hijrah highway, in Medina. Al-Hijrah highway connects Mecca to Medina.
Eight Egyptian and Sudanese umrah pilgrims were killed, and 43 others were injured in a horrific bus crash in Medina, local media reported.
A Saudi Red Crescent Authority operations room received a notification at 6:14 a.m. on Friday stating that a bus had overturned on Al-Hijra Road, near the town of Wadi Al-Fara, according to a statement issued on Friday evening.
The authority's vehicles and teams were immediately directed to deal with the accident and the injured travelers, said Dr. Ahmed Al-Zahrani, director-general of the SRCA branch in Madinah. He added that 20 ambulance teams and six teams responded to the incident.
"Immediately, the latest RTA vehicles were dispatched to the Multiple Injury Bus (Twaiq), and the first team arrived at 06:24."
An eyewitness confirmed to Arab News that most of those killed were Egyptians and Sudanese and that the bus had most likely veered off the road. The collision is reported to have taken place near the town of Al Yutamah, approximately 90 km from Medina city. 
Al Zahrani added there were 51 people on the bus. Many were seriously injured and some were moderately injured. The condition of the remaining passengers was stable by the time medical teams arrived at the scene.
Five of the injured were taken to hospitals in the area once they had been given on-site treatment and triage by the emergency teams.
"The emergency teams were present at the site until the completion of the Civil Defense works to get the trapped people out of the bus and the deceased was transferred through the non-ambulatory transportation of the Saudi Red Crescent Authority," he said.
The Al-Hijra Road links the two holy cities. The pilgrims had completed Umrah and were going to Madinah to spend time there.
Earlier this month, on April 16, another bus carrying pilgrims overturned. One person died and several were injured.
Source: Gulf News and Arab News