Ukrainian professor wins prestigious Fields Medal in mathematics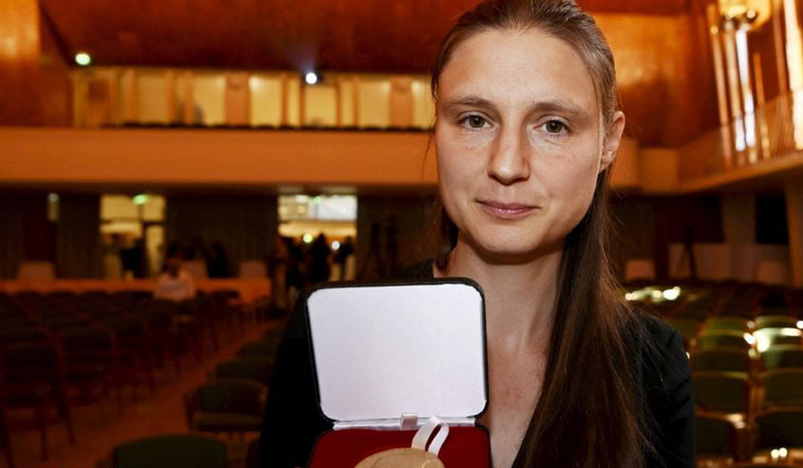 Maryna Viazovska
Ukrainian mathematician, Maryna Viazovska, has become only the second woman to receive the prestigious Fields Medal.
Often regarded as the Nobel Prize for mathematics, she won for her work on a 400-year-old puzzle about sphere packing.
The 37-year-old professor received the award alongside three other winners at a ceremony in Helsinki.
"I feel sad that I'm only the second woman," she said.
"But why is that? I don't know. I hope it will change in the future."
The other Fields medal winners were France's Hugo Duminil-Copin of the University of Geneva, Britain's James Maynard of Oxford University, and June Huh of Princeton in the United States.
The medal is awarded every four years to outstanding mathematicians under the age of 40.
After winning the award, Professor Viazovsk paid tribute to those suffering in her war-torn country, saying "my life changed forever" when Russia invaded Ukraine in February.
Her parents and sisters were living in the capital, Kyiv, when Russian troops entered the country.
"When the war started I could not think about anything else, including mathematics," she said in a video shown at the ceremony.
Her family were evacuated from Kyiv and are now staying with her in Switzerland, where she works at the Ecole Polytechnique Federale de Lausanne.
"Right now Ukrainians are really paying the highest price for our beliefs and our freedom," she added.
The only previous female recipient of the Fields medal in its 86 year history was Iranian mathematician Maryam Mirzakhani, in 2014.
The International Congress of Mathematicians, where the prize is awarded, was originally due to be held in Russia's second city Saint Petersburg and opened by President Vladimir Putin.
Earlier in the year, hundreds of mathematicians signed an open letter protesting the choice of the host city, and after Russia began its invasion, the event was moved to the Finnish capital.
"The ongoing barbaric war that Russia still continues to wage against Ukraine clearly shows that no other alternative was feasible," the president of the International Mathematical Union, Carlos E. Kenig, said.
During the ceremony, Prof Viazovska paid tribute to Yulia Zdanovska, a young mathematician who studied under the same teachers she had in Kyiv, who was killed by a Russian missile attack on the Ukrainian city of Kharkiv in March.
"Yulia was a person filled with light, and her big dream was teaching mathematics to kids in Ukraine," she said.
"When someone like her dies, it's like the future dies."
BBC