UFC Lightweight Champion Kicks Off UFC Gym Launch At The Pearl With Inspiring Masterclass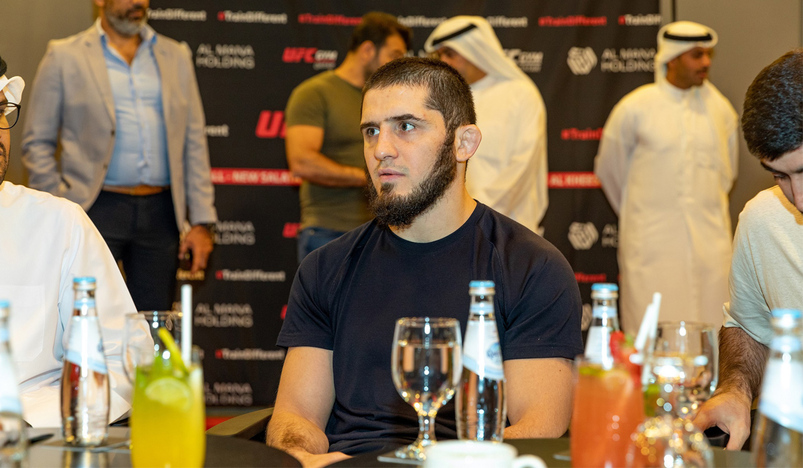 Islam Makhachev
Globally renowned #TrainDifferent philosophy by UFC GYM continues to take Qatar by storm promoting athletic inclusion with its unique market offering
UFC GYM Qatar, an extension of UFC® and Al-Mana Holding, celebrated the Grand Opening of their second gym by hosting renowned UFC lightweight champion, Islam Makhachev, as he took the gloves off and cut the ribbon at the inauguration event held at The Pearl, Qatar.
Global leaders in MMA-inspired fitness, UFC GYM continue to disrupt the fitness industry in Qatar with Mixed Martial Arts (MMA) inspired training. The new state-of-the-art gym offers unlimited classes and personal training sessions in MMA, Boxing, Jiu Jitsu, Wrestling, Muay Thai, HIIT and an array of Youth Programs, as well as a dedicated gym-area, a UFC Octagon, and much more. There is also an exclusive women's area in the gym hosting female-only classes. 
To mark The Pearl gym's opening, the UFC GYM team are offering a free pass to help unleash your inner fighter - visit the UFC Gym Qatar website to get your spot now and discover the customised membership tiers that fit your needs!
During his visit, Islam Makhachev commented: "This gym has everything, its great! We can do our training camps here since it has everything. It's a major platform for combat sports in Qatar and hopefully MMA's future champions in the octagon. It's clear to see how the country's created this amazing reputation for hosting sporting events and why it's becoming the sports capital of the world. Inshallah we will see a few UFC events here!"
As Qatar continues to become a leading sports destination, what better place to kick-start your fitness goals than MMA. It is a brilliant way to exercise and stay in shape, as well as being far more enjoyable than hours on the treadmill! 
"The much-anticipated opening of our second location on The Pearl has become a central focus for Al Mana Holding," said Abdulrahman Hamad Al Mana, Deputy CEO, Al Mana Holding. "Our research shows there is an appetite for an all-inclusive facility offering an MMA-inspired training space and traditional fitness under one roof," he explained. "We're very much looking forward to contributing to the growth of Qatar's vibrant fitness community by continuously expanding our sports offering," he added.
The inauguration of The Pearl is part of Al Mana Holding's expansion plans to promote UFC GYM's unique 'Train Different' philosophy. This follows the New Salata branch opening last summer (Aug '22) and another massive location opening in Al Kheesa at the end of the year.
For all the latest news follow UFC GYM Qatar - The Pearl on Instagram (@UFCGYMPearl) and Facebook (@UFCGYMQA), visit the website (https://ufcgym.qa/), or contact the team about membership via +974 5111 8501 and +974 5111 8502.