UDST Organizes Career Fair in Cooperation With Over 50 Companies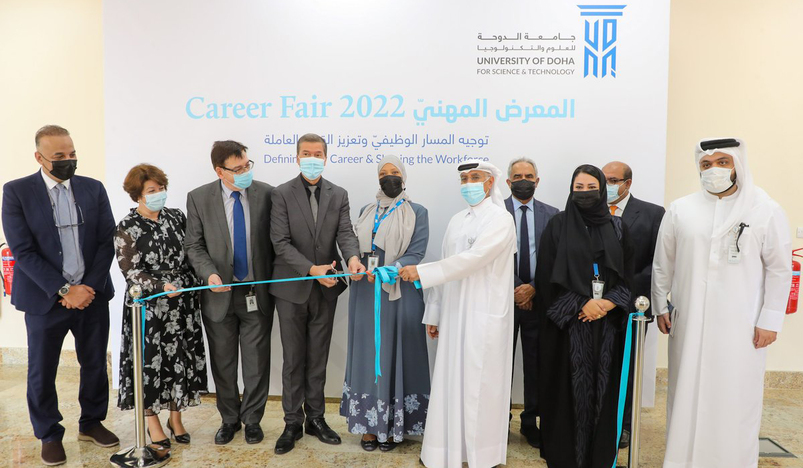 Career Fair
University of Doha for Science and Technology (UDST) organized a career fair that saw the participation of over 50 companies and substantial number of students and university graduates.
The two-day fair was intended to provide numerous job opportunities and care, including the provision of an opportunity for the attendees to get familiarized with the career world, enquire about the core skills pursued by enterprises' owners, as well as exploring the available jobs.
In preparation for this event, the Career services team at UDST organized preparatory sessions for both students and graduates to further upgrade their skills that would potentially increase the opportunities for their obtainment of jobs, in addition to providing them with counselling on ways of conducting interviews and improve their resumes.
The first day of the events was dedicated to raising the awareness for the career vision, Cybersecurity and promoting career life, whilst the second day was devoted to companies, where each company had offered its services through a special pavilion and had communicated with a wide spectrum of visitors and job seekers.
Commenting on the career fair, President of UDST Dr. Salem bin Nasser Al Naemi said that the university presents a successful academic example on ways to upgrade the capabilities of standby graduates to further engage in business markets, adding that UDST pursues practical approach for education and cooperates with partners and experts of economic fields to set programs that primarily fulfill the requirements of economy for innovative people, entrepreneurs and manpower who enjoy sophisticated skills, pointing out that the fair constitutes a platform that helps business owners to further polarize a host of distinguished cadres and grants opportunity for students and graduates alike to flagging up their skills and aptitudes, in addition to attending the seminars that patently contribute to upgrading their skills and developing their knowledge.
He indicated that UDST dedicates a department for career services, where professionals lend the students the essential counselling on the best methods of searching for jobs and upgrading the appropriate career skills, noting that the career fair in UDST campus will remain an annual milestone that constitutes a space for students, graduates and stakeholders to interact, engage and explore substantial number of work opportunities.
UDST offers over 60 programs in business administration fields, computation & IT, as well as engineering technology an health sciences, which had already graduated over 7500 students who contribute to fulfilling the requirements of Qatar's thriving economy, since the program was developed based on the data of local economy and the requirements of university's partners from various sectors.
(QNA)