Uber Helped Move 2 Million Riders During the First 2 Weeks of the Tournament In Qatar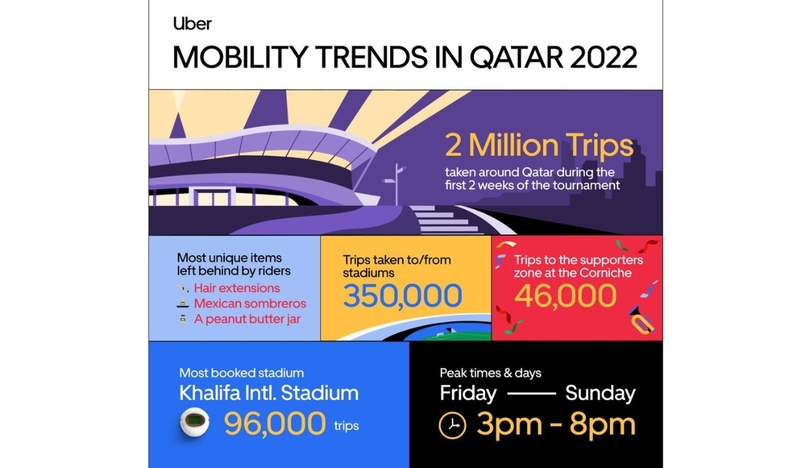 Uber Helped Move 2 Million Riders During the First 2 Weeks of the Tournament In Qatar
Uber revealed today that it has helped move 2 million riders across Qatar during the tournament's first two weeks only, helping Qatar meet unprecedented transport demand. According to statistics published by Uber about its operations in Qatar in the first two weeks of the tournament, football supporters booked 350,000 trips to and from stadiums via the Uber app, utilizing dedicated pick up and drop off points that Uber set up in coordination with event organizers to help rider and drivers maintain access to and from each of the 8 stadiums. 
 
Stadium specific, Uber's statistics showed that Khalifa International Stadium was the most visited among riders, with 96,000 trips total. The data also revealed the most common and surprising items left behind by riders in 2 weeks, from wallets to hair extensions, a peanut butter jar, and Mexican sombreros.
 
Tourists and residents who celebrated the spirit of football outside of the stadiums, took 46,000 trips to the supporters zone in Al Bidda Park in the Corniche.
 
In anticipation of the tournament, Uber focused on new driver sign ups, in coordination with the Ministry of Transport and the Supreme Committee of Delivery & Legacy, to help drivers increase their earnings by offering their services to the large number of visitors to Qatar. Today, Uber shared that they enabled 40% more earnings opportunities for drivers since the beginning of October.
 
Nasser Al-Sharshani, General Manager of Uber Qatar: "We are proud to have helped millions of people find their way around Qatar within arguably the busiest two-week period in the country's history. This achievement underlines how the Uber app is an invaluable resource that helps make every rider's experiences seamless during the tournament's kickoff while offering local drivers access to flexible earning opportunities."
 
The busiest times for trip requests in Qatar were Friday to Sunday between 3 to 8 PM, indicating that most riders were able to attend the football games during their time off on weekends. Every rider benefitted from a roster of 20 in-app safety features, including GPS Tracking, 24/7 support, Emergency Assistance, Ride Check, and Share my Trip, and has the ability to choose ride options between UberX, UberXL, UberX Share, Comfort, and Lux. 
 
These figures depict how Uber worked closely with the Ministry of Transport, the Supreme Committee of Delivery & Legacy, the country's Tournament Transport Coordination Center, and other stakeholders to facilitate easy access to transportation for riders despite the influx of supporters and incoming tourists.