U.S. Embassy Promotes Cultural Exchange at Doha International Book Fair 2023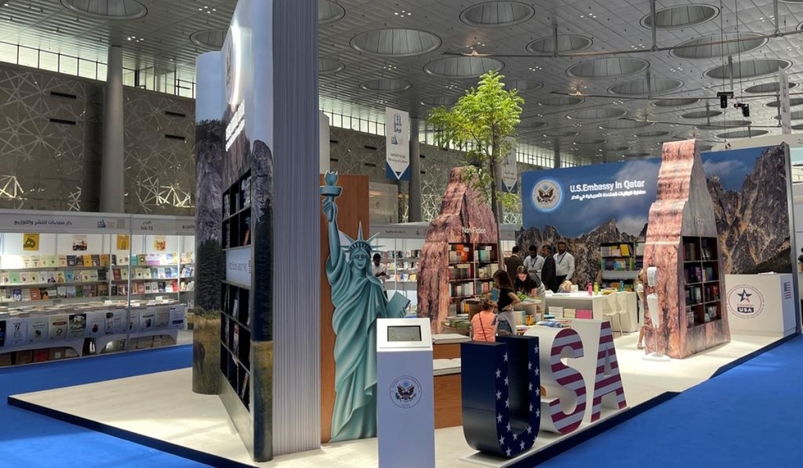 U.S. Embassy Promotes Cultural Exchange at Doha International Book Fair 2023
The U.S. Embassy is participating in the 32nd Doha International Book Fair from June 12 to June 21 at the Doha Exhibition and Convention Center (DECC).  The U.S. booth features over 4,300 books for purchase and more than 6,000 books for free. 
 
The wide variety of books at the U.S. Embassy booth aims to foster cultural exchange through literature.  Visitors can explore different books on diverse topics, including education, STEM, lifestyle, sustainability, business, and more.  
 
"The Doha International Book Fair is an important opportunity to strengthen people-to-people connections between the United States and Qatar," said U.S. Ambassador to Qatar Timmy Davis.  "Literature offers a window into different places, people, and perspectives.  It can serve as a catalyst for discussions and cultural exchanges."  
 
With this year's book fair theme, "With reading we rise," the U.S. Embassy celebrates the power of literature to connect people of all backgrounds and cultures.  The booth features works by prominent American writers and publishers, alongside notable Arab philosophers like Ibn Sina and Ibn Batuta, highlighting shared cultural values.  Bilingual books in Arabic and English are also available to support English language development and encourage exploration of diverse literature. 
 
The U.S. Embassy booth features daily book readings for children fostering shared reading experiences and stimulating literary discussions.
  
EducationUSA experts are present at the booth, providing valuable guidance on professional development and academic growth in the United States. 
 
In line with its commitment to sustainability, the U.S. Embassy will reuse the booth frame used at the DIBF for future editions of the event to reduce waste and environmental impact.  The Doha International Book Fair is open to the public with free parking available.  Operating hours are from 9:00 am to 10:00 pm during the week and from 3:00 pm to 10:00 pm on Fridays.  Families, children, and individuals of all ages are encouraged to attend and immerse themselves in the captivating world of literature. 
 
For more information about U.S. booth and activities, follow the @USEmbassyDoha on Instagram, Facebook, and Twitter.