Tunisian Superstar Dhafer El Abidine Talks About His Film in Katara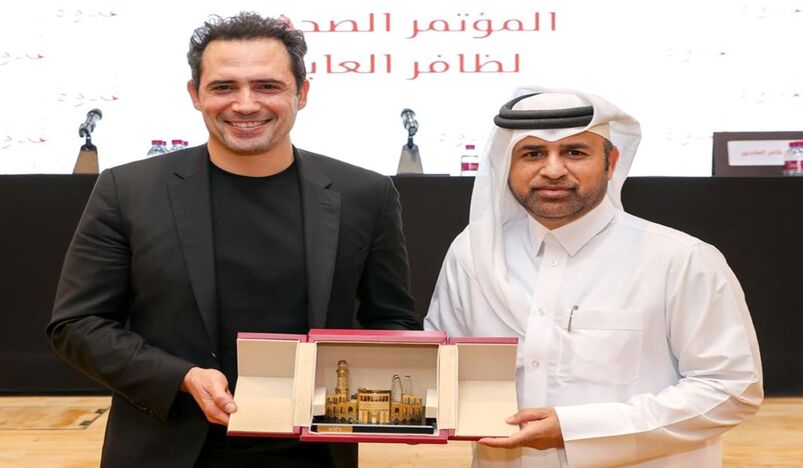 Katara's General Manager Dr. Khalid bin Ibrahim Al Sulaiti presented El Abidine with a token of appreciation
On Wednesday at Katara, the Tunisian Cultural Festival opened with the premiere of the movie Ghadwa. The film's writer, director, and star Dhafer El Abidine conducted a panel discussion following the premiere.
As part of a series of cultural festivals, the Cultural Village Foundation, Katara holds such festivals in an effort to bring nations and peoples closer together and foster peace among countries.
During the panel discussion, Katara's General Manager, Dr. Khalid bin Ibrahim Al Sulaiti presented El Abidine with a token of appreciation. 
The Tunisian Cultural Festival runs until today, March 20. The film "Ghadwa" was screened at the Katara Opera House.
As his movie was screened for the first time in Qatar, El Abidine thanked Katara for hosting the event.
"Ghadwa" addresses a humanitarian issue through the family of the hero, "Habib," played by El Abidine, and his son Ahmed. It was written by Ahmed Amer. 
The Tunisian Cultural Festival features plays Tunisian Malouf music, poetry evening, Tunisian fashion show, and cultural, heritage, exhibitions and art performances.
So far the film has been enjoying lots of success, when the film was presented at the 43rd Cairo International Film Festival, it won an award from the International Federation of Film Critics (FIPRESCI).
The Red Sea International Film Festival in Saudi Arabia also presented the film which received praise from journalists and critics.