Torrential rain, floods kill 22 across northern India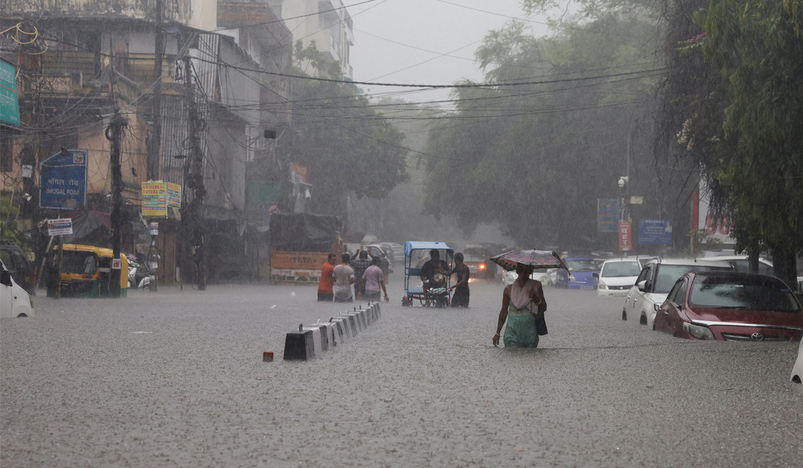 Floods
Torrential rain across northern India has killed at least 22 people, as well as causing landslides and flash floods in the region, authorities and local media said on Monday.
Schools in New Delhi were closed after heavy rains lashed the national capital over the weekend, and authorities in the Himalayan states of Himachal Pradesh and Uttarakhand asked people not to venture out of their homes unless necessary.
At least 22 people died in floods and landslides in the northern states of Himachal Pradesh, Uttarakhand, Uttar Pradesh, Jammu and Kashmir and Punjab on Sunday, the Times of India newspaper reported.
In the northern state of Himachal Pradesh, flash floods over the weekend brought down a bridge and swept away several hutments. Authorities used helicopters to rescue people stranded on roads and bridges because of the rain, footage from Reuters partner ANI showed.
Streets across the northern states, including in Punjab, Delhi and Uttarakhand were flooded. In some areas, rescue personnel used rubber rafts to rescue people stranded inside their homes, local media said.
"Please stay inside your homes because more heavy rain is expected in the next 24 hours," Himachal Pradesh Chief Minister Sukhvinder Singh Sukhu said in an appeal on social media late on Sunday.
Many districts in Himachal Pradesh received a month's rainfall in a day at the weekend, said a senior weather department official.
Delhi, Punjab, and Himachal Pradesh have received 112%, 100% and 70% more rainfall than average so far in the current monsoon season that started on June 1, according to the department.
Reporting by Shilpa Jamkhandikar and Rajendra Jadhav
REUTERS